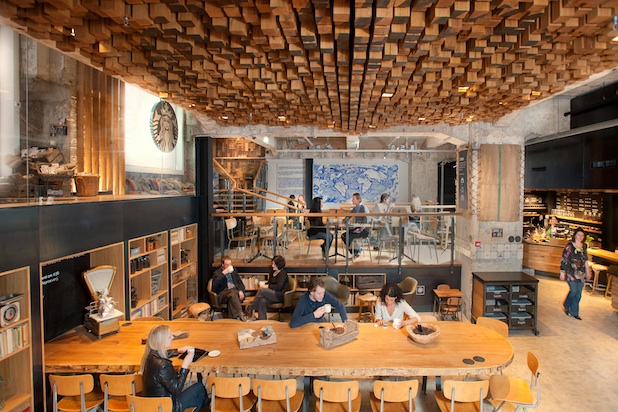 It's no doubt a rare occasion when a Starbucks store gets associated with words like "unique" and "one-of-a-kind." Rare, but not outside of the realm of possibility (Photo Credit: Rien Meulman Fotografie, Starbucks).
Click here to see the World's Coolest Starbucks Stores
In the last couple of months, there has been a string of unique Starbucks stores making headlines. First there was an eco-friendly structure in Tukila, Wash., made entirely from reclaimed shipping containers, followed by the world's first ski-in/ski-out location in California's Squaw Valley.
Click here to see 7 Outrageous Drink Gadgets
Most recently, there was the news of the opening of an Amsterdam location called "The Bank." The concept store -- complete with locally inspired design elements and a "Slow" Coffee Theatre for testing new brewing methods -- has been promoted by the company as a "glimpse into Starbucks' vision for the future."
Click here to see the 12 Most Ridiculous Beer Names
But it's not just these new concept stores that stand out in the crowd (and when it comes to Starbucks stores, there is definitely a crowd). Some locations distinguish themselves by innovative exterior design, others by their unexpected surroundings -- and in one case, at least, by simply being atypical for the brand.
- Maryse Chevriere, The Daily Meal
More from The Daily Meal:
15 Cocktails to Celebrate Spring
12 More Drinks on Starbucks' "Secret Menu"
12 Surprising Soda Flavors
9 Things That Make Your Bartender Really Mad
PHOTO GALLERY
World's Coolest Starbucks Stores