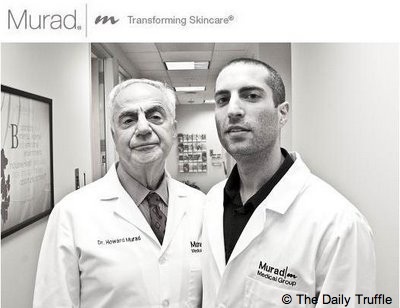 Jeff Murad with father Dr. Howard Murad at Murad laboratories in Manhattan Beach
Photo by Marco Walker
Along with becoming the hot new model for Murad Man, Jeff Murad, fellow L.A. native and son of renowned dermatologist Dr. Howard Murad (pictured above with Jeff), stepped up as Vice President of Product Development in January 2008. This L.A. based father-son team, along with their team of medical experts and scientists, have the new and old components to keep a classic fresh.
Jeff (Harvard-Westlake '94) was my prom date when we at Harvard Westlake and confidant all through high school. Jeff and his dad lived on Rockingham in Brentwood, the street made famous by OJ Simpson's car chase. All I knew about his dad, growing up, was that he was developing "edible sunblock." Read the complete post on The Daily Truffle.
This story was re-published courtesy of The Daily Truffle. The Daily Truffle is a Los Angeles social diary written by a circle of high school friends who grew up together in L.A. View more of entries on The Daily Truffle.