By Simone Hill for TheKnot.com
Every season, wedding dress designers unveil their latest collections, and without fail there are a handful of designs that aren't exactly traditional. We're talking about beautifully designed dresses that are not meant for the fainthearted. These are those.
1. This Ruffled Wedding Dress


Kurt Wilberding
It's impossible to ignore a dress this massive. With ruffles on ruffles on ruffles, this wedding dress from Lazaro's Spring 2015 collection took tiers to the extreme.
2. This Butterfly-Embellished Wedding Dress

This gown with 3-D butterflies flying off the hip (and headpiece, and bracelet!) from Pnina Tornai's Fall 2015 collection is anything but understated.
3. This Floral-Printed Wedding Dress


Maria Valentino / MCV Photo
You have to be pretty bold to pull off mixed prints, like this dress from Tara LaTour's Fall 2015 collection that combines floral and plaid and proves that the whole "clashing patterns" thing is a total myth.
More from The Knot: 9 things your bridesmaids want you to know
4. This Sporty Lace Pantsuit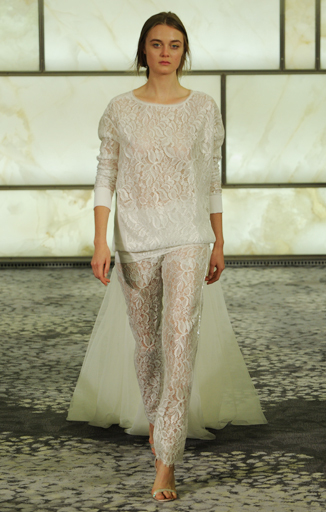 Kurt Wilberding
Now you can be super-comfy without giving up the drama of wearing a wedding dress. Try this lace bridal set with a long train from Rivini's Fall 2015 collection.
5. This Chain Mail Bodice and Face Mask


Maria Valentino / MCV Photo
On the one hand you may not be able to kiss through the gold chain mail mask. Then again, this dress from Della Giovanna Fall 2015 takes the pressure off of having to find the perfect hair accessory.
6. This Shorts-and-Blouse Combo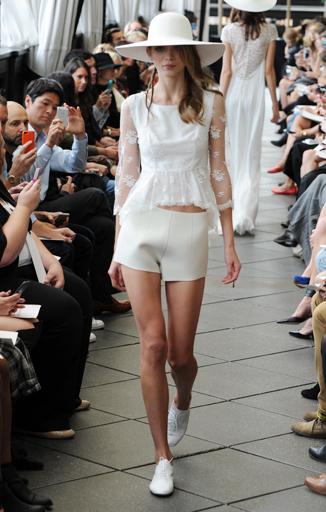 Kurt Wilberding
Now "short-shorts" and "wedding" can go in the same sentence. If you're willing to show a little (okay, a lot) of leg, then his Coachella-inspired bridal style from Delphine Manivet's Fall/Winter 2015 collection may be the perfect daring look for you.
More from The Knot: 12 ways to ruin a wedding
7. This Elaborately Embroidered Blue Wedding Dress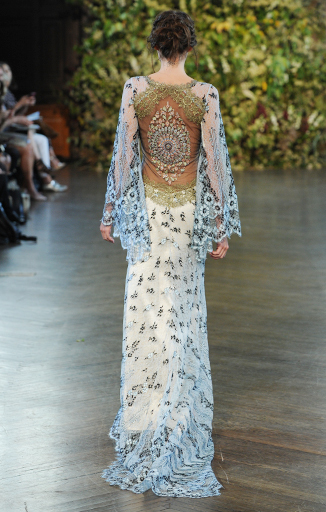 Kurt Wilberding
The boho lace wedding dress gets an edgy update when dyed in a striking blue hue and embroidered with flowers. As if those details weren't unique enough, it's the back of this gown from Claire Pettibone Fall 2015 that landed it on our daring list.
8. This Silver Fringed Wedding Dress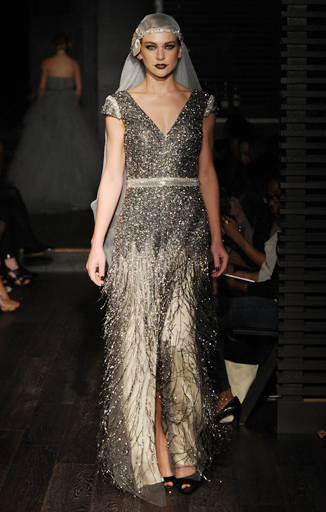 Kurt Wilberding
This super-sparkly number from Johanna Johnson Fall 2015 is begging for a party. Plus, it brings together two of our favorite decades: '20s art deco meets '70s disco.
9. This Winter-Forest-Inspired Wedding Dress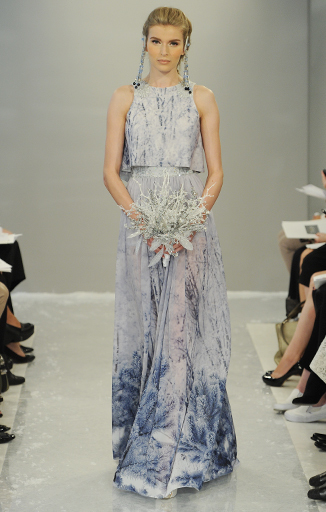 Maria Valentino / MCV Photo
Winter wedding dresses usually evoke the season. This graphic-printed dress that depicts a snow-covered forest from Theia Fall 2015 takes that idea in a super-literal direction.
10. This Sheath Dress With a Feather Embellishment


Kurt Wilberding
Ostrich feathers amp up the daring factor on just about anything. Pair an ostrich feather dress with a jeweled waistband and side cutouts, like this gown from Jim Hjelm's Spring 2015 collection, and you've got a pretty bold look on your hands.
More from The Knot:
Follow HuffPost Wedding's Wedding Dresses board on Pinterest.
Check out some of our favorite trends from fall 2015 bridal market:
PHOTO GALLERY
Bridal Market Fall 2015 Trends