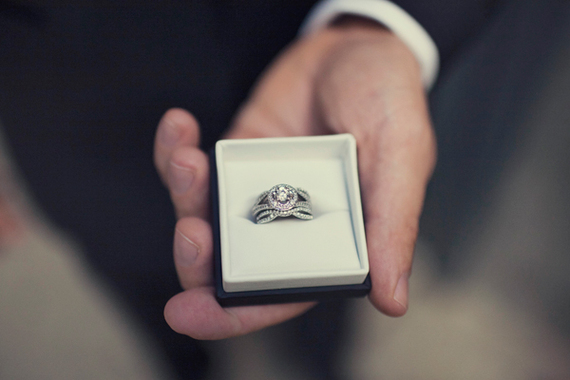 Photo: Erica Barraca Photography/The Knot
By Anja Winikka for TheKnot.com
We know, we know, you'd be happy with a twist tie as long as you're engaged to Mr. Right. But trust us, he wants to know what you want. Before the cynics unite and say that rings have nothing to do with love or marriage, let's be practical: An engagement ring is a big investment, and unlike most jewelry that goes in and out of style over time, this is one piece that should look and feel timeless. Make his search for the perfect ring easier by dropping the right clues.
1. Show Him a Picture
Who it works for: The bold and brazen. You know exactly what you want, without a doubt.
How to do it: Find clever ways to show him a picture of your favorite setting, cut, and style. A Valentine's Day card works, and leaving your laptop or phone open on your dream ring Pinterest board or your favorite jewelers' Instagram feed will definitely get the point across. A subtler way: While perusing magazines, point out pictures of rings you like and casually mention what you like about them. Or give the photos to a close friend and let her decide what to do with them.
Timing tip: Don't show him pictures before he's prepared to buy a ring. If he's not ready to propose, then showing him a photo of the exact ring may make him super uncomfortable and reluctant to shop. The picture route works best if you've made it clear to one another that you plan to get engaged.
More from The Knot: What your engagement ring says about you
2. Shop Together for the Ring
Who it works for: The practical one. You'd rather have a ring that suits your style than a big surprise.
How to do it: While walking past a jewelry store, casually express interest in stopping in and taking a look. Depending on the store, the salesperson will likely ask if you'd like to try anything on. A bolder option: Decide on a time to formally shop for rings together. If you're primarily shopping online for your ring, some companies, like Ocappi.com for example, allow you to select a few rings you like and try them on at home, which can take the pressure of buying right then and there off of both of you.
Timing tip: If he's a traditionalist, he may be opposed to shopping for the ring with you. If this is the case, consider going "window-shopping" with him, so that there's no pressure to buy while you're out together. That way, he can go back and buy the ring on his own.
More from The Knot: 9 things your groom wants you to know
3. Have a Friend or Family Member Go with Him
Who it works for: The traditionalist. You're too reserved to point out the ring yourself, but your best friend or close family member knows your style, and you completely trust their taste.
How to do it: Let your close friend or family member know what you like and don't like. If there's one ring in particular you love, tell your friend and tell her exactly what it is that you like about it in case he doesn't go for that exact one. Prepare your friend or family member with access to your Pinterest account password and plenty of photos so they know what to look for. When it seems like he's fishing for ring hints, you'll be able to confidently send him to talk to your close confidante.
Timing tip: Let him come to you for hints instead of pressuring him to talk to your family or friend, which could be intimidating.
4. Ask for a Surprise
Who it works for: The romantic. You want the Hollywood proposal, and he's up to the challenge.
How to do it: Mention your favorite settings, cut, color, and style in passing to make it clear to him what you like, the best way to do this without it seeming out of place or obvious is to mention friends or family members' rings so it doesn't come off like you're trying to point him to a specific one (remember you want it to be his choice!). Then put the ball in his court by telling him that you love his style and you're sure he'll choose something gorgeous. And, just in case, make it clear if there are ring styles that you would never wear.
Timing tip: Patience is the key here. Pulling off a surprise, romantic proposal takes planning, so don't prod too much.
5. Design It Together
Who it works for: The funky, modern personality. You're not into surprises, and although you don't know exactly what you want, you do know that you want something one-of-a-kind.
How to do it: An obvious point, but very important: Make it clear to him that you would like a custom-made ring before he proposes. Then come up with ring ideas together and make it a couple's project. Make sure he has a say too -- ask him what he thinks about certain elements and incorporate his suggestions into the overall design. Do research to find a designer that you both like, and then commission the ring together. A lot of online jewelers like Gemvara even have options for custom designing your ring online so you can work on it together at home or collaborate online while at work if you both have busy schedules.
Timing tip: Once the ring is ready, decide whether you want him to hold onto it for a formal proposal or if you'd like to start wearing it right away.
More from The Knot:
10 things no one tells you about being engaged
Celebrity engagement ring look-alikes
Daring new wedding dresses
The worst real wedding nightmares