By Angela Montefinise
Be creative, draw a doodle, and you could see your artwork end up on Google!
That's the message Google is sending to kids across the country as part of its fifth annual Doodle 4 Google contest, which launched on January 18. Kids in grades K-12 can submit their own "Google doodle" -- a decorated version of the company's logo that celebrates key events -- in the hopes that their drawing will win the top spot and grace the Google homepage on May 18.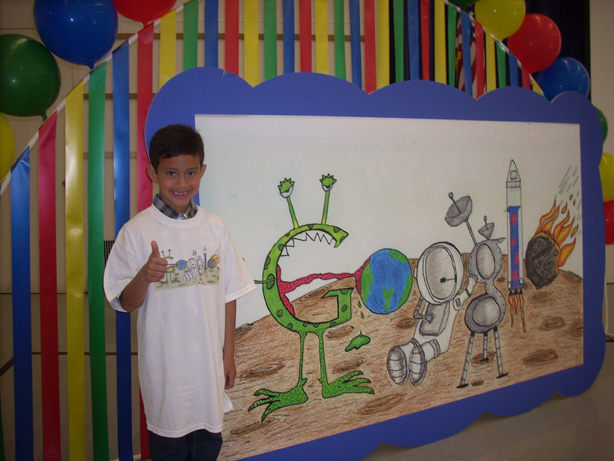 In 2011, seven-year-old Californian Matteo Lopez submitted the Doodle 4 Google winner "Space Life"
This year, The New York Public Library is a partner in the contest, and the top 50 designs -- one from each state -- will be displayed in an exhibition at the landmark Stephen A. Schwarzman Building on Fifth Avenue and 42nd Street.
Google wants to give students a blank canvas and harness their curiosity to imagine the past, present, or future with its theme, "If I could travel in time, I'd visit..." This open ended prompt is intended to encourage creative, inspiring, and fun ideas of what they would explore and observe regardless of when an event took place. "We're so excited that the New York Public Library will be our national exhibition partner this year," said Alex Davenport, manager of the Doodle 4 Google program. "The NYPL represents the spirit of exploration, intellectual engagement, and creativity that not only make Doodle 4 Google special, but are values we hold near and dear here at Google."
While the process is fun and exciting for the kids, it can also be an important step in their creative development. Library experts agree that the contest can help nurture a life-long appreciation of creativity, imagination and the arts. "It is really important to engage kids as designers and to encourage them to be part of a community-wide event," said Jack Martin, the Library's assistant director for Public Programs and Lifelong Learning and a judge in this year's Doodle 4 Google contest. "It is so inspiring for children to get recognized on a national scale for expressing themselves and for creating their own art, and it can spark further imagination, creativity and growth."
Mike Dutton, a member of Google's Doodle team, embodies this philosophy. "For me the pinnacle of success when I was growing up as a young artist was to actually have my artwork pinned on the chalkboard and have it shown in front of the whole class. To me that was IT. And for kids now to have the opportunity to have their artwork 'pinned' on the homepage for millions of people to see is just awesome."
Guest judges in this year's contest in addition to the Library's Martin are singers Katy Perry and Jordin Sparks, Jeff "Swampy" Marsh, creator of the hit Disney Channel show "Phineas and Ferb", authors Mo Willems, Holly Black and Tony DiTerlizzi and Brian Nemeckay, Digital Design Creative Director at Crayola, a Doodle 4 Google partner.
Kids can submit one doodle each to the contest until March 23 - so they should get cracking to have a chance to see their work displayed at the iconic New York Public Library 42nd Street building.
To get them started, here's some advice from Jennifer Hom, another member of Google's doodle team: "Draw every day, draw what you love and have fun!"