by Gayle Snible, The New York Public Library
Integral participants of the downtown art scene in 1980's New York City, photographer Amy Arbus and actress/performance artist Ann Magnuson lived in the vortex of an edgy and fast-paced creative community. Arbus documented it in her Village Voice series "On the Street," shooting photos of stylish people as they went about their daily lives. On the other side of the camera was Ann Magnuson, a performance artist/actress who managed Club 57, performed regularly at the Mudd Club, and was a few years away from launching her acting career via Desperately Seeking Susan.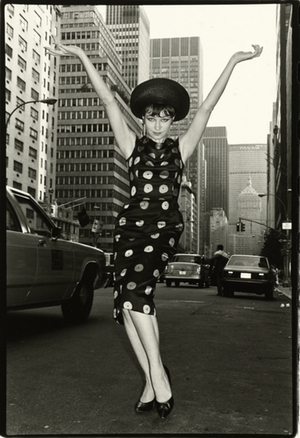 Amy Arbus. "Ann Magnuson on Park Avenue." Gelatin silver print, 1981. NYPL, Wallach Division, Photography Collection. © Amy Arbus.

A portrait by Arbus of Magnuson is currently on view in
Recollection: Thirty Years of Photography at The New York Public Library
(running through January 2, 2011 at the Library's flagship location at Fifth Avenue and 42nd Street). "The amazing thing about [curator] Stephen Pinson," said Arbus, "is that he picks iconic pictures from some people and then an image that you've never seen from other people. I think we were really lucky that he did that [the latter] in our case."
When the photo began circulating in connection with the show, Magnuson, said, "I didn't even recognize the picture. I didn't know who that was. I had no recollection, speaking of Recollection. Then I enlarged it and put my glasses on, which we need now. 'Ohhh, OK.' I had sort of a vertigo moment of 'What? Huh? Is that me? Was that me?' and then it all started to come back."
Arbus and Magnuson recently visited Recollection together. (Magnuson was in town performing Dueling Harps at the Abrons Arts Center with Adam Dugas; Arbus still lives here.) It was a classic moment, photographer and subject in front of their joint creation, talking about how it was made.
"I remember being on Park Avenue and trying not to get hit by a taxicab, because that is challenging," said Arbus of the 1981 photograph titled "Ann Magnuson on Park Avenue." "We needed to be out on the street."
In the photograph, Magnuson's arms reach out to the sky. Her stance says, "I am here, and I am amazing."
"I remember how excited I was to find that hat," she recalled. "I think we were screening La Dolce Vita at Club 57 quite a bit, and I was really into that era. I cannot remember if I borrowed (the dress) from a downtown designer or if I found it in a thrift store."
"It was theoretically random that I would run into these people," said Arbus of her On the Street subjects. "I started finding people like Ann who were actually the leaders in the performance art community. If I found somebody really wonderful, I would photograph them again and again over time. So I wanted to take advantage of the most fabulous legs in the world and the greatest taste in clothes (both Ann's). We did a bunch of pictures together."
Recollection consists of 95 portraits, creatively sequenced in a manner uncommon for most retrospectives. For example, "Ann Magnuson on Park Avenue" is flanked by Mel Rosenthal's untitled portrait of a black boy doing a back flip onto a discarded mattress in late 70s/early 80s South Bronx and Ben Ross' 1950's image of children posing in front of a car titled "Tunnel Vision" (from a series on eye diseases). The grand gesture of the back flipping youth segues into Magnuson's fashion-ready pose; her outreached arms mirror the outreached arms of the children in Ross' photo, as well as the beams of blurriness in his image.
"He [curator Pinson] used a similarity of gesture and spirit and subject matter to hang the show," said Arbus, "and that's very unusual. The echoing that goes in and out of this show is very beautiful. It's really amazing what he's done."
Recollection: Thirty Years of Photography at The New York Public Library is on exhibit through January 2, 2011. Most of the images in the exhibition are available in the online version of the exhibit. A video of the exhibition, accompanied by music from the band Houses, can be viewed here.
A film based on the book On the Street is set for theatrical release in May 2011. John Spellos is directing; Spellos was also kind enough to make the video and photos that document Arbus and Magnuson's visit to the Library. The movie follows Arbus as she tracked down her former subjects and interviewed them 25 years later.