In cooperation with our longstanding partner, Crowdrise, The Huffington Post is celebrating its 10 year anniversary by focusing on the promise of the next 10 years ahead. We're highlighting causes that are near and dear to our ethos -- causes where we believe meaningful strides can be made in the coming decade -- and empowering readers to act and take part. Join us!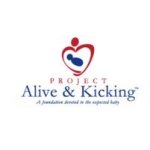 By Yelda Basar Moers
Yelda Basar Moers is the Vice President and a founding member of Project Alive & Kicking, a foundation devoted to empowering pregnant women by providing them with the latest, most up to date prenatal informational and tools. She is also a lawyer, writer, editor and board member of two other education-based institutions. She lives in NYC with her husband and two children.
When we say there is something wrong to a doctor or a nurse, why is it that sometimes we are not heard? And when we are not heard, why do we choose not to hear ourselves? Why is it that we deny our own voice? One of the most important goals for us at Project Alive & Kicking is to encourage moms to trust their instincts--to trust their gut. As a pregnant mom, you are the only one who is carrying your baby; you are the only one who knows your baby's movements in and out, better than anyone else. And if you feel something is off, or you are worried, you should be heard! Because nobody can feel what you feel, or know what you
know, because they are not you!
We always tell moms that if your doctor isn't listening to your concerns, go to the Labor and Delivery ward of your hospital. There is usually a staff of nurses ready for an emergency, ready for a mom who says, "something doesn't feel right," or "my baby is moving less." Find someone who will listen and do whatever it takes to feel reassured.
I don't blindly follow doctors anymore. I listen to my body. I listen to that inner voice that is sometimes whispering and sometimes screaming.
I wasn't always this way. I've learned to listen to and respect my own voice through the experience of losing my full-term daughter Olivia at 40 weeks and 4 days. During the last week of my pregnancy I felt her movements slow down. I had my last office visit at 40 weeks and I told my doctor that she wasn't moving as much.
He told me what most doctors do, that babies slow down their movements at the end of the pregnancy. If I knew then that cord issues and fetal distress could cause babies to slow down their movements, I would have insisted that he check her umbilical cord, or I would have pushed for more testing, more monitoring.
Now I know that doctors can check a baby's umbilical cord with the push of a button. Ultrasound machines have a button that can activate a Cord Blood Doppler. Suddenly all cord issues pop up in bright colors. The doctors can see any number of cord issues, whether it's a nuchal cord, knot, twist or torsion. Dr. Jason Collins, the nation's foremost cord specialist, author of the book Silent Risk: Issues about the Human Umbilical Cord, and a member of PAK's Medical Advisory Committee, recommends that the cord should be checked as part of an ultrasound protocol
beginning at 20 weeks and additionally at 28 weeks.
We at PAK believe that the cord should be checked as part of an ultrasound protocol, as this is one of our goals going forward, especially since ten percent of all stillbirths are due to umbilical cord
accidents. Ideally, the cord should be checked again at 36 weeks. So many cord accidents happen in the final weeks of pregnancy. If an expectant mother has a serious cord issue detected, she can be monitored, and together with her health care team make the best decision going forward for her and her baby!
Still, I didn't need to know all of these things. I knew inside that something was wrong. Olivia moved readily and suddenly she wasn't moving as much. It was only four days after that office visit, when I got to the hospital while in the early stages of labor, that the doctors couldn't find her heartbeat. She had a tight double nuchal cord that proved fatal during labor. The doctors called it a cord accident.
They still do. But it's not an accident. A cord issue can be detected as early as the second trimester. Five months after I delivered Olivia, I became pregnant with my son Noah. This pregnancy was filled with anxiety, sleepless nights and worry. But I will never forget a high-risk doctor that I would regularly see at my hospital. One day, I was getting a Non-Stress test at thirty-three weeks and though the baby passed the test, I told her that he had been very quiet the past several days. And I told her I was worried. She gave me a serious look and then said the following words: I hear you and I believe you. She immediately sent me directly to the labor and delivery floor to be monitored for twenty-four hours. What wonderful words to hear: I hear you and I believe you! Everything turned out to be fine and she sent me home.
A few weeks later I returned to the same hospital because Noah wasn't moving much. The staff kept me overnight, at my own insistence, and I kept bugging the nurses, asking them why he wasn't moving. Two days passed and I still had not felt him move. Finally one early morning, my doctor moved me to triage. There, I told the nurses that something was wrong, that I was feeling a lot of pain and pressure and couldn't feel him move. Three of them kept reassuring me that
everything was fine. In fact, they kept pointing to the fetal heart monitor, showcasing his strong heartbeat. But there was one nurse that came over to me and said, I hear you! Let me just measure you. She took the extra effort. She went beyond her protocol. It turned out I was three centimeters dilated and in labor. Several hours later, I delivered Noah.
Sometimes it takes one person who cares to go the extra mile. But that person is not always going to be there, right before you. So I champion moms to cultivate a respect and love for your Self, yes for your Self with a capital S. This is the Self that speaks to you, that lives in your gut, the Self that is trying to tell you something. And voice its message. Voice it until somebody listens. You will find someone who will.
I took my own advice when I woke up one morning last year limping. I went straight to my doctor who told me it was a groin pull. A week later I called him to tell him that the pain was getting worse. He snapped at me and told me I was being impatient. I decided to go to another doctor who told me I had sciatica and not a groin pull and prescribed physical therapy. After two weeks of physical therapy, I didn't get any better. I went back to my original doctor and told him that I wanted an MRI. Both of us were shocked when we got the results. I had fractured the femoral neck of my hip. It was a stress fracture, so most likely the injury was due to running, but the doctors are still not sure what caused it.
For weeks I was walking around with a fractured hip, going up and down subway steps, carrying my young children. If I had not spoken up for myself and demanded the MRI, I would have continued to wander around New York City with a fractured hip instead of slowing down and resting it. I was completely misdiagnosed.
I used to be someone who was afraid to speak her voice; afraid it might be too loud, too offensive, too bothersome or annoying. Oh that crazy patient who can't keep her mouth shut, who is always worried with ten thousand questions. I could imagine the doctor rolling his eyes when he saw my name on the patient chart. It was after I lost Olivia that I didn't care anymore. And from my experience, and all of the PAK mothers, we support all pregnant mothers in championing them to speak up and not deny their voices! We can't always know if our babies are in trouble. But sometimes they tell us with subtle changes of movements and it is up to us to advocate for them.
So always trust your instincts! Sometimes the only person you can truly count on is your Self.
| | | |
| --- | --- | --- |
| | | |
| | Supporting the causes that will shape the next decade | |
| | | |
| | | |