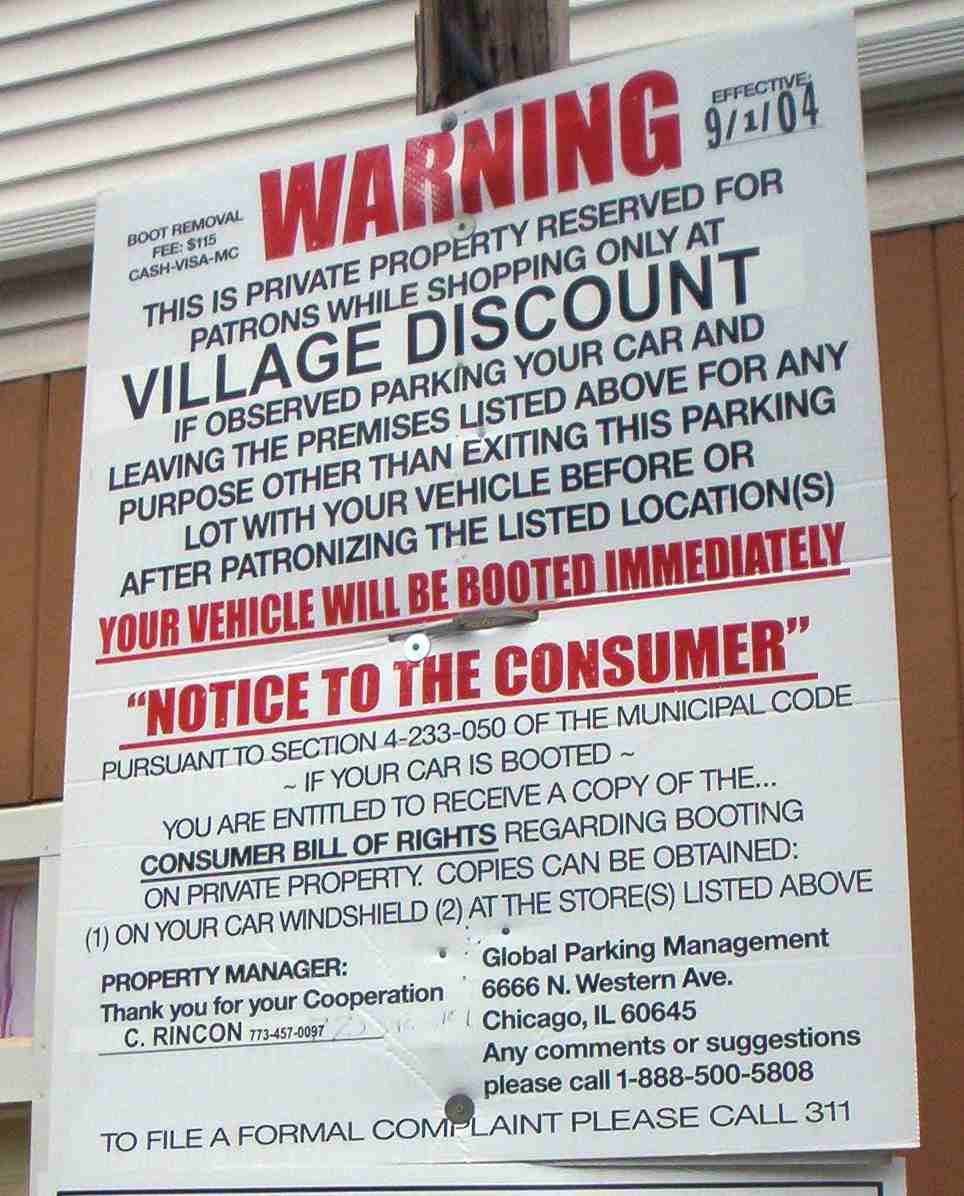 As reported at The Expired Meter just a few weeks ago, according to 32nd Ward Alderman Scott Waguespack, the fate of Global Parking Management had been sealed. The private booting firm was going to be given the boot from the 32nd Ward.
Too many complaints, too many reports of alleged violence, too many police reports and too much time spent dealing with the issue of private booting company Global Parking Management.
"Dealing with the constant weekly issues on this, putting people in the position of fearing of their lives...", said Waguespack at the time. "I shouldn't have to deal with it."
Waguespack and his staff seemed to have decided enough was enough and were moving ahead on changing the ordinance that would eliminate private booting in the 32nd Ward.
Global Parking manages 40-45 parking lots throughout Chicago, according to company officials, deploying the Denver boot on vehicles whose owners trespass on their lots or violate the rules specified on signs. Global Parking controls 10-13 parking lots residing within the 32nd Ward. This amended city ordinance would have effectively eliminated about 25% of Global Parking's lots.
But emotions seem to have cooled in the interim, as Ald. Waguespack met with pissed off constituents who complained about Global Parking and Global Parking's owners. Global Parking is going to be allowed to stay, at least for now, but with some potentially restrictive changes coming in the near future.
"What I would like to do is not entirely kick them out of the ward," said Ald. Waguespack. "There will be a voluntary suspension of business at some locations in the ward."
According to Ald. Waguespack, as of January 1, Global Parking Management is voluntarily suspending operations at two parking lots in the 32nd Ward until his office and the company can finalize details of changes the parking lot management company must make in order to remain welcome in the 32nd Ward.
The two parking lots in question are at Burger King, 2344 W. Chicago Ave. (next to Village Pizza) and Village Discount in Roscoe Village (lot at Roscoe and Hoyne). These two locations have produced the most complaints to the alderman's office and to the police.
But Global Parking Management owner Joe Grillo has a slightly different view on how this cooling down period is going down. Grillo says it's not a "suspension of operations" at the two locations but "minimizing operations for right now." according to Grillo. "There are no conclusions on how things will be resolved...nothing is finalized yet. We don't want to give people the idea they can park there (without consequences)."
Grillo defined "minimizing services," at the two lots as posting employees on the lot part-time instead of full-time, reducing hours and possibly days of enforcement.
"We're still in the midst of speaking with the alderman," explained Grillo. "We are basically keeping the lines of communication open and seeing what we can do to address the concerns of the community."
Toward this end, Waguespack has asked Global Parking to meet with some of the neighborhood chamber of commerce in the ward, including, those representing Roscoe Village, West Town and Wicker Park, to get their input on the issue.
Global Parking and Waguespack's office are slated to meet after the first of the year to discuss a list of specific changes that Global Parking will have to agree to in order to stay in the 32nd Ward. There are no set changes or hard deadlines yet. But Waguespack and Grillo both ticked off a few ideas, including a uniform or bright vest for Global employees, labels for cars parked in Global lots, more training for Global employees, changes in signage and perhaps a 10-15 minute grace period that would allow a bit more flexibility for parking lot patrons.
Ald. Wauguespack has also been consulting with Ald. Gene Schulter (47th) and Ald. Tom Tunney (44th) about how to tighten the rules and regulations on the ordinance that controls private booting. Ald. Waguespack explained there was no penalty system written into the ordinance to punish Global Parking for infractions and suggested perhaps a three strikes type approach to the issue.
Grillo defends the practice of private booting, which his company introduced in Chicago 10 years ago, as a necessary weapon to help business owners preserve their parking lots for their customers. Grillo feels that the concept of protecting the business owner's right to control who parks on their lot is often lost in the heat of emotion.
"It's a softer approach than the alternative, which is towing," explained Grillo. "You have to ask yourself, 'would I rather be towed or booted?' It's a safer, more effective approach for violators and drivers."
According to Grillo, private booting is less expensive than towing. You also don't have to find transportation to the tow lot, so it's therefore faster to rectify the situation. There is less chance of damage to the vehicle and every driver that is booted has the right to appeal to the company.
Grillo also made the case for the survival of his business. "We're real people here," Grillo said. "There are 35 families that rely on this business for their livelihood."
Grillo seemed optimistic that something can be worked out that makes everyone happy. "I think there will be a lot of changes for the better and to ease a lot of people's minds," said Grillo. "We'll do whatever it takes to make this work."
Check out The Expired Meter for all sorts of Chicago parking news, tips and tricks to fighting parking tickets and red light camera tickets.