In their earliest days as a group, the members of Alabama Shakes honed their chops playing classics by James Brown and Otis Redding, but also by Led Zeppelin and AC/DC. "We had to find music we could all agree on and figure out how to play together," says vocalist and guitarist Brittany Howard, "and that had a lot of influence on how we play now."
Though the group received three Grammy nominations -- including Best New Artist, Best Rock Performance for "Hold On" and Best Recording Package for their 2012 debut album, Boys & Girls, it had only been eight years since Howard and bassist Zac Cockrell first connected with drummer Steve Johnson and lead guitarist Heath Fogg in Athens, Alabama. Howard, whose performance style and power has been likened to Janis Joplin, says: "I grew up kind of alone. Everyone I got to meet, I met through music. I was a late bloomer, and I remember exactly where I was when I first heard Pink Floyd, say, or 'Five Years' by David Bowie."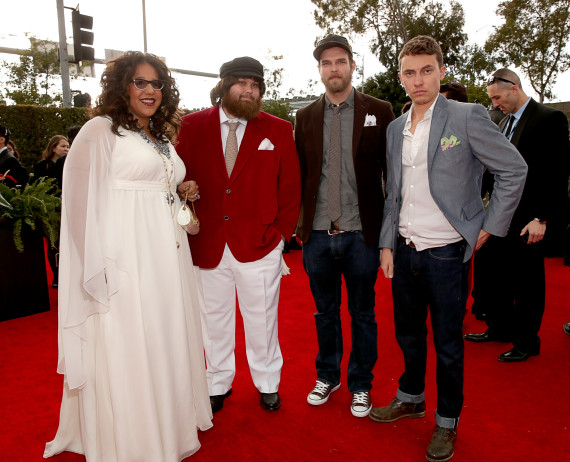 LOS ANGELES, CA - FEBRUARY 10: Alabama Shakes band members Brittany Howard, Zac Cockrell, Heath Fogg and Steve Johnsonon arrive at the 55th Annual GRAMMY Awards February 10, 2013 in Los Angeles, California. (Photo by Christopher Polk/Getty Images for NARAS)
The genesis of Alabama Shakes is perfectly represented in the Rock Hall's Right Here, Right Now exhibit with a guitar that's very special to Howard: the first guitar she ever owned. "My father bought it for me for my 15th birthday. I thought it looked cool. I taught myself how to play it and eventually wrote a record with it. Didn't retire it until I started playing a SG. It has mismatched tuning pegs because it was accidentally thrown against my house while I was practicing slinging it around my shoulder. Luckily, I gave up adopting that move!"
This blog post is part of a series produced by Huffington Post and the Rock and Roll Hall of Fame and Museum in conjunction with the latter's current "Right Here, Right Now" exhibit. The exhibit, at the Cleveland-based museum, takes a look at the evolution of rock and roll and its impact on the next generation of artists by taking visitors on an intimate journey into the stories of chart-topping acts as told through their personal items and clothing from iconic performances. To learn more, visit here. To meet the other seven, visit here and see below!
PHOTO GALLERY
"Right Here, Right Now" Exhibit at Rock & Roll Hall of Fame Museum