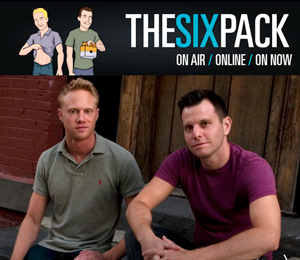 The Six Pack is a new-school, cutting-edge radio show hosted by DJ Ben Harvey and comedian Dave Rubin. Distributed online and on SiriusXM, the show gives you a weekly dose of hot topics, celebrity guests, and brand new music, all packaged in six convenient parts. Ben and Dave take you on a journey through what's trending now, from news to views to dudes. Previous guests include Joy Behar, Andy Cohen, Fran Drescher, Steve-O, Congressman Barney Frank and many more.
Currently in its third year, The Six Pack is one of the top comedy podcasts on iTunes, with listenership in over 70 countries. Huffington Post Gay Voices will regularly feature episodes of The Six Pack.
Episode #87: "Life Is a Highway"
LISTEN: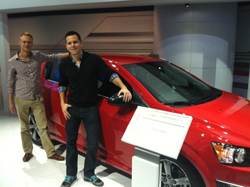 On this episode of The Six Pack, we take our show on the road once again -- this time to Detroit! Our road trip took us to the Motor City, where we hit up the biggest car show around, the North American International Auto Show. We got a taste for a revitalized city, thanks in part to General Motors reclaiming its spot as the world's number-one automaker, as President Obama boasted during his State of the Union address Tuesday night.
While at the auto show, we got a tour from GM's Associate Director of Competitor Intelligence (aka Chief Spy), Adam Bernard. Adam broke down the who's who and the what's what at the show for us. "GM has 12 different employee research groups in the area of diversity. We are the ERG, Employee Resource Group, for LGBT and allied employees. We help educate leadership on LGBT issues," Adam said of how GM is reaching out to its gay employees and the greater LGBT community at large. "We know that LGBT consumers are more likely to buy from a company that treats their LGBT employees fairly."
Catch The Six Pack Saturdays on SiriusXM OutQ channel 108 from 1 to 3 p.m. EST and as a weekly podcast on iTunes, sixpackage.com, and now... Huffington Post Gay Voices! Listen to the entire podcast episode here.