While preparing this article, I resorted to google and Bing engines searching for traveling experiences and desired activities while on board of a sailing ship. To my surprise, there were very few articles and content about this topic that seems to be neglected. Armed with my notebook, a word file and vivid memories from my first sailing trip in the Caribbean on Star Clipper, I decided to mark down my recommendations for a pleasant and memorable sailing trip.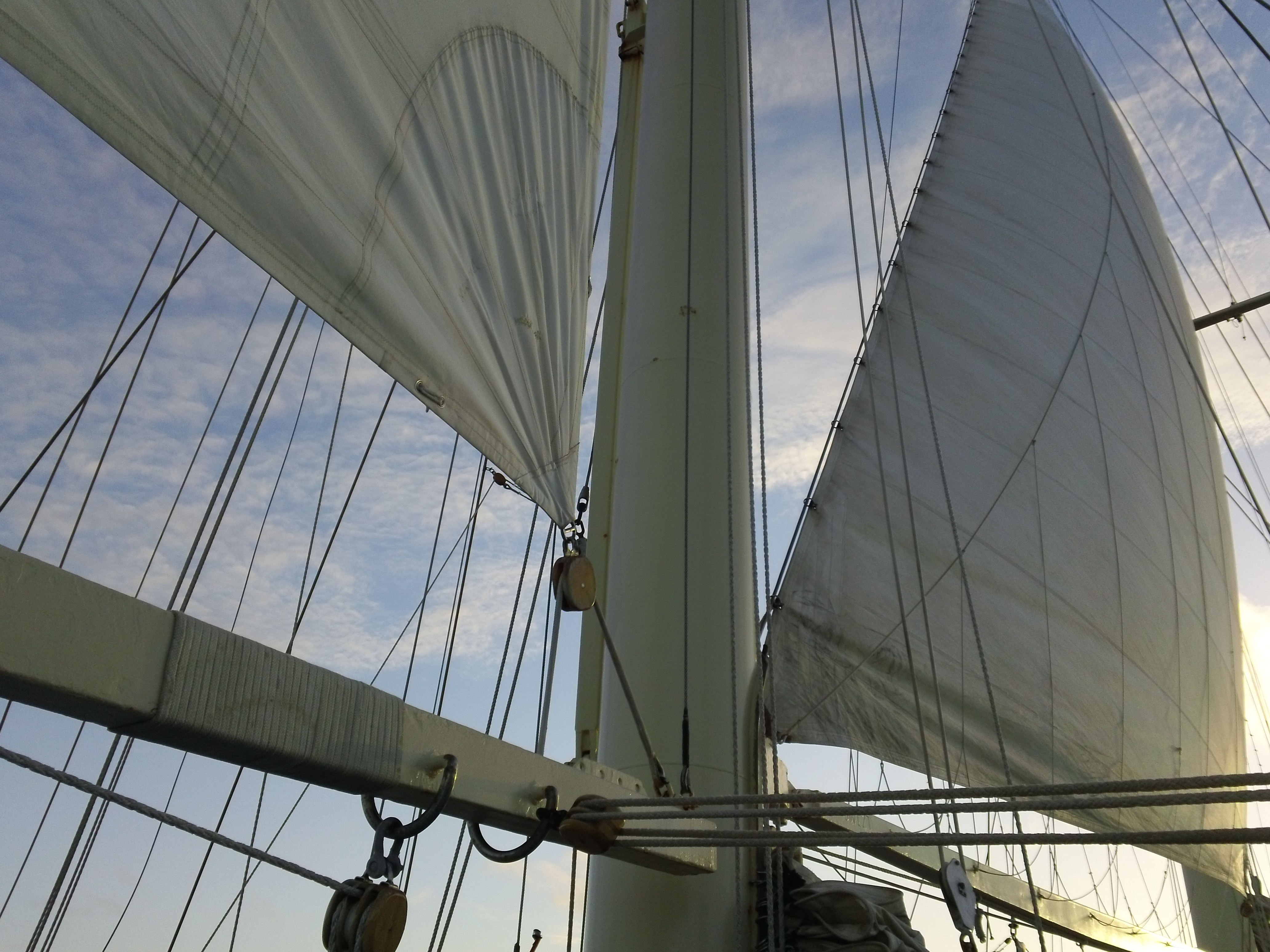 1. Explore the ship before departing
It may sound self-evident but getting as much information before you board your sailing ship is the first step to a peaceful and worry-free trip. As I was a first-timer, I had no idea that check-in was done before boarding in a separate building and that your passport would be withheld by the crew while you travel. Check out your cabin and what it provides to you. Space on sailing boats is limited so don't be over-demanding. I was happy with my wooden furniture desk for my laptop (which I brought with me), the bathroom was just perfect for a seven-day cruise and I loved the tiny shower products. My porthole was big enough to see the ocean (and became later my Facebook photo). The closet had more than enough space for my outfits and I found immediately the thermostat control to change the temperature in my cabin. If you have time, check the pools, the deck and the opening hours of the dining room. You will also make your own discoveries along the way but there is no harm of doing this before cruising the ocean.
2. Enjoy your welcome cocktail reception before leaving
This is one of the best moments on the ship. After shaking hands with the captain and got acquainted with the crew on the Clipper, I saw salmon-colored cocktails and miniscule appetizers on a well-laid table on the deck. I grabbed happily one and chatted with my first fellow traveler who was a far more experienced on sailing than me. So avoid being late as that means that you would miss this warm welcome on board before departing.
3. Follow the life boat drill and safety instructions
On Star Clipper and during the reception the Cruise Director reminded us of the compulsory drill exercise and safety briefing so all passengers on board had come out on the deck with our "orange" life jackets. The instructions were clear and easy to follow and as safety is always on top, knowing your options in case of an emergency is a positive way to travel.
4. Attend the first dinner on your sailing ship
The first dinner on Star Clipper was an experience. Invited serendipitously by the captain to join him for dinner, we shared the table with a joyful couple from Hawaii. The menu was long and impressive with a selection of two French style appetizers, a green salad, a vegetable soup, a fruity sorbet, four main dishes and three deserts. I followed the chef's suggestion for the Caribbean Jerk Pork allowing local flavors to initiate my week in this part of the world.
5. Be present when the ship set sails
At 10pm was the time to depart. I arrived at the deck a little earlier to witness the sails going up under a full-moon sky, the humidity of the Caribbean air and the soundtrack of the movie 1492 Conquest of Paradise, the emblematic song of our cruise on every new sail. The passengers clapped when we left St. Martin's harbor, the moon was laughing and I was optimistic and open to the large ocean and the tall sailing ship.
6. Be ready to change your plans
The first night at 4 am, I woke up from strong waves and I felt the Star Clipper moving on both directions, left and right unwilling to remain still. It was clear that we were going through some heavy waves. The following morning, the cruise director announced that we wouldn't anchor at Anguilla at 10am as planned but we were scheduled to go to a different beach. One hour later though we found out that due to bad weather we were not to stop at all so we missed the island. As safety is always ahead of pleasure on sailing boats bad weather may well change initial plans. Don't complain; instead grab a refreshing cocktail and a book and relax by the pool.
7. Be sociable
I was probably one of the few traveling on my own. Star Clipper hosts 170 passengers from numerous countries around the world. Opportunities came many times, in the dining room during breakfast and dinner. Be willing to sit at different tables with different crowds. The Star Clipper has an open-seating policy so you have no excuses for not engaging in social interaction. When you are off shore, don't be afraid to meet and chat with fellow passengers. I met people from all walks of life, with different accents and with different stories to share. Like John, the retired American engineer from Chicago who lived part-time in Puerto Rico; the young scientist from Boston; and Susan, the realtor from the Mid-West who shared her funny stories.
8. Ditch technology
Living on a cruise ship in the middle of the ocean, cells phones, wifi and even 4G don't work. Unless you subscribed to roaming and data options offered by your cell company while abroad, you won't be able to use your electronic devices. Star Clipper offers daily wifi cards for a fee but they are relatively expensive. The cheapest way is to use the free wifi spots when you are on land. Ask crew members for the best options in each island. As they travel to the same destinations, they are very resourceful and will give you tips for each destination. Better then, stay unplugged. Forget technology for a few days. You will find your emails on your return.
9. Spend time in the Library Room
The library room was cozy and relaxing with great books on the shelves for the intellectually curious travelers. You will also find board games to share with friends or fellow passengers for a sociable, quiet night on the ship. The room has its own character with an old-era look, wooden shelves and tables and the best Internet connection when plugged.
10. Despite the appealing and tasty food, avoid over-eating
It is easier to say than do. Food was given generously the entire day from 6 AM to after midnight. Star Clipper offered an open-buffet breakfast with omelets, eggs, potatoes, croissants, fresh fruit and salads, yogurts, a variety of freshly baked bread, jam, honey, peanut butter, nutella, sausages and cereals amongst other choices. Lunch was a buffet with a "theme" cuisine and dinner was the most impressive with a 12-dish menu that included three main dishes offerings, sorbets, salads, plate of cheese and two appetizers. If I read my notes correctly, there was an option of three desserts as well. There was also an early bird breakfast with pastries and fruit, an afternoon cocktail hour with finger/party food and a midnight snack. If you keep eating the entire day, I can bet you that you will gain as many pounds as you lost after your recent diet. So keep an eye on your plate and eat in moderation. Taste different flavors and dishes every day but don't finish off everything and don't go back for seconds.
11. Take advantage of the complimentary water sports
The water sports and beach activities were announced on the white board next to the tropical bar daily and often included snorkeling, scuba diving, water-skiing, jet-skiing and water aerobics. There was also morning aerobics a few times a week. So put on your exercise outfit and off you go.
12. Have fun on the ship
Each night there was a different type of entertainment. From Fashion Nights (when I had my fair share of fame) to Dancing Night and Music Quizzes, join in the group and have some fun. Is there a greater way to relax, laugh, sip a cocktail and take photos of happy moments?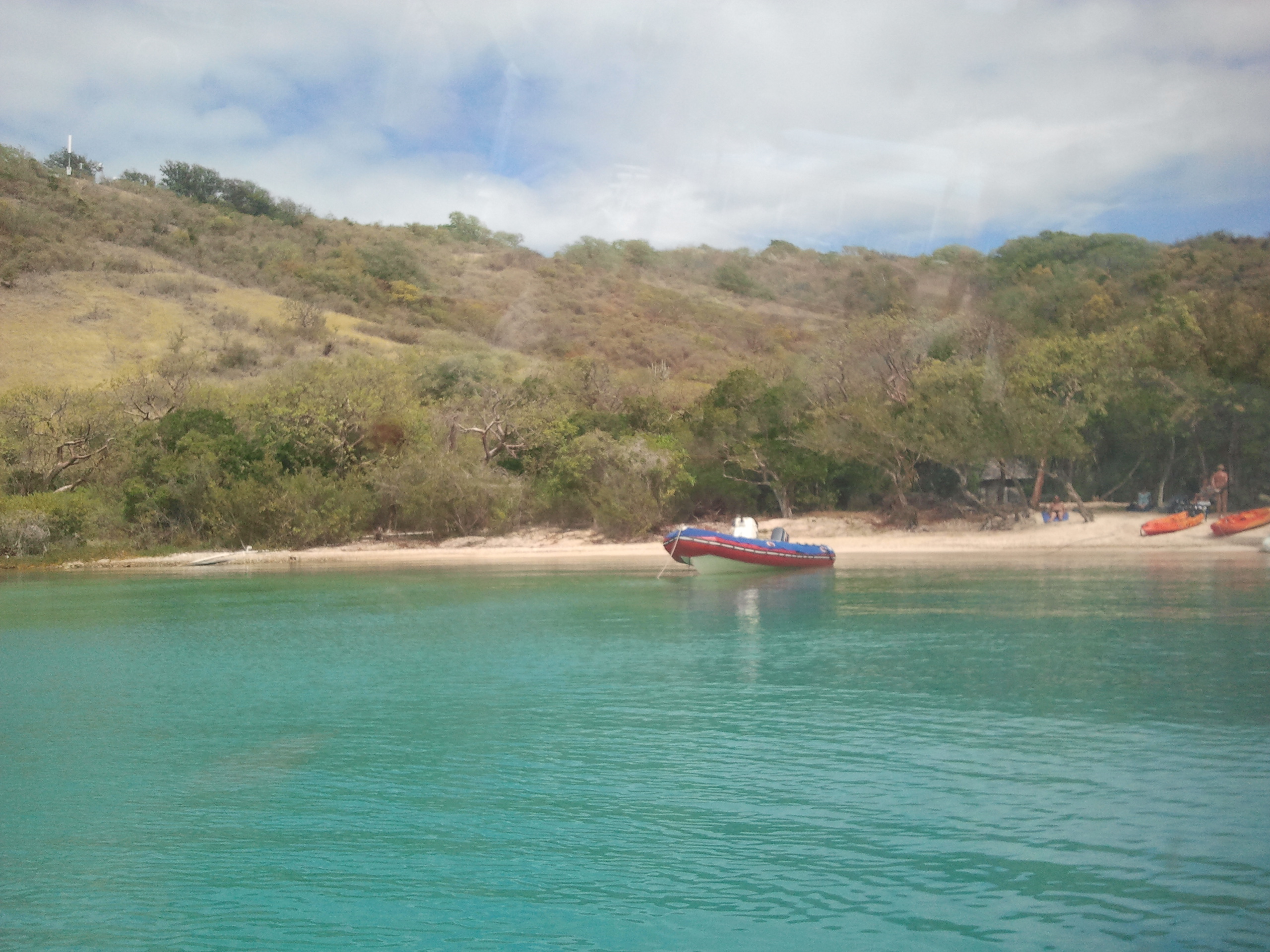 13. When on land, enjoy the islands
It was my first time in the Caribbean and I was excited. Take advantage of the hours and explore the unique colors of each island. British Virgin Islands are luxurious, private and unique. St Kitts was both colorful with warm people. St Barth's more luxurious and pretty was a nice spot for some serious shopping. On the beach, don't miss the turquoise waters, local cocktails and hidden treasures.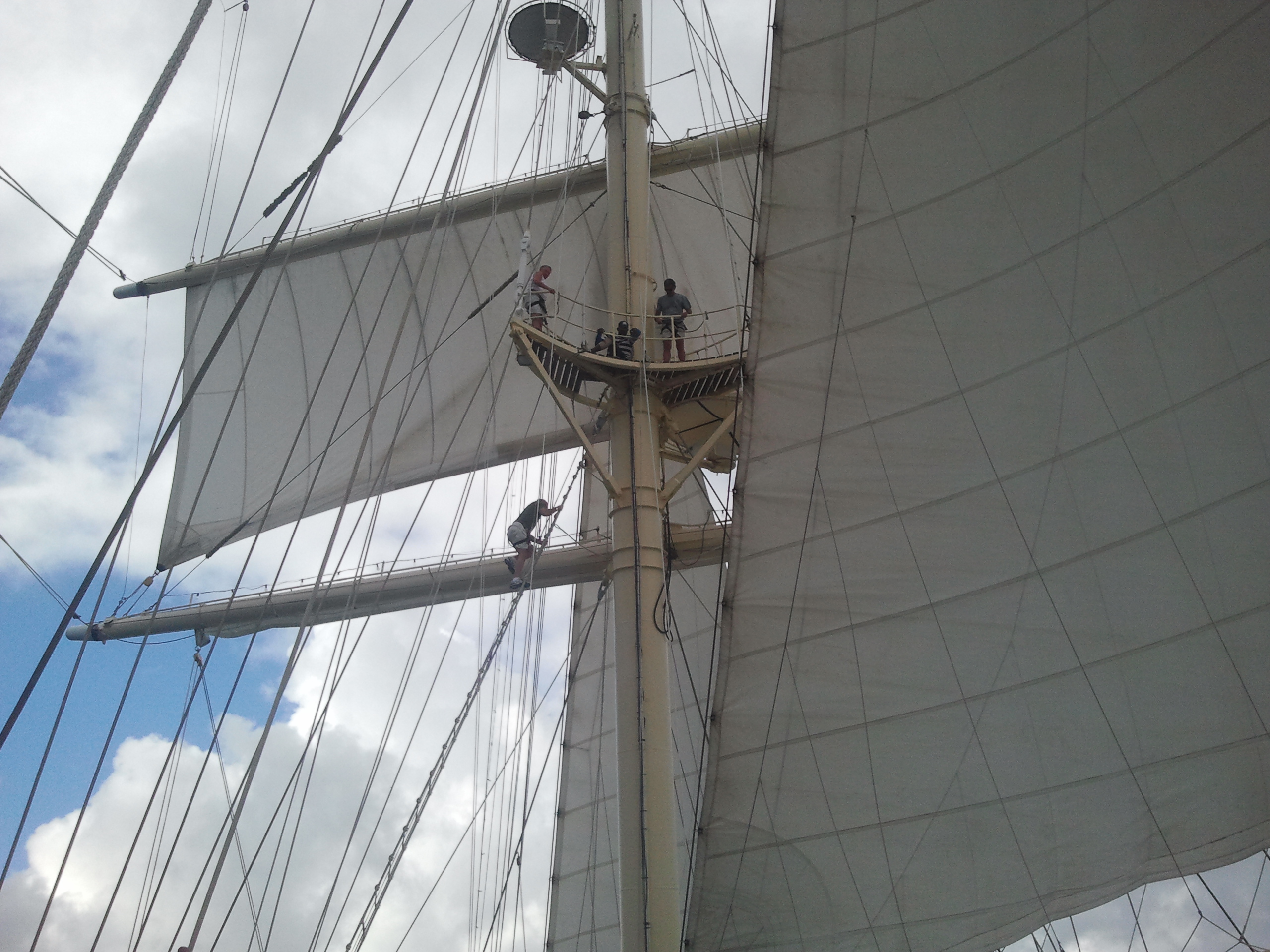 14. Learn something new
There were plenty of presentations, seminars and activities while cruising on Star Clipper. Mast climbing (for the brave ones), the Captain's stories, how to make a real sailors knot lecture, visits to the engine rooms were a few I would recommend. On each ship, those will be different but find them and sign on.
15. Expand your vocabulary
Make sure that when you are off the ship at the end of your trip, you know a few extra words like knots, wet landing, the zodiac and tender boats. You will be ready for your next sailing trip and your friends will be impressed with your newest skills.