Travelers who enjoy American history but yearn for more exotic locales can follow the paths of the American Founders, many of whom spent significant time in Europe. Paris has much to offer visitors in search of American history.
In Paris one can also visit the birth place of today's only super power. A few blocks from the Saint-Germain-des-Pres metro stop, at 56 rue Jacob, you can find the site of the signing of the Treaty of Paris -- ending hostilities between the United States and Great Britain and the American Revolution. The plaque there today informs passers-by that Benjamin Franklin, John Adams, and John Jay were all present.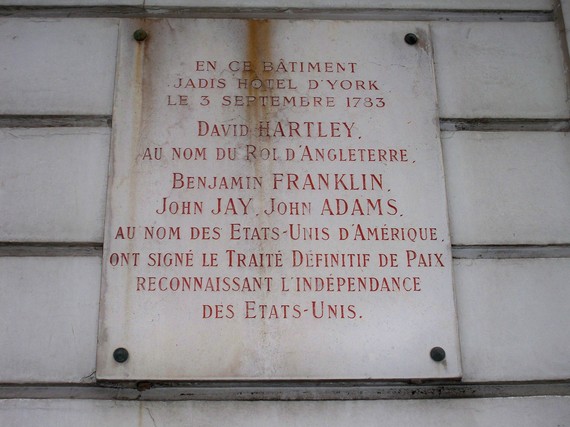 But Paris is far too romantic a city for simply researching diplomatic history. The city of love figure prominently in the political history of the United States but tourists can also discover how the cities served as the backdrop to the intimate lives of the Founding Fathers. Many of the original buildings have long been replaced but some still stand and can be toured.
In Paris, one can see sites that caused John Adams so much distress but that enchanted Thomas Jefferson, Benjamin Franklin, and Gouverneur Morris. It was in Paris that Jefferson became intimately involved not only with his enslaved sixteen year old wife's half-sister, Sally Hemings, but he also became involved with a married woman, who some claim was the love of his life, Maria Cosway. Jefferson modeled Monticello after the hotel de Salm. Writing to Madame de Tessᅢᄅ in 1787 he gushed: "Here I am, Madame, gazing whole hours at the Maison quarrᅢᄅe, like a lover at his mistress. . . . This, you will say, was in rule, to fall in love with a fine woman: but, with a house! It is out of all precedent! No, madam, it is not without a precedent in my own history. While at Paris, I was violently smitten with the hotel de Salm, and used to go to the Thuileries almost daily to look at it." Today the hotel de Salm looks much as it did when Jefferson viewed it.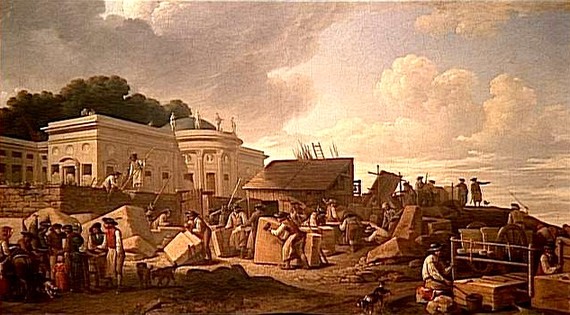 Benjamin Franklin spent nearly nine years living in Paris, where he famously secured French support for the American Revolution. He lived in Passy, which was then a suburb of the more expensive Paris. Today 62 rue Raynouard is a short walk from the Trocadero metro stop - a popular stop for visiting the Eiffel Tower. Franklin rented a house on a large estate here. Today the site is occupied by large residential buildings. This one carries a plaque commemorating his important stay - but not his reputation for wild flirtations with Parisian women.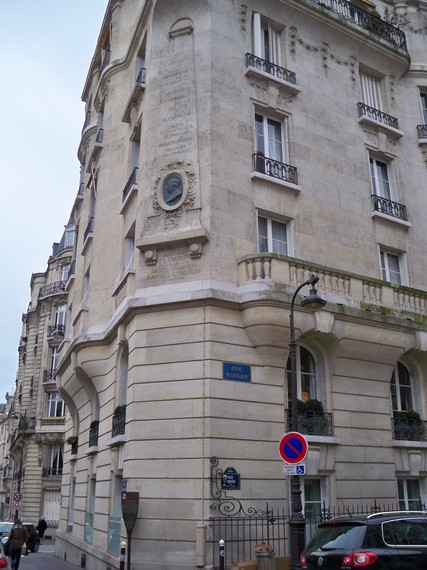 Gouverneur Morris is perhaps best known (or should be) for penning the famous "We the People" preamble to the U.S. Constitution, words that underscored the essential rule by the people. Morris lived in Paris for nearly ten years and was involved with a married woman, Madame Adele de Flahaut. She lived in the Louvre where Morris often visited. He kept detailed diaries describing their affair and referred to their encounters in language of amusement - for example, to "celebrate the mysteries." He also seems to have enjoyed taking risks with being discovered such as in this entry: "After Dinner while the latter is playing the fortepiano, as she is near sighted . . . [we] almost perform the genial Act." Morris remained a bachelor until 57. Morris also traveled to London and other European cities, and wrote about encounters with prostitutes and married and unmarried women along the way.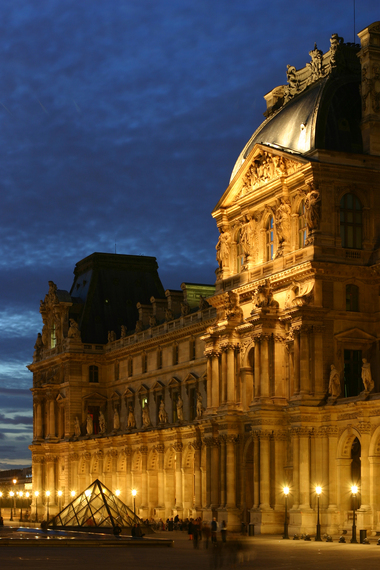 Gouverneur Morris was injured as a young man, losing a leg. In one of his diary entries he noted visiting wounded soldiers at L'Hᅢᄡtel national des Invalides in the heart of Paris. Morris called it "a most magnificent piece of architecture" and noted that "the chapel and the dome are sublime." But he was also quite sensitive to the pity that his colleagues exuded for the men. His host, he wrote, "heard a number of the "invalides" expressing their pity that so fine a man should have lost his leg. He did not perceive me give one of them a crown, or he would have known how to appreciate the compliment and the compassion." Today this building is open for tours and presents one of the finest domes in Paris.