I lived in an 18-foot house trailer when I first went to college.
So independent was I...
I sucked at it -- but I had to try...
Brought my brother's portable record changer from home,
but only remembered to bring two albums.
Turned out those two albums were enough.
The albums?
Quincy Jones'
"Birth of a Band"

and

Julie London's
"Julie Is Her Name."
I listened to both albums every night as I went to sleep,
playing either before the other depending upon my mood.
Julie's was sultry, sensuous and intimate,
just her steamy voice, Barney Kessel's elegant guitar
and Ray Leatherwood's supportive Bass --

or

Quincy's, which was just as sultry, sensuous and intimate
then throw in some as kick ass big band charts.
As I listened myself to sleep, without any conscious effort,
I saw myself working with Julie and Quincy independently.

These were pleasant images that revealed themselves to me on a consistent basis and I enjoyed drifting off with these visions gently swirling through my head.
Five years later,
Julie London called my brother John
asking him to form a vocal quartet for her.
Still a student at USC, I found myself working with Julie in the Westside room at the Century Plaza Hotel.

It was a formative gig for me and we boys in her quartet
became friends with Julie and her husband, Bobby Troup.
Twelve years later,

I received a call while doing a session at
Western Recorders in Hollywood.
It was from my answering service, Arlyns.

"Quincy Jones would like for you to call him,
shall I put you through?"

"Yes. please!"
Q had heard some arrangements I had recorded with "Sassie" (Sarah Vaughan's nickname), at the Record Plant.
Her handlers wanted to take her R&B.
Quincy had walked by the booth as they were mixing down and inquired about who had written the arrangements.
I went to Q's home right after my session at Western
and my life was forever changed.
Quincy brought me on to write vocal charts as well as
provide great singers on his new album, "Body Heat."
This album was a fresh direction for him stylistically
and soon he asked me to write brass charts and
even co-write some of the songs on the album.
I was in heaven.

I felt I had found a new brother.
Soon after "Body Heat" was finished and released,

I received news that Quincy was
undergoing surgery for a brain aneurism.
My heart fell through the floor.
Creating with Quincy Jones had brought me to
a new pinnacle in my life.
Musically, personally,
and forget about the fact that my awareness level
had accelerated to super solar heights just by
spending so much time with him.
Now, during his surgery,
they discovered another aneurism
and scheduled a separate surgery many weeks away.
The news was not good.
His surgeon was not hopeful for his survival.
By this time, "Body Heat" had earned Quincy
his first Gold Record as an artist.

A&M records, his label,
hastily put together a party at Bistro Garden
(now Spago) in Beverly Hills to celebrate.
I was afraid it was the last time I would see him.
On the day Q went in for his second surgery,
I never prayed so much in my life.

I would not listen to the radio or turn on the television.
I stood in the living room of my home,
looked out at the mountains and the blue sky
and concentrated on life for him.
I remember the sun was still up,

but the hour is a blur.
I heard the phone ring.
I picked it up with hope in my heart...
"Hello?"
What I heard on the other end of the line,
I hear clearly now as I am writing this.
"I'm Still Here."
It was Quincy's voice, in the most melodious tones
-- 'I'm Still here' --
He sang it and it sounded like this: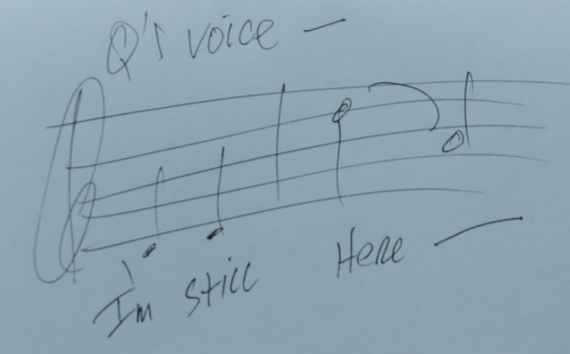 (if you don't read music, have someone who does sing it to you:)
Forever, the joy I felt in my heart lives within me,
each time I recall this moment.
I love you, Quincy.