The passing of Michael Graves last week brought a lot of well-deserved praise for his architecture and even more so, for his products that many people purchased from retailers like Target and J.C. Penney. However, few people know that Graves was also an accomplished painter, whose work offers insight into the reasons for his lasting success.
I have a small painting of his that I won in a bid during a fundraiser auction, and it captures, in just six inches square, the characteristic features of his art: it depicts a tilted landscape, as if looking at a hillside, with architectural elements from his buildings standing in isolation, like ruins, against a gray-green ground and a light-blue sky, with a few rows of pollarded trees and bushes parallel to the picture plane. At the bottom, Graves signed the painting in his distinctive scrawl, with the last two numerals of the year he painted it: "01."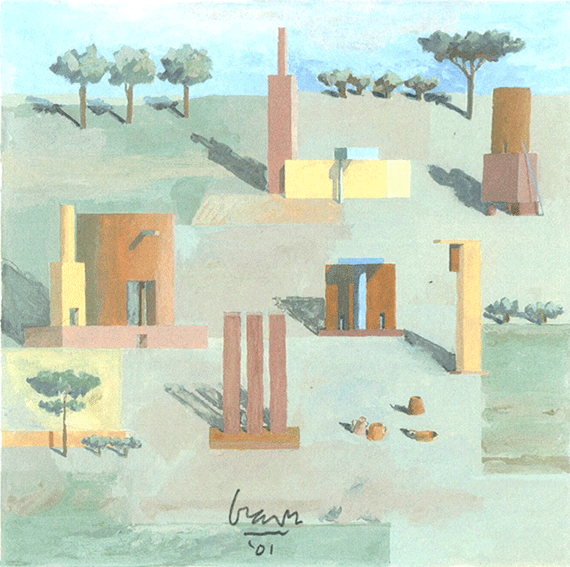 For someone as prolific as Graves, with over 350 buildings and more than 2000 products to his name, we might well wonder how he found time to paint. But, like the great modern architect, Le Corbusier, who Graves emulated early on in his career, art became a way of exploring ideas and expressing the vision that drove his design work. In Graves's case, the paintings evolved from an early interest in brightly colored cubism that looked like a cleaner, lighter version of what Le Corbusier produced, to the sunbaked pastoralism of Graves's mature style, in paintings that bring to mind Italian hillsides, with their olive-green foliage and the scattered remnants of buildings from by-gone eras.
Graves, though, placed in his paintings not only what look like simple farm structures from the Italian countryside, but also parts of his own buildings, as if looking back at what remained of his architecture from some vantage point a century or so in the future. That mix of nostalgia for an ancient past and a sense of loss in our own time gave Graves's design work as well as his paintings their evocative power. The witty light-heartedness of his buildings and products may have helped make them so popular among both clients and consumers, but the memorable quality and lasting power of his designs lie elsewhere: in the Proust-like remembrance of things past that we see in his paintings and in the yearning they convey for a simpler existence than what the modern world has to offer us.
That love/hate relationship with the modern world gave Graves's work a creative tension that made it so compelling for so many people. It also made Graves a somewhat paradoxical figure in our culture. He thrived in the world of modern commerce, running a sizable and successful architecture and product design firm for many decades, and yet he also seemed to chafe under the crudeness of much of what the commercial world produced. He created many serious and sophisticated structures -- museums, college buildings, corporate headquarters -- and yet he also conveyed in them an almost childlike innocence through simple forms, strong colors, and symmetrical compositions. And he re-interpreted elements of past architecture in new and fresh ways -- moving progressively backward in time from early modernism at the beginning of his career to pre-classical antiquity in recent decades, and yet he also designed buildings that will look, as my small painting suggests, just as good as ruins as they do, inhabited, now.
It always seemed too glib to call Michael Graves a post-modernist, as if his importance lay simply in what he followed and came to oppose. Let's hope that, with his passing will come a fairer and more nuanced assessment of his significance, taking into account not only the full range of his creative output, but also the real depth of his tragic vision of modern life. Like all great designers, Michael Graves both embraced the times in which he lived and embarked on its reformation, not with the naïve futurism that typified so much of the modern architecture that preceded him, but with the sage pastoralism that has characterized many of the most stable periods of past civilizations. While that pervades his buildings and his products, it remains most prominent in his paintings.
Thomas Fisher is Dean of the College of Design at the University of Minnesota.