What does it mean to be an artist? And how do they make their way through the world? Can one person's struggle to find meaning in life serve as an example for another?
Those are just some of the questions at the heart of a compelling new one-man play, With Held, which makes its debut at the 2013 San Francisco Fringe Festival.
With Held (the title is a pun both apt and suggestive) is the work of local playwright Jeremy Greco, who delivers a bravura take on the life and sexual adventures of his friend, the contemporary artist John Held Jr. It sketches the high and low points of one man's struggle to create and be creative while navigating the everyday challenges of modern life.
Greco's credits include a ribald and wacky 2004 Fringe Festival Production, The Thrilling Adventures of Elvis in Space, which got some buzz. For this new work, Greco spent more than six months interviewing Held, Jr., a San Francisco artist, curator and critic known for his longtime involvement in the conceptual field of Mail Art. (Watch the KQED video embedded below to get a handle on the artist and this particular art form. It is valuable though not necessary background for the play.)
Greco shaped his interviews into a 60 minute, one-man play. In his fast-moving monologue, Greco blends stories from the life of his artist/friend with his own personal and philosophical reflections to address issues around identity, creativity, and meaning. With Held, it turns out, is almost more performance piece than stage drama. But that's ok, because it works well.
One of the piece's humorous moments is a reoccurring line, "Let's not use that story, ok?" It follows anecdotes built around Held Jr.'s sexual adventures and misadventures. The joke, of course, is that those stories end up in Greco's piece.
In development over four years, Greco has performed segments of With Held at venues around the Bay Area, including the Ever Gold Gallery, Salon San Carlos, The Marsh, CounterPULSE, and the 2010 Marin Fringe Festival, where Greco won a Critic's Circle Best Actor award for his portrayal of Held. Its current staging at the 2013 San Francisco Fringe Festival, produced by John Hamilton and with a backdrop by Held Jr., marks the piece's first complete performance. (Brilliantly deployed, Held's set is minimal but effective, a backdrop of hand-painted and stacked Priority Mail boxes.)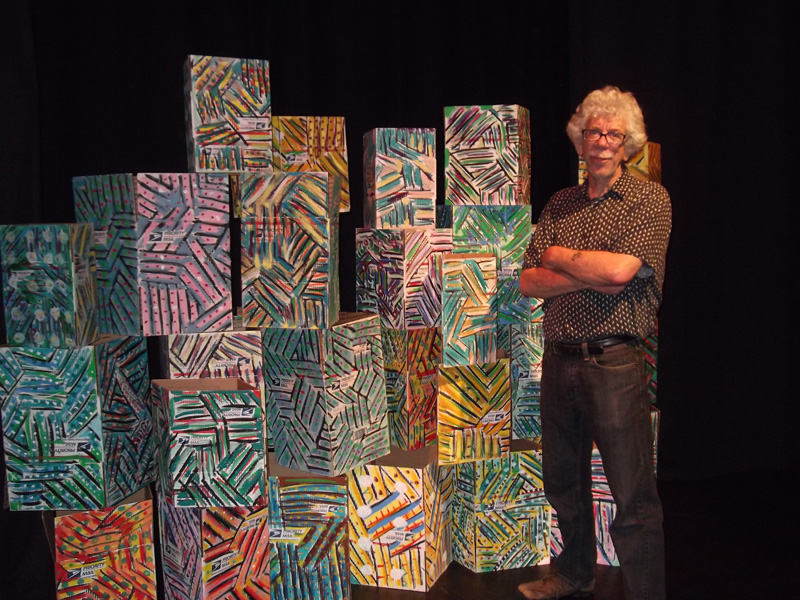 Artist John Held - photo by Christy Pascoe, used by permission
Greco and Held are each determined artists. When asked what he came to learn about his friend after interviewing him for six months, Greco said "Most importantly, I learned if you keep hammering away at something about which you're passionate - after a certain period of time it opens up a lot of doors. I learned how an artist lives life day by day - how one survives.... Everyone should listen to someone's life story and write it down. Not only is it good for the person being interviewed, but the interviewer."
With Held is a quietly transformative work, insightful, compelling, humorous, and ripe with what the stage should always possess - pathos.
With Held continues at the Exit Theater (156 Eddy Street in San Francisco) on Friday, September 13, Saturday, September 14, and Wednesday, September 18. Performances take place in the theaters' Stage Left venue. Seating is limited. Call the Exit Theater at 415-931-1094 for times, ticket availability, and additional information. Tickets may also be purchased online through the Fringe Festival website.
Thomas Gladysz is a Bay Area arts journalist. His interviews with Fluxus artist Jackson MacLow, pop star Rufus Wainwright, and others have appeared in local publications. His interview with poet Allen Ginsberg was featured in the catalog for "Beat Memories: The Photographs of Allen Ginsberg," recently on display at the Contemporary Jewish Museum in San Francisco. More at www.thomasgladysz.com.