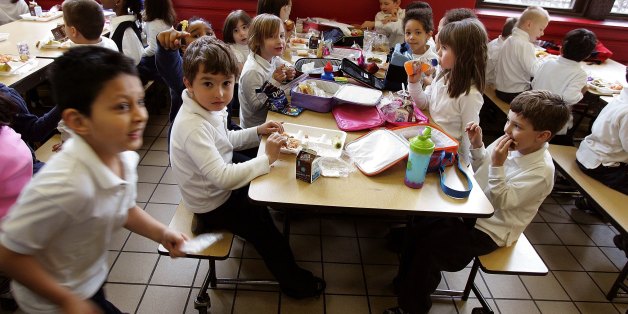 When did a politically driven view of school nutrition begin to overtake visible realities? Trays of uneaten cafeteria food thrown in the trash. Hungry kids. Struggling school food-service programs. Peel back the good intentions and the celebrity-fueled support of the Healthy, Hunger-Free Kids Act, and you'll see the practical realities many school districts and students face. Legislation enacted without a practical understanding of its consequences truly fails America's public schoolchildren.
That's why the National School Boards Association (NSBA) is asking Congress and the U.S. Department of Agriculture (USDA) to address the unintended consequences of the Act.
The real story of school districts trying to put nutrition regulation into practice has been drowned out by the political noise surrounding the issue. Some have suggested that those who want to grant schools much-needed relief have partisan motivations. Others make the specious claim that local school officials do not want to do the work of raising nutrition standards.
It is time to set the record straight: School districts are committed to providing healthy meals to students, and NSBA has actively and long supported the federal school nutrition program.

At the time of the law's passage in 2010, however, NSBA expressed concerns about the significantly higher costs likely to be associated with the new mandates. The stricter nutritional standards -- as well as other new regulations issued by USDA -- are cost-prohibitive for many already cash-strapped school districts.

It's hard to imagine the law's vocal supporters intended that it would result in student boycotts of school lunches, higher meal prices, food wasted or discarded, and school districts scrambling to identify funds to comply with unfunded regulations. Political outrage does not match up with "on-the-ground" reality: Declining participation in the meal programs means that many students are underserved, while others are simply going hungry.

The realities are clear to ordinary Americans in local communities: Unfunded mandates in the law are placing an untenable burden on America's public school districts and America's public schoolchildren. Even food outside the school meal program -- including snacks in vending machines or cupcakes sold at school fundraisers -- must adhere to costly new nutrition standards.

For many students, school lunch is their only meal of the day. We owe it to children, parents and communities to think through the practical aspects of how laws are implemented. Drawing attention to these issues is not part of a campaign by school districts to avoid complying with the law. Overly rigid and unrealistic federal mandates undermine the ability of school districts to do what the law intends: prepare and serve nutritious food that enables America's public schoolchildren to grow, learn and thrive.
It is incumbent upon us to apply reason to the debate. This is why NSBA supports temporary waivers and other reasonable measures to restore local flexibility and authority to school districts struggling to comply with the rigid and unrealistic provisions of the law.

NSBA also applauds the USDA's decisions to delay or waive implementation of some of the law's more onerous provisions, and the recent effort by Secretary Vilsack to initiate an honest exchange of opinions among various national organizations with an interest in this key policy issue. This issue calls for thoughtful deliberation and compromise, not shrill political rhetoric.