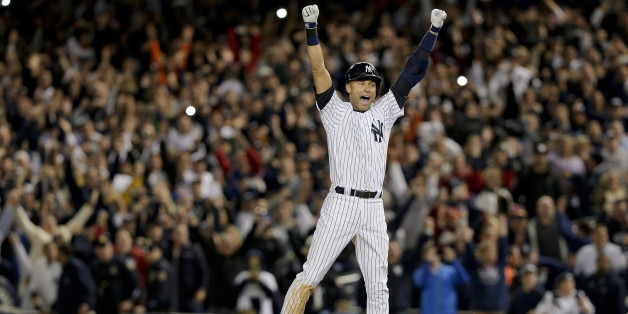 In many ways, 2014 was a year to forget in the world of sports. The instinct in most fans is to try and use sports as an escape from the problems or bad news of everyday life, but this year sports themselves were often the bearer of bad news. Donald Sterling's skin-crawling racism, Paul George's gruesome and avoidable injury, Tony Stewart's involvement in the death of the young Kevin Ward, Jr., the Ray Rice video, Adrian Peterson's switch, Roger Goodell's all-around incompetence -- we shook our heads at each one of these stories with disgust or disappointment, often both.
However, while it's easy to lament to the failings of our sports fandoms in 2014, there's no denying that there was also a lot of good to come from the past year. Here are six ways in which sports inspired us, captivated us and reminded us why we investment the time in them in the first place.
We touchingly said goodbye to a pair of living legends in 2014: Derek Jeter and Landon Donovan. When watching the two of them this year, it was obvious Father Time had his grip on both of them. Jeter's average barely hovered around .250 and Donovan was ignominiously left off the United States' World Cup team. Nevertheless, showmen and icons that they both are, each man managed one final memorable moment just before they exited the stage. It'll be a long time before either sport finds a superstar of similar magnitude.
There was the collective rush of dousing our cheers with a heavy dose of patriotism during the Winter Olympics and World Cup. T.J. Oshie's marvelous shootout performance against Russia had people clamoring to put him on our currency. Meanwhile, Tim Howard's dominant goal-tending in Brazil earned him a tongue-in-cheek spot in the president's cabinet, as the "Secretary of Defense." Although the men's soccer team was bounced in the round of 16, moments like Howard's uncanny saves or John Brooks' goal ensured that this once maligned-sport is here to stay as a domestic force.
2014 was also the year of personalities and pioneers, of iconoclasts and trailblazers. Michael Sam and Jason Collins inspired us all this year. Sam became the first openly gay football player ever to be drafted into the NFL and Collins became the first openly gay active NBA player ever. At the Little League World Series, Mo'ne Davis proved "you throw like a girl" is actually the best compliment going. As for big personalities, Seattle Seahawks cornerback has that in spades. Bigots and stupid people dismissed his brash and uninhibited comments following the NFC Championship Game as just the ranting of an uppity, angry black man, when in fact they were actually the embodiment of the most fundamental axiom of sports: if you can walk the walk, you're sure as hell allowed to talk the talk.
The year's single best game in all of sports didn't come in a championship or postseason tournament, and it didn't feature any real household names (unless you count the two old guys on the sidelines). On February 1st, Duke and Syracuse met at the Carrier Dome for the first time as conference rivals. What followed was an instant classic in every sense of the phrase, a back-and-forth overtime battle that saw the Orange ultimately prevail 91-89. The two teams met in Durham for a rematch later that month. That game was exciting but not as priceless as the first, though it did give us one unforgettable moment, in Jim Boeheim's reaction to a late game charge call.
And then there are the moments of individual grandeur, the flights of fancy and raw athleticism that leave us speechless. Thoreau saw the sublime in the ripples of Walden Pond, but I see it in the fingertips of Odell Beckham, Jr. Here are a handful of the most amazing individual plays and performances in sports this year.
Another welcome trend in 2014 was the return of the Activist Athlete. Long gone were the days of Mohammad Ali's anti-war stance, Tommie Smith & John Carlos' black fists or Bill Russell's civil rights contributions. Jordan's "Republicans buy sneakers too" had become the law of the land. Athletes were supposed to #SticktoSports. Not so in 2014. We had the Clippers turning their warm-ups inside out in silent defiance of racist owner Donald Sterling. The St. Louis Rams receivers entered the Jones Dome recreating Ferguson protestors' "Hands Up, Don't Shoot" gesture. And multiple NBA and NCAA teams have recently donned "I Can't Breathe" tees in solidarity of Eric Garner. In a year when racial strife and civilian-police relations seem headed toward a fever pitch, it was great to see that sports don't just have to be an escape from our problems -- they can also serve as a challenge to us as a citizenry to be better than what we settle for.
Thomas McKenna is a writer whose work has appeared in The Huffington Post, Gawker, Hollywood Take, Sports World News, and Rant Sports. Follow him on Twitter @tmckenna1