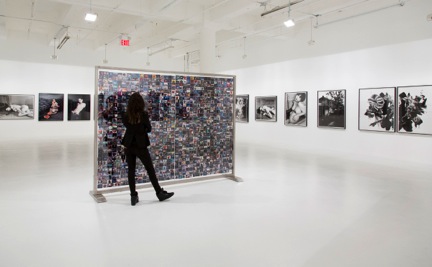 In the collective American consciousness, things Japanese always carry the concomitant adjectives of minimalist, natural, highly refined, and most of all, rigidly decorous. Think tea ceremony, origami, Noh Theater and Zen Buddhism. At first glance, noted photographer, Nobuyoshi Araki seems to traduce all of these norms... with gusto! Renowned in photographic circles both at home and in Europe, the current exhibition at Mana Contemporary in Jersey City (on view May 4th through August 16th) is shockingly the first serious non-commercial showing of his work in America. Perhaps, this absence of American museological interest should not be surprising given the highly sexual nature that pervades his art. Given the puritanical underpinnings of American society and culture, Araki's blatant and seemingly lasciviousness runs against grain of plain spoken, homegrown domesticity. One need simply recall the Culture Wars of the late eighties when Morality Czar, the late Senator Jesse Helms railed against photographers such as Robert Mapplethorpe and Nan Goldin for their depictions of unnatural depravity. The settings that the aforementioned artists portrayed were a world apart, or so Helms thought, from most people's America. Araki's photographs go one giant step further.
Bursting the bubble of a Western view of a highly refined "oriental" society of modes and manners, Araki peers closely, too closely for an audience used to a bodacious sense of private space, by prurient, almost gynecological, peering into the private parts of his sitters, most frequently porcelain-skinned, latter day Geishas. A large proportion of these very coolly voyeuristic images depict underage girls, very partially cloaked in traditional kimonos, bound with ropes, with their pudenda under siege by grimacing toy Godzilla toys marching in for the kill. Though such dioramas seem more at home with the Grand Guignol of the novels of Yukio Mishima and the late post-modern filmmaker Juzo Itami, these trussed-up heroines represent the very traditional art form of kinbaku, the highly stylized art of erotic rope tying, a far cry from the American traditional sailors slipknots! These scenes are even more transgressive since the sitters all appear to be under age, verging on child pornography. Hence, to look is to desire, even if the object of desire looks like one's niece.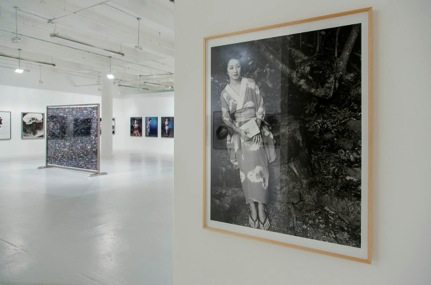 The photographer additionally tweaks the current governmental prohibition of the photograph depiction of pubic hair. (Noto bene: although Japan's customs agents do not prohibit the introduction of foreign porn magazines into the country, they only do so once said porn images have been censured by the erasure of any pubic hair. To add a further art historical note, Araki is well versed in the nineteenth century Ukyoe-e, Japanese woodblock prints, produced for the rising class of Japanese businessmen during the Edo Period. The subset of these Ukyoe-e prints devoted to sexual exploits and the cataloguing of sexual positions are referred to as Shunga. Lastly, one cannot think of this work without noting that in the Western art historical context, Araki certainly is also aware of the Etant Donnes installation by Marcel Duchamp and Gustave Courbet's recently discovered erotic canvas entitled The Origin of the World painted for a nineteenth Century Pasha of the Levant.
The other side of Araki's photographic reportage involves his obsessive, meticulous
diaristic journals recording the illness and finally death of his beloved wife Yoko Aoki and a similar chronicle of his pet cat, Chiro, who lived an astonishingly long life of twenty-to years. Like the erotic works, these very intimate portraits of cherished beings are unclassifiable. Just as the viewer is embarrassed to be caught lingering too long at the windows of the boudoir bondage scenes, here again our very presence in these moments of deep personal intimacy seems obscene. His images of the dying beings, be it wife or pets are so very sad especially the coffin portraits. Noboyushi Araki has remarked, "Photography is all about encounters." Yet, can a thoroughly westernized mentality ever completely feel comfortable here? These sweeter subjects does recall the continuing rich tradition of Nihonga Painting, the so-called "Japanese Painting" which to the outsider's eye look cloying and sentimental, but which, within a Japanese context, are seen to represent the truest form of a surely nationalistic art.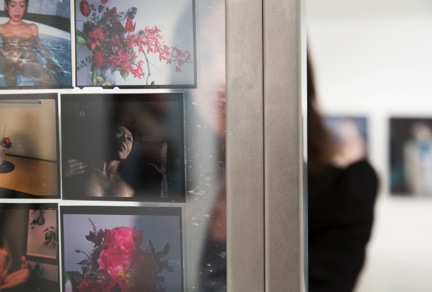 While of the artist's tableaux are very formal, they are saved from being too academic by their lighting sharp sting. The exhibition at Mana Contemporary also includes a number of Polaroids, a medium that Andy Warhol utilized to an amazing degree. These lesser works further hint at the ever-present eye of Araki glancing just around the corner to capture his moment.
It is time for American audiences to dig deep into the oeuvre of Nobuyoshi Araki. The world that they will find will seem alien and familiar at turns. Yet the precision, intimacy, provocation, of his visual explorations of over forty years will linger in the mind's eye for a very long time.