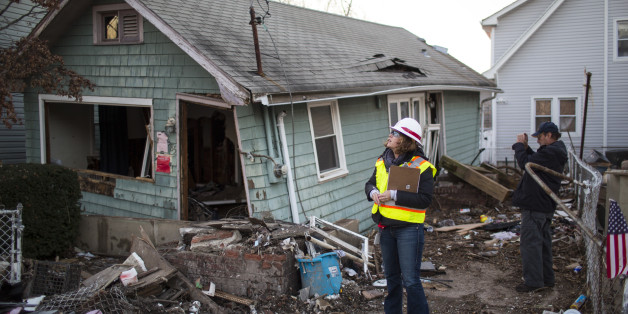 I am writing this piece from the top deck of the St. George Ferry -- it's the primary mode of transportation for my team of AmeriCorps members to and from work in Forest Hills, NY, every single day. As I look out of the port-side of the ship, Lady Liberty and the New York City skyline come into view. I see the sights and sounds of New York City and can't help but think of where I was at this time earlier last year. In September of 2013, I was taking classes at Florida State, working 40 hours a week and trying to figure out where my next step in life would be. All while "attempting" to have a good time in the process. Then, something unexpected happened; never having left my hometown for more than a few weeks, I found myself on an airplane to Baltimore, MD to begin the start of my year with the FEMA Corps unit of AmeriCorps NCCC. As this panoramic view of skyscrapers and buildings passes, I think about the past eight months and all that my team and I have done. I can't help but think about what someone would do to have the opportunity to live and work in New York City, but more importantly, to go the distance that we have to help others in the way that my team has. Let me show you what our year has been like.
For those who don't know, the FEMA Corps unit of AmeriCorps NCCC allows members between the ages of 18-24 the chance to travel the country for 10 months, live and work with a team of people and learn about what Emergency Management does at the federal level. Our duties and responsibilities range from directly working in the field with FEMA employees to strategic management of FEMA operations within the realm of administrative work. Quite simply, if there's a disaster, we're on it!
All 10 of us began our service year in New Jersey by developing an educational program designed to empower high school students to become preparedness advocates within a disaster-affected area. In 2012, Superstorm Sandy wreaked havoc in New York City and New Jersey. For two and a half months, I served as a team leader in FEMA Corps. We planned, coordinated and executed a program to educate youth on how to become prepared and ready for the next Superstorm. And we did quite well with it! In the midst of this all, little did we know that our services would be needed elsewhere and our project would shift from preparedness to direct response. At the drop of a hat, we stopped what we were doing with the high schools, packed up our 15-passenger van and headed out to Alabama to respond directly to flood survivors. For three weeks, we spent their time going door-to-door, working with flood survivors in order to get them registered for FEMA assistance. We work face-to-face with survivors to ensure that they get the personalized treatment they deserve. We aim to jumpstart the assistance process if damages were sustained to a person's property (houses, cars, apartments, personal property, etc.).
After Alabama, we returned to Forest Hills, NY. For the next two months, we lived and worked in New York City (Again, how many people actually get to say that they live and work in New York City?). This next assignment would begin our administrative support of long-term Sandy-related recovery operation. Even after two and a half years, Sandy recovery efforts are still being made within NY and NJ- so that's where we come in! We spent a month filling out project worksheets in order to get towns the grant money they need to rebuild.
It cannot possibly get any better than this. I had no idea that I would spend the entire year in AmeriCorps with the same nine people, doing these great things in the name of service. Every single individual on my team has taught me something and has shown the communities we've served, the value of our work. In November, my fellow AmeriCorps NCCC members and I will all return to our "normal" lives and continue to bring our strong work ethic, positive attitude, and endless energy to the organizations of which we will serve. As I sit here and write this, I continue to feel grateful about the endless opportunities we have had all year long.