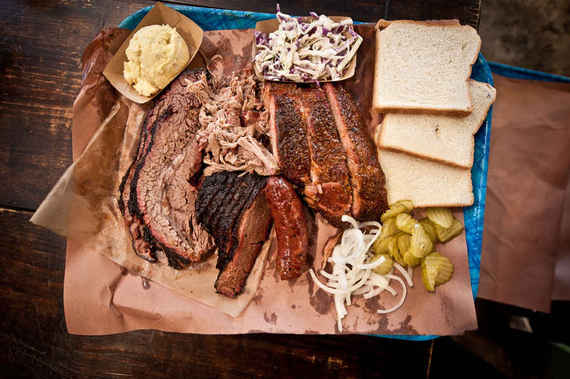 CREDIT: Franklin Barbecue
When pitmaster Mack Sevier retired suddenly and closed Uncle John's BBQ in September 2013, you could almost hear the faint, collective whimper of white folks and would-be patrons who never made the pilgrimage to the gritty, no-frills barbecue joint on Chicago's South Side. Sevier's rib tips and hot links were the stuff of legend, enhanced not only by the restaurant's unique, Chicago-centric aquarium-style smoker, but also the revolving bulletproof glass window his barbecue was delivered through.
A younger generation of Sevier's family is keeping the flames alive in another location of Uncle John's, but the sudden closing is a cautionary tale for any barbecue eater with an unfulfilled bucket list of smoked meat havens to visit. Barbecue is a tough business. Pitmasters get old and cranky. Legendary dives sell out. Joints burn to the ground. Shit happens, and those great barbecue spots you've been meaning to try won't be around forever. (Or, you could also get hit by a bus tomorrow.)
This isn't a roundup of the "best" barbecue restaurants or a dissertation on what barbecue is or isn't. Lord knows, you people shred those lists like a pack of starving, angry hyenas. These are barbecue restaurants -- new and old -- that have contributed greatly, in some way or another, to the rich, unique, and delicious American barbecue culture. If you consider yourself a supporter of the barbecue arts, these are the places you've gotta try before you die (in no particular order). Go now.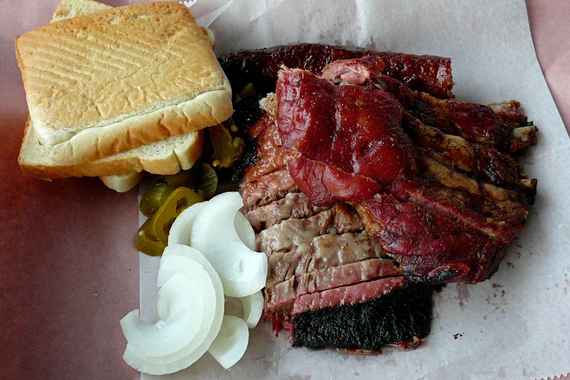 CREDIT: Flickr/Pierluigi Miraglia
Snow's BBQ (Lexington, TX)
If you're ever passing near Lexington, Texas (population 1,200), you better hope it's Saturday. Snow's is open one day a week only, from 8 a.m. 'til the brisket and pit-grilled pork steaks run out. And if you want a shot at everything on the menu, get there by 9 a.m. or you're S.O.L. The Saturday-only tradition may be tied to the time when German and Czech butchers operating meat markets in Central Texas smoked leftover meats at week's end. Or maybe it's because Ms. Tootsie Tomanetz, a woman who has spent 48 of her 79 years making barbecue, was working weekdays as a custodian for the school district when the restaurant opened in 2003. Tomanetz, with the help of her son, Hershe, and Snow's owner, Kerry Bexley, starts the fires around 2 a.m. and turns out some of the state's best brisket.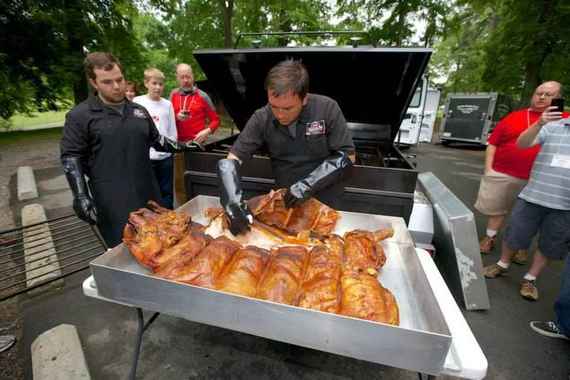 CREDIT: Skylight Inn
Skylight Inn (Ayden, NC)
It would take up too many pixels to explain the complete barbecue lineage of the family that started the Skylight Inn and runs it to this day, but here's the short version: It dates back to the 1830s. What's more important is the restaurant's fierce allegiance to true whole-hog barbecue -- head-to-tail, rooty-to-the-tooty, everything-but-the-squeal -- cooked over burned-down hardwood coals. Eastern North Carolina is loaded with whole-hog barbecue, and Skylight is the gold standard, down to the harsh vinegar/pepper sauce (no ketchup, ever) that makes it one of the definitive regional styles of barbecue.
More: 7 foolproof ways to spot a fake BBQ spot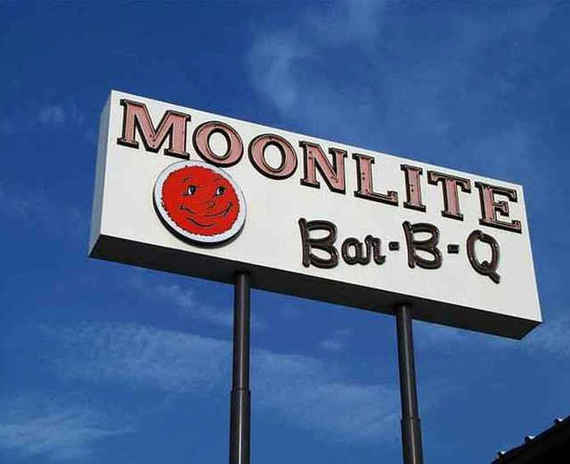 CREDIT: Moonlite Bar-b-q Inn
Moonlite Bar-B-Q Inn (Owensboro, KY)
For the regional barbecue disciples who battle over the supremacy of Texas brisket, Carolina whole hog or Memphis or Kansas City ribs, I have three words for you: Western Kentucky mutton. The history of this distinctive barbecue follows the same plot line as other regional variations in 'cue: Locals make do with tough, fatty cuts of meat from animals available in abundant supply. In Western Kentucky, in the early 1800s, that animal happened to be sheep raised for wool. The tradition stuck. (Quick lesson: Lamb is lamb up to 12 months old, and sheep is the animal when it's over 12 months. Mutton is to sheep what pork is to pig.) Since 1963, Moonlite Bar-B-Q Inn has served hickory-smoked, pit-cooked mutton and is one of the few places in Kentucky that do it justice today. Thanks to the persnickety eating habits of Generation Chicken Nugget, mutton isn't as popular as pulled pork or barbecue chicken (also served at Moonlite), and this tradition may not survive. Go while the gettin' is still good.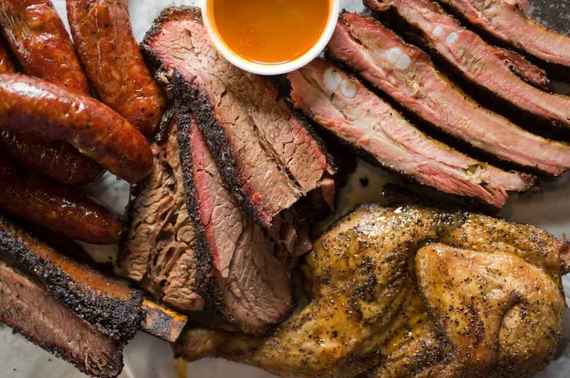 CREDIT: Louie Mueller Barbecue
Louie Mueller Barbecue (Taylor, TX)
Since 1949, the Flintstonian beef ribs at Louie Mueller have shocked and awed barbecue devotees. The sheer size and unapologetic unctuousness of these mothers is enough to make a Navy SEAL weak in the knees. Biting through the thick, crisped bark of coarse pepper and into Mueller's smoke-ringed brisket is close to a religious experience and at least one man (see: Aaron Franklin, Franklin Barbecue) has credited his brisket epiphany to this Central Texas smoked meat emporium. Louie Mueller has remained a regular fixture on Texas Monthly's best-of-the-best lists of barbecue joints in Texas, and no self-respecting barbecue diehard can die happy without checking this institution off his list.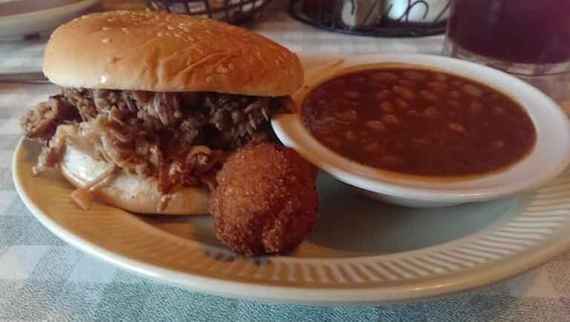 CREDIT: Twitter/Ryan Cordell
Allen & Son (Chapel Hill, NC)
Pork shoulder reigns supreme in the Piedmont region of North Carolina, and Allen & Son sets the bar for doing it right: low-and-slow cooked over hickory burned to coals. Hickory that owner/pitmaster Keith Allen logs, hauls, splits, and burns down to coals in the fireplace between the restaurant's two pits. Allen is a barbecue man's barbecue man, a muscled purist who is far too polite to ever dog any other pitmaster or style of barbecue, but who clearly takes tremendous pride in doing this regional 'cue the old-school way. His pork shoulder is the picture of perfection -- riddled with dark, crispy bark and roughly chopped (not pulverized, like other chopped barbecue).
Check out 5 more BBQ meccas to visit before you die, with selections from Texas to Missouri -- all on Thrillist.com!
More from Thrillist:
The 33 best BBQ joints in America
33 of the Best, Most Iconic American Foods
Follow Thrillist on Twitter: www.twitter.com/Thrillist