By: David Blend
Take a quick break from playing "Would You Rather...", "F***, Marry, Kill", and "F***, Marry, Kill: Coworkers Edition", and ask yourself a more fulfilling question: If you could have one meal every single day for the rest of your life, where would it be from, and what would it be? We popped that very question to 22 chefs from across America (and Tijuana). Feast on their favorites, then add yours to the comments.
More: Famous Chefs Reveal Their Favorite Fast-Food Chains and What They Order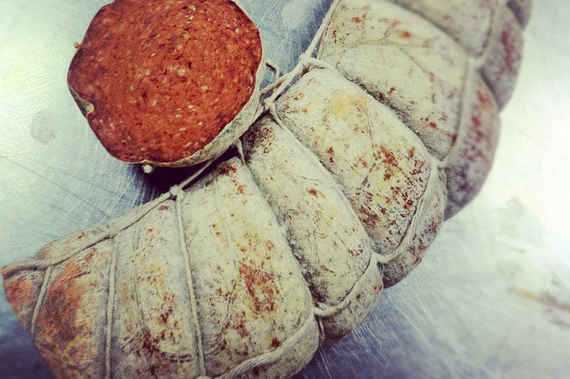 Credit: Courtesy of Cypress/Craig Deihl
Chef Ian Boden, The Shack, Staunton, VA
Dish: The n'djua from Cypress, Charleston, SC
Boden, whose own restaurant has been widely hailed as one of the best new restaurants in the South, tells us that Cypress's Craig Deal "makes the best f***ing charcutier in the U.S. by far. If I could sit at the bar and eat anything that they make I would. My favorite though is the n'djua. I've eaten my fair share of it and I can never seem to get enough."
Chef Wylie Dufresne, Alder, NYC
Dish: Fried Chicken Hash at The Hummingbird, Fairfax, CA
The guy who as much as anyone made molecular gastronomy a thing keeps things simple when he's way out west, with this filling off-menu day-starter. "You have to eat breakfast everyday so why not have it be two eggs with fried chicken hash?! The perfect meal."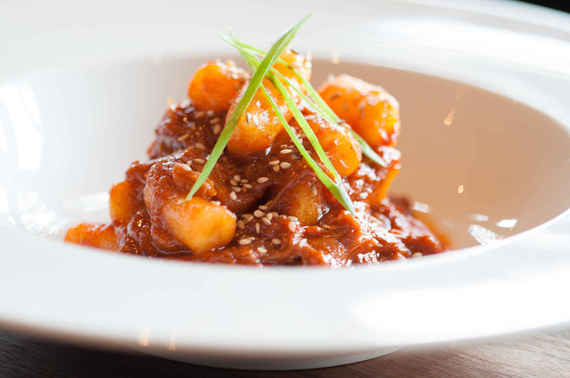 Courtesy of Underbelly/Julie Soefer
Chef Edward Lee, 610 Magnolia, Louisville, KY
Dish: Korean Braised Goat & Dumplings from Underbelly, Houston
Lee, a three-time James Beard finalist who once said "I never met a bourbon I didn't like" (cheers!), is also a die-hard fan of chef Chris Shepherd's menu, which draws from Houston's many unexpected (to people who aren't from Houston) culinary subcultures. With his braised goat, Lee says Shepherd "transforms a traditional Korean dish into a one-of-a-kind portrait of comfort food with a Southern soul. It speaks to my heart, to my mind and to the part of me that loves the torrent of spice that builds with every bite."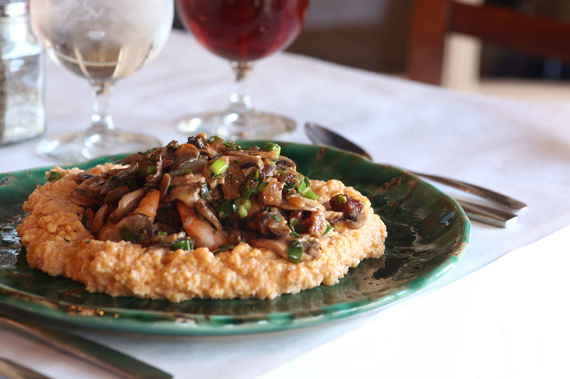 Courtesy of City Grocery Restaurant Group
Executive Chef Patton Robertson, Five Sixty by Wolfgang Puck, Dallas
Dish: Shrimp & Grits from The City Grocery, Oxford, MS
"The dish reminds me of great times at college," says the Texas-born, London-trained Robertson. "It's simple yet hits all flavors just right -- sweet, spicy, sour, buttery. It also goes great with a ice cold beer!!" (Editor's Note: everything in Oxford goes great with cold beer, but Shrimp & Grits goes greatest.)
Chef Thomas Macrina, American Culinary Federation President, US Foods Fanatic
Dish: A Zep from Lou's or Eve's in Norristown, PA
Chef Macrina got his CIA degree the same year America celebrated her bicentennial, and of all the culinary delights he's experienced since then, this sandwich remains his ultimate meal: a large loaf of crusty Italian bread, with cooked salami, provolone, hand-cut onions & tomato slices, and oregano oil, brought to Norristown straight from Sicily. Lou's is in the old Italian neighborhood, while Eve's is on Johnson Highway, but since you're in Norristown anyway, why not attempt to eat both and then go down like a lead zeppelin.
Executive Chef Adam Mali, Mandarin Oriental, San Francisco
Dish: Polipo from Marea, NYC
To Mali hooked for all eternity, all Michael White needed to do to his octopus was add lemon, chili, and parsley. Oh, and prepare those four ingredients better than anyone else in the known universe. "The octopus is cooked perfectly to where there is texture, but it's tender. The combination of ingredients is so simple, but so well done."
Chef Alon Shaya, Domenica and Pizza Domenica, New Orleans
Dish: Combination Pho from Pho Bang, New Orleans
"The noodles and various pieces of meat give me sustenance, the broth clears my senses and the herbs, lime and sriracha wake me up," says Shaya of his Westbank go-to. "It's the perfect comfort food that I can always find some peace in" (and peace is hard to come by in a city filled with Hand Grenades).
Executive Chef William Bradley, Addison at The Grand Del Mar, San Diego, CA
Dish: The B.L.T. Toast from République, Los Angeles
"I could eat the B.L.T. not just once, but twice a day -- it is that good!" stresses Bradley, who recently won Robb Report's Culinary Masters competition after being nominated by some guy named Thomas Keller. Bradley calls this modern brunch classic "quintessential of the word delicious. It has texture, depth of flavor, temperature and an amazing aroma." Besides the L. and the T., that quintessence also includes wild arugula and a fried egg.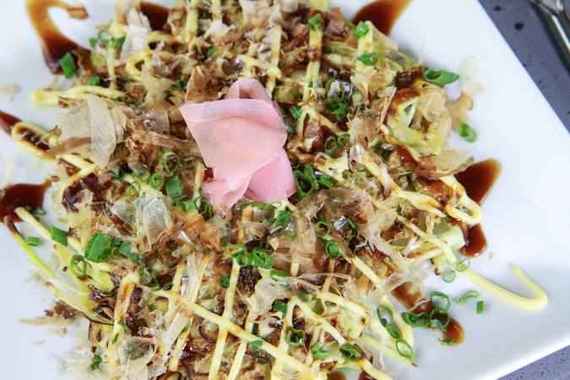 Courtesy of Posh/DW Photography
Chef Brian Archibald, Tapacubo and The Normal, Tempe, AZ
Dish: Okonomiyaki from Posh, Scottsdale, AZ
A savory vegetable pancake made of shrimp & bacon topped with BBQ, Cutie Pie Mayo and bonito flakes, this item's only available during Posh's "Tuesday Ramen Night" -- at least in the real world, but we're not living in the real world right now. Says Archibald: "It's the ultimate in comfort, texture and flavor explosion." Spoken like a true native Phoenician! (That's what they call people from Phoenix -- who knew?)
Executive Chef Brian Zenner, Oak, Dallas
Dish: Ramen w/ Pork Belly from Tei-An, Dallas
"I could eat Tei-An's ramen with pork belly for lunch every day," raves the rising Big D star Zenner. "Noodles, pork, egg, chili, and the best tonkotsu broth ever... everything a growing boy needs. I dream of it!" Dear everyone trying to get past having weird dreams about your mother: go eat at Tei-An.
Curious to find out what single dish a chef would eat every day for the rest of their life? Head to Thrillist.com for 12 more chefs and their answers!
More from Thrillist:
5 Standby Dishes Every Restaurant Should Make Better
10 Bourbons You Can Afford to Drink Every. Single. Day.
Follow Thrillist on Twitter: www.twitter.com/Thrillist