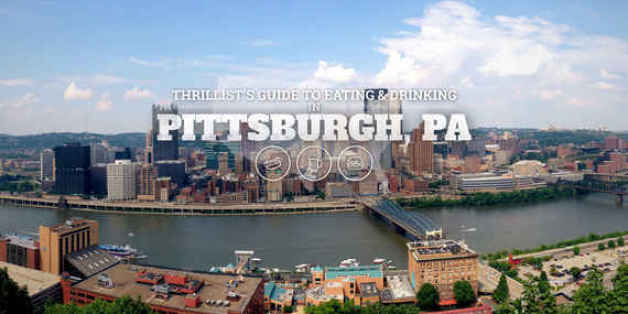 If we had to come up with a motto for Pittsburgh, it'd be "Keep Pittsburgh Gritty". Not "gritty" as in "dirty" -- "gritty" as in plucky, authentic, genuine. Contrary to popular belief, the air's clean, and so are the three rivers. For actual grit in PA, there's always Philly.
It's the little city that could. There're speakeasies, award-winning chefs, and plenty of creative takes on the pierogi. Plus, we'll always say hello and hold the door for yinz. Here's where to eat, drink, and get your pierogi fix all over town.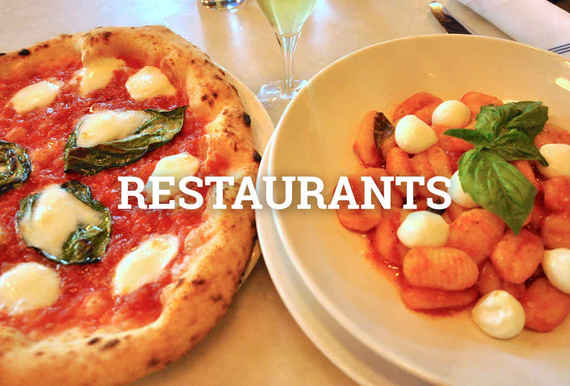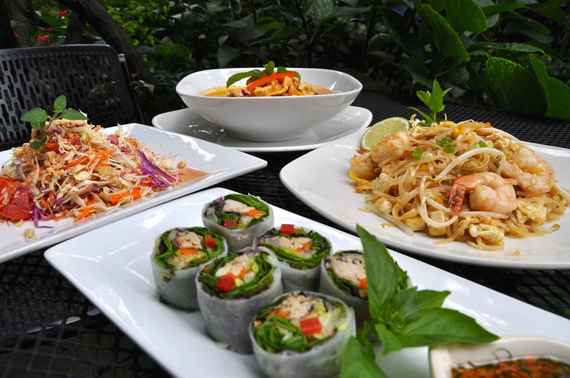 Pusadee's Garden
Lawrenceville
Why you're here: Casual outdoor Thai dining
What you're getting: Start with the spring Thai fresh roll or the chicken satay (with peanut sauce and cucumber relish), then feast on the pad Thai or the curry selections (two thumbs up to the pumpkin curry). Spend a warm evening in the lush outdoor garden, a retreat filled with fresh flowers, or in the cozy dining room on a cooler day. Chef Pusadee Tongdee, who moved to Pittsburgh from Thailand a few decades ago, infuses meals with fresh herbs plucked from her garden.
More: Pennsylvania's 10 best restaurants outside of Philadelphia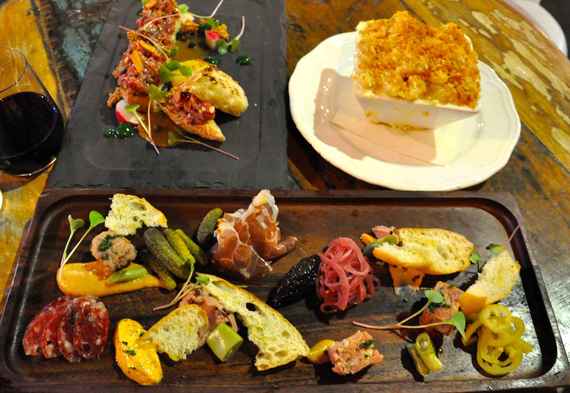 Butcher and the Rye
Downtown
Why you're here: Dinner in the Cultural District before a show
What you're getting: Just steps away from the theater district, Butcher and the Rye offers three stories of bizarre, charming decor (somehow, a taxidermied fox and a chandelier made of top hats coexist well here), alongside a menu of reimagined comfort food, including a sophisticated take on Sunday Gravy with lamb, and mac & cheese with goat cheese. Drink in the towering bar with its selection of 350+ bourbons.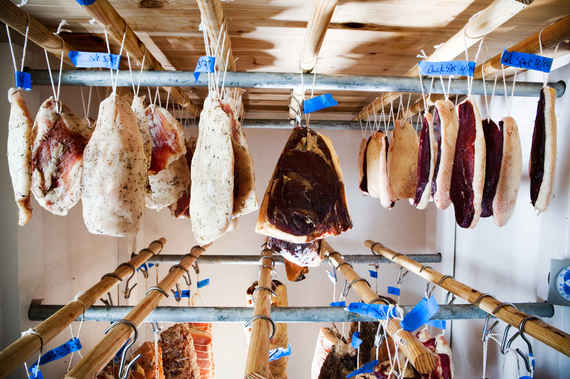 Credit: Adam Milliron
Cure
Lawrenceville
Why you're here: The meaty menu
What you're getting: A carnivore's dream -- spaghetti carbonara, pork loin -- Cure's menu strives to reflect the seasons in Western PA and its farms. Renowned chef Justin Severino serves up locally sourced foods with what he calls an "urban-Mediterranean influence". Don't skip the salumi board with Spanish chorizo, sopressata, and coppa di testa. Another nod to Severino's passion for local flair: century-old barn wood from a local farm adorns the space.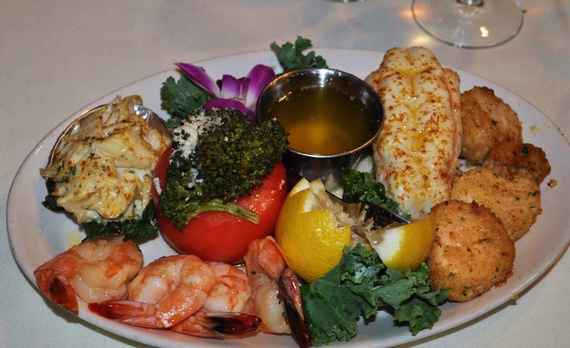 Credit: Tin Angel
Tin Angel
Mount Washington
Why you're here: Fancy dinner with a view
What you're getting: High atop Mount Washington, the restaurant boasts a jaw-dropping view of the city skyline. Request a table near the window and watch the sun set over the three rivers during a prix-fixe four-course meal. The appetizer vegetable boat is a veritable cornucopia of delicacies from stuffed celery to pickled eggplant. And make up for your temporary vegetarianism with the black forest filet stuffed with black cherries. Finish off the meal with fresh pineapple doused in crème de menthe.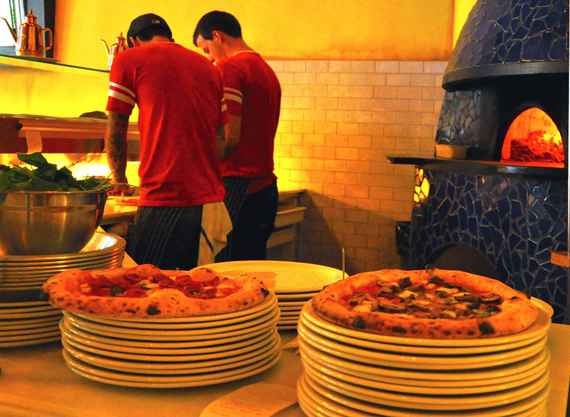 Il Pizzaiolo
Downtown
Why you're here: The finest gnocchi this side of the Atlantic
What you're getting: Enjoy dinner in the heart of the city prepared by chefs who take rustic Southern Italian cuisine seriously -- importing creamy mozzarella from Naples, serving dozens of Italian red wines, and whipping up gnocchi and cavatelli from scratch. A 1,000-degree wood-fired oven crisps pizza dough to perfection (try the Margherita DOC). After dinner, sip a cappuccino alongside tiramisu or "delizia al limone" (lemon delight). Sit near the windows or on the patio for a cityscape backdrop.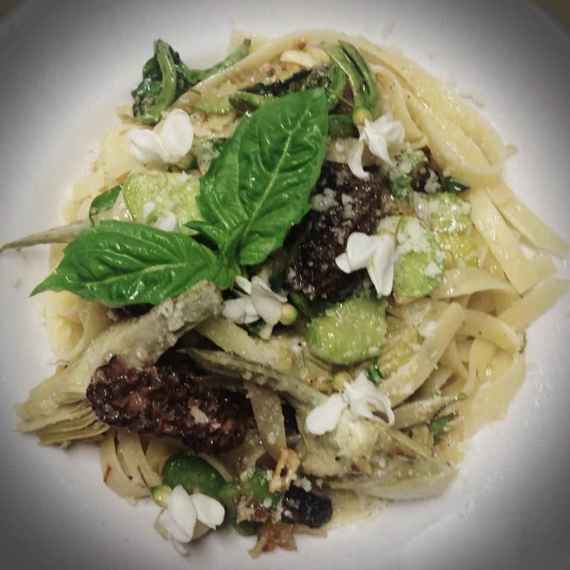 Credit: Dish Osteria
Dish Osteria
South Side
Why you're here: You're on a date, you big shot
What you're getting: A few blocks removed from the city's bustling South Side, quiet-and-cozy Dish Osteria is practically hidden among the neighborhood's row houses. Begin with the Melanzane Grigliate e Mozzarella di Bufala (grilled eggplant), the Rigatoni alla Scamorza (prosciutto, pistachio nuts, peas), or any of the seafood dishes. It's also likely the only restaurant at which you'll have a chance to order a Sardinian berry liqueur-based cocktail.
We're just scratching the surface of the food and drink in Pittsburgh -- head to Thrillist to read all about Pittsburgh's bars and the multitude of delicious pierogies!
More from Thrillist:
The 22 Best Whiskey Bars in America
The Best Steakhouses in America
Follow Thrillist on Twitter: www.twitter.com/Thrillist