By: Lee Breslouer
While it would have been impossible/amazing to try every single new beer on the market in 2015 and tell you the best ones, we ultimately decided against doing it ourselves this year (you're welcome, mom). Instead, we spoke to brewmasters from across the country to find out their favorites. The only rules we gave them were that it had to be released in 2015, and that it couldn't be from their own brewery. Here's a look back at the best brews of 2015 from around the country.
Odin Brewing Co. Asgard IPA
IPA, 6.5% ABV
Tukwila, WA
"I was visiting family in Seattle over the summer and found this beer in my hand nine times out of 10. I really dug the hop aroma, and the hop flavor played well with the malts. And who doesn't love cans?! All in all, Asgard IPA made a great beer to accompany us on all of our family outings. As a side note -- and most certainly contributing a wee bit of bias -- the fact that my last name is of Viking origin made the beer even more fun to drink." -- Matt Thrall, Left Hand Brewing Co., Longmont, CO
Sierra Nevada Brewing Co. Keller Pils
Pilsner, 4.1% ABV
Asheville, NC
"I went to Asheville and bellied up to Sierra's new bar at their Mills River brewery. I ordered their Keller Pils and was leveled by how tight that beer was. I was a few beers in, but it was flawless. Those guys are scientists building some great beers." -- Gabriel Magliaro, Half Acre Beer Co., Chicago, IL
More: The Best Beers to Drink This Winter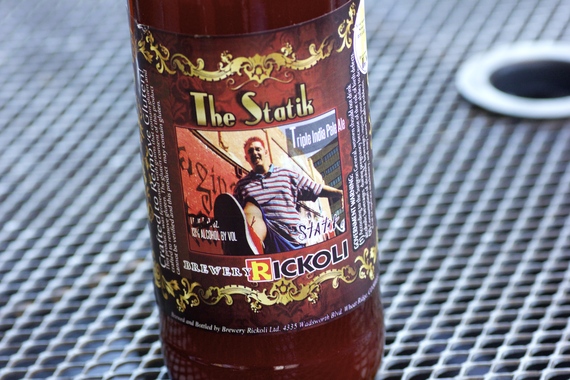 Credit: Lee Breslouer/Thrillist
Brewery Rickoli Statik
Triple IPA/barleywine, 13% ABV
Wheat Ridge, CO
"One of the best beers I've enjoyed in 2015 was actually brewed by a craft brewer in our Sam Adams Brewing the American Dream program. Rick Abitbol from Brewery Rickoli, one of the smallest breweries in the Denver area, brewed a delicious triple IPA in the barleywine style category called Statik. This beer has a variety of American alpha hops, but is also very well balanced. Rick actually won silver at the Great American Beer Festival with this delicious beer. I've also had the pleasure of trying many of their beers, and we brewed a gluten-reduced stout collaboration with Rick last year." -- Jim Koch, Samuel Adams, Boston, MA
Half Acre Beer Co. Blanco Niño
IPA, 6.5% ABV
Chicago, IL
"My favorite non-Ale Asylum beer of 2015 is an American IPA from Half Acre Beer Company in Chicago called Blanco Niño. It's single-hopped with Hallertau Blanc hops from Germany, and comes in at 6.5%. It's expertly made, clean, bright, refreshing, and highly quaffable. The aroma is how I imagine angels smell. I would bathe in this beer if it was socially acceptable." -- Otto Dilba, Ale Asylum, Madison, WI
Foundation Brewing Co. Epiphany
IPA, 8% ABV
Portland, ME
"I'd give my shout out to Epiphany by Foundation Brewery in Portland, ME. Really nice double IPA that I believe is done with a British ale yeast, giving it a smoother, softer character than most. A real standout this year, and I've tried a lot of beers in 2015!" -- Tim Brady, Whetsone Station, Brattleboro, VT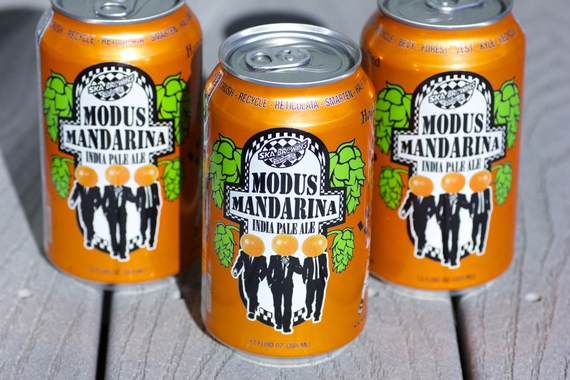 Credit: Lee Breslouer/Thrillist
Ska Brewing Co. Modus Mandarina IPA
IPA, 6.8% ABV
Durango, CO
"I have fallen in love with the Mandarina Bavaria hop, and I love the brightness of the orange peel followed by the aggressive bitterness that Modus is known for. Maybe it was the bright-orange can (go Broncos!), but this beer spoke to me and I couldn't quit buying it." -- Sam Scruby, Upslope Brewing Co., Boulder, CO
Moody Tongue Brewing Co. Bourbon Barrel-Aged Chocolate Barleywine
Barleywine, 9% ABV
Chicago, IL
"I absolutely love the 'culinary beers' that Jared Rouben does at Moody Tongue in Chicago. This beer was my top beer at GABF and then again at the Festival of Wood and Barrel-Aged Beers. The marriage of chocolate, bourbon, and elegantly oxidized barleywine is perfect: it's like boozy drinking chocolate. Not the sort of beer I can go for every day, but this was one of the few beers that knocked my socks off all year." -- Ben Edmunds, Breakside Brewery, Portland, OR
Lagunitas Brewing Co. CitruSinensis Pale Ale
Ale, 7.9% ABV
Petaluma, CA
"I'm a big fan of Lagunitas' CitruSinensis Pale Ale. Lagunitas in a longtime friend of Anchor's, and I love what they've done, especially their recent releases. There are so many out there, but a really good citrus beer is hard to come by. The CitruSinensis Pale Ale is a particularly interesting one because of its high ABV, yet the burst of blood-orange flavor makes it refreshing and drinkable." -- Mark Carpenter, Anchor Brewing, San Francisco, CA
To find out what 9 other beers made our best-of-the-year list, get the full story at Thrillist.com!
More from Thrillist:
Every State in the USA, Ranked by Its Beer
The Best New Restaurants in America, 2015
Like Thrillist on Facebook: www.facebook.com/Thrillist