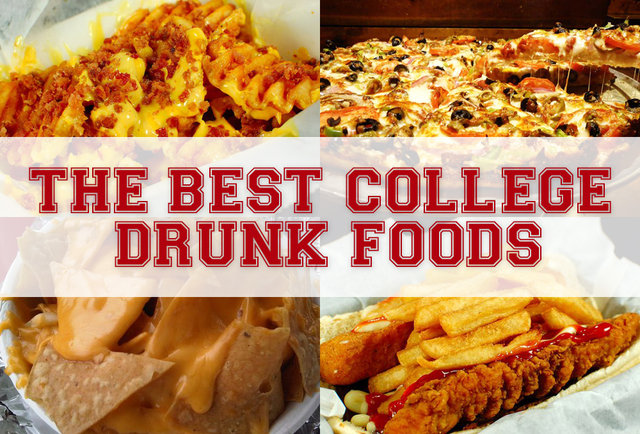 Ahhh, college. It's where children blossom into adults, and then keep blossoming into larger and larger adults, because the main point of most nights is to eat two entire pizzas, plus a side of pizza, at 3 a.m.
But we can't go back, no matter how we hard we petition the admissions office at DeVry. So instead, we took 25 of the drunkest schools -- Playboy's 10 Top Party Schools of 2013, plus a handful of others famous for an extreme aversion to sobriety -- and rounded up glorious tales of consumption. Then we assembled them in a format that in no way hilariously mimics any food guide that has existed in the form of a little red book you keep in your bathroom.
Enjoy... until the acid reflux sets in.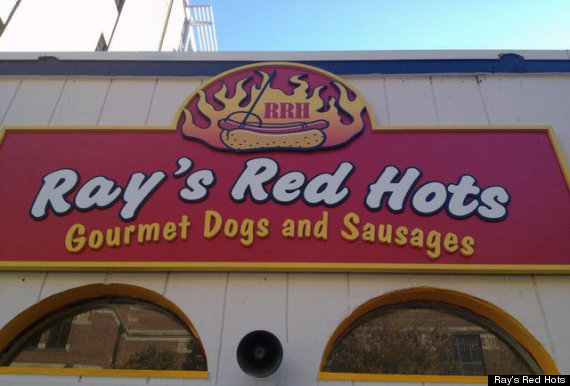 MICHIGAN
Ray's Red Hots
"The old Red Hot Lovers" is now Ray's Red Hots, but the place is "still seriously legit". The namesake dogs, including the "Snap Casing" and the "Reuben Dog," are "quite dank," but the "Half-and-Half with cheese" (a "mound of curly fries, a pile of thick-cut onion rings, and a melted-on-the-spot cheddar cheese topping") is "barf if you've been drinking a lot, but good barf." "I lived on the adjacent street for two years, and during that time went here 195821941014 times, give or take."
Runners-Up: BTB Burrito, Fleetwood Diner, Pizza House
OLE MISS
"That Chevron With Chicken-on-a-Stick"
"By far the most famous late-night eating spot in Oxford", this "gas station -- I mean, it's a damn gas station" "right off the square where everyone gathers when the bars close at midnight" is "a legend for only one thing": "a massive growth of greasy fried chicken that would kill a T-Rex, on a skewer". Except for one guy "who always went for the egg roll, just to be different or something".
Runners-Up: "Literally the only food I remember from that town is Chicken-on-a-Stick"
SYRACUSE
Chuck's Café
"Covered in graffiti" and offering "a plethora of seating," "Chuck's Café, according to Foursquare, or Hungry Chuck's, according to my bank statements" will happily serve you "the best bar food in the world." Friday brings "$4 pitchers, which you HOUSE, and then it's time to eat," and the "BBQ chipotle chicken tenders," "skirt steak sandwich," and "the $2 fries" are "the best things ever." "I want them to cater my wedding."
Runners-Up: Wings over Syracuse, Sliders Burgers and Belgian Fries, Cosmos Pizza & Grill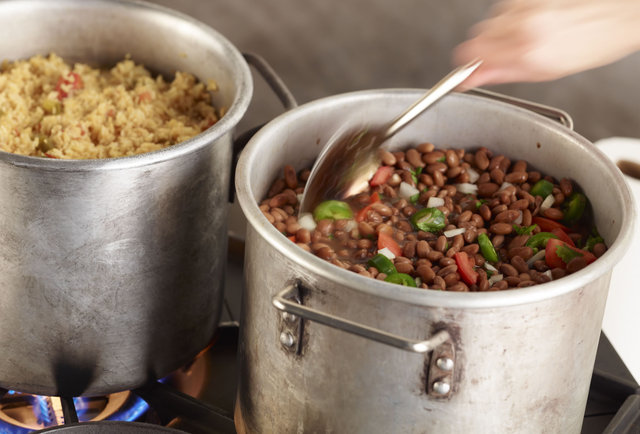 TEXAS
Taco Cabana
"The reason Texans hate Mexican food everywhere else" is "honestly the best chain of any kind on the planet", and also "walking distance from frat parties, and if you don't dress well, co-op parties". The "24-hours" joint is equipped with "a salsa bar -- I once made an all-salsa taco," but "just order the queso and house-made tortillas" which "should be purchased by the dozen" and will "cause your testicles to explode". Also, "one time someone stole a big-screen television from the dining area" and "Sean Elliot once did a super-weird commercial for them that I can't find anywhere on YouTube".
Runners-Up: DoubleDave's Pizzaworks, Magnolia Cafe
GEORGIA
The Grill
This "true diner" is the "only 24-hour joint in Athens other than Waffle House," and is "famous for having every burger, shake, and patty melt under the sun", in addition to a "ridiculous double-decker grilled cheese with bacon." Decor is highlighted by "vintage comic books and soda bottles" that "people tried to steal every time they went" before realizing "they were in a glass case", and so "swiped a ketchup bottle instead. I woke up with one in my purse once, and I don't even like ketchup that much."
Runner-Up: Little Italy Pizzeria, mainly because "in 2005, they discovered it was basically doubling as a meth lab. I'm not sure they cooked it there, but he dealt it. It was a big story in the Red and Black!"
MIAMI
New York Roma Pizza
"The old Groovy's" in Coconut Grove is now "New York Pizza," "the only pizza spot left in what passes for a college bar scene in Miami." You may "get in multiple physical altercations there" when someone tries "the old 'chat-and-cut' move," but the "slice with all the meat on it" is "totally worth it," even though one time "some teacher stood in the doorway blocking everyone" and "proclaimed that he was a goddamn veteran of the United States Effing Marine Corps," and "threatened to take down anyone who dared insult the integrity of that line."
Runner-Up: El Mago de Las Fritas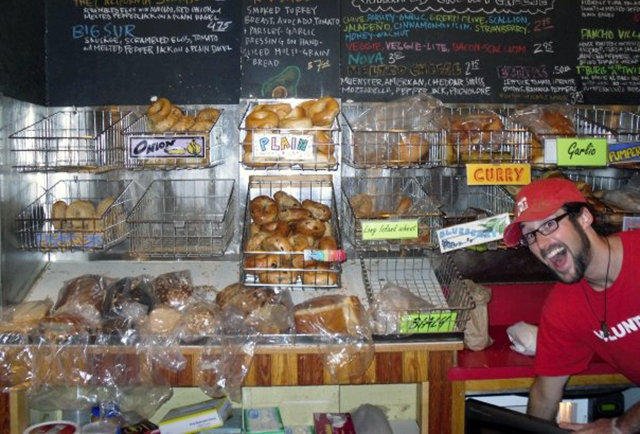 CORNELL
Collegetown Bagels
Even though its circular wares are "good at all times -- not just while drunk," this "iconic" bagel shop run by "a friendly group of Ithaca townies who are just dying to partake in the college fun" is a "late-night fixture." The "HUGE menu" is highlighted by "next-level pizza bagels -- Tuscan verde, chicken melt, etc.," and also interestingly features "pitchers of beer and sangria." "Stories abound" of people "having sex" or "just plain-old puking" in the bathrooms, and at least one fine patron has "peed a pizza box, right in front of a cop. That didn't go so well."
Runners-Up: College Town Pizza, Hot Truck
Plenty more schools are in the full story, including Florida, USC, Virginia, Indiana, Iowa, and Ohio State -- and it's all on Thrillist.com!