By: Kevin Alexander and Liz Childers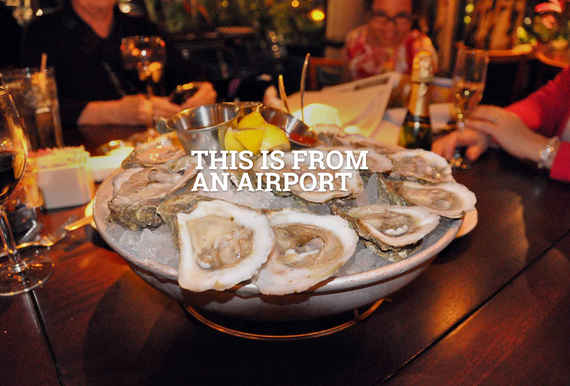 Credit: Flickr/Texas.713
Everyone has been faced with the same harrowing decision when stuck in an airport: What in the hell am I going to eat and drink now? So, in an effort to help you best sort that out, allow us to present our ranking of every single meaningful American airport's food and drink.
We did it like this: First we broke down every essential airport by the number of planes that fly in, plus region so every state was included. Then we looked up every single restaurant and bar available at each spot, and broke the airports down into four tiers. Once we had the tiers, we went deeper and figured out our proper rankings, paying particular attention to two factors: a) whether the options were unique and illustrative of the foods of that region, and b) the quantity of quality places available. But we tried to weigh the first factor higher, so smaller airports with more local food got more credit than massive places with 85 chains.
Like any piece on the Internet ever, we assume there will be some disagreements, so please illuminate us in the comments. But until then, start booking some flights, and get hungry:
More: These Are The 13 Worst People At Every Airport Security Checkpoint
72. Bozeman Yellowstone International
Bozeman, MT
There's the Copper Horse Restaurant and Bistro, and there's the Copper Horse Market, and then there's, well, not really anything else.
71. Jackson-Evers International
Jackson, MS
This past year, my 10:30am plane out of Jackson backed into the grass beside the runway and got stuck in mud. We disembarked, were escorted by US Marshals across the tarmac, and remained stuck in the airport for hours while our luggage was on the plane. When I left at 5pm, I had only eaten a salad that had mustard for dressing and was sold at the newsstand because there are NO DINING OPTIONS in the terminal. There's a bar in the other terminal, which, I imagine, was nice for someone.
70. Des Moines International
Des Moines, IA
On the airport website, they describe all of the food options in a paragraph. A very small paragraph.
69. Wichita Dwight D. Eisenhower National
Wichita, KS
There's a Waffle Bar in the food court before security, so whoever you sucker into driving you to the airport is going to be quite happy while you sit at your gate with the two identical bagel shops and two generic bars.
68. Sioux Falls Regional
Sioux Falls, SD
You only have two options here: SkyDine (specializing in wood-roasted pizza!), or the Wildcat Corner, which has these cool planes from WWI on the ceiling, and "a wide variety of food", which kind of has to be a lie, right?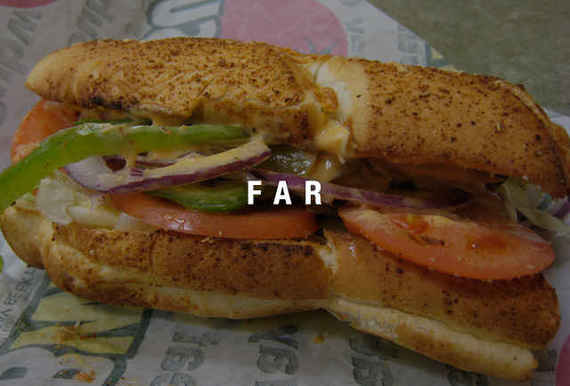 Credit: Flickr/Simon Shek
67. Hector International Airport
Fargo, ND
YOU THINK SOUTH DAKOTA IS THE ONLY PLACE YOU CAN SKYDINE?!?! Those folks to the North also prefer to SkyDine, on top of drinking coffee at Java Classics, beer at Red River Brewing Co., and whatever you eat at Marlin's Express (marlin?). Also, I very much enjoyed watching their namesake city's television series.

66. Eppley Airfield
Omaha, NE
One-sixth of the dining options are Godfather's Pizzas. If you're behind on your Nebraska-based, NY-style pizza chains, that's the one that Herman Cain was CEO of and the one that makes very uncomfortable commercials where a Marlon Brando knock-off threatens to kill you for not liking their pizza. So, there's that.

65. Fort Lauderdale-Hollywood
Fort Lauderdale, FL
Apparently by 2017, this airport will have 25 new food and beverage outlets, including an Anthony's Coal Fired Pizza. But for now, it kinda just seems like they have a Lima-A-Rita bar and one of Jimmy Buffett's myriad restaurants where you can get extremely chill food like a "Cabana Chicken Sandwich".

64. Bradley International
Hartford, CT
Usually when people say, "I'm not trying to brag", they mean the opposite. But I really mean I'm not trying to brag when I say I flew out of this so many times going to school in Hartford, and the only memorable thing about it was the Brooks Brothers in case you'd forgotten pleated business slacks. And maybe the restaurant named after that plane that used to fly to Europe in three hours, but is now retired for safety reasons.

63. Charleston International
Charleston, SC
Charleston is another spot that's undergoing a massive overhaul. But, right now, it's limited to two Sam Adams Bars (at least it's not just one... right?), two quick-service sandwich shops, and a winner called Triple B's, where you can get your fill of bourbon, beer, and burgers starting at 10:30am.

62. Cincinnati/Northern Kentucky International
Covington, KY
They've got a Gold Star Chili, if you want to get that weird chili with the spaghetti and shredded cheese people from Cinci seem to love. And a Chick-fil-A, which I like to point out everywhere. But other than that, the people of Northern Kentucky have to contend mainly with chains, and people asking if it is close to "where Justified is filmed".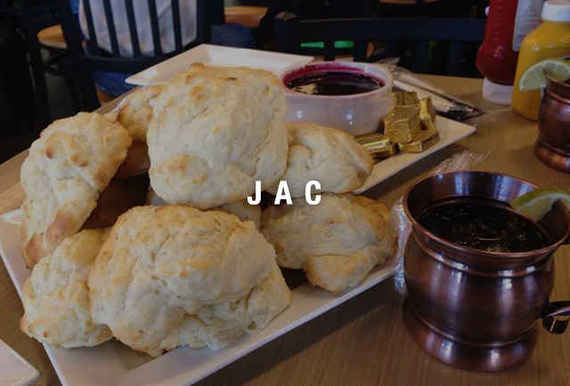 Credit: Jedidiah's at the Airport
61. Jackson Hole International
Jackson Hole, WY
There's only one restaurant in the entire airport: Jedidiah's at the Airport. But they have a 100+ year-old sourdough starter to make their homemade biscuits and pancakes and toast, and mix up Moscow Mules in proper copper mugs and pour Wyoming beers. And since their express location doubles as a gift shop, this is basically a Cracker Barrel run by a grandmother who grew up on a ranch.

60. Yeager Airport
Charleston, WV
The good people of West Virginia get a slight bump up for having a Tudor's Biscuit World, but once you get past Tudor's, you've got Gino's Pizzeria, Kanawha Cafe, and, um, yeah, that's pretty much it.

59. Manchester-Boston Regional
Manchester, NH
Don't worry, friends. There is a Dunkin' Donuts. And a Shipyard Pub, which is, in all seriousness, pretty great. And also two vending machines for snacks. So maybe you should worry?

58. Portland International Jetport
Portland, ME
Since Portland, OR already got the name "airport", Maine graciously offered to take "jetport", which sounds cooler, anyway. And people with jets can eat at Linda Bean's Lobster Cafe and a Shipyard Brewport. But if they want any other food, they have to bring it with them in plastic containers.

57. Louisville International
Louisville, KY
Woodford Reserve Bar & Grill, the only good option, is by the ticket desks. Which is great... if you love showing up at a busy airport obnoxiously early just to get a well-made Manhattan. Otherwise, you're limited to a Quiznos, a Chili's Too, a kiosk, and a bar called Stars of Louisville Sports Pub, which sounds like a glorious neighborhood bar with signed old-school pictures of approximately 13 really amazing basketball players and maybe three horses. But it's not: it's a place where you can order alcohol with your Pizza Hut and WingStreet.

56. Tampa International
Tampa, FL
Do yourself a favor: next time you are visiting your cousins who live in Tampa (NOTE: everyone has cousins that live somewhere around Tampa) -- it doesn't matter if you are in any of the other terminals -- just go to Airside C, and go to Cigar City Brewing. They make some of the best beer in the country. Drink several of their beers. Then maybe go to Shula's Bar and Grill, and talk knowingly about Mark Duper.

55. Norfolk International
Norfolk, VA
James River Grill?!? Phillips Seafood?!? A place called LaTapenade?!?! Yeah, that's about it.

54. Bill and Hillary Clinton National Airport
Little Rock, AR
The food court snags an outpost of national champion BBQ-ers Whole Hog Cafe, and there's an Oachita Brewhouse, which pours local microbrews. So if you hate 'cue, at least all that Arkansas beer'll make your Great American Bagel sandwich taste more exciting than it did at the other 59 airports where you ate it. Or just go to the Oachita Landing that's more restaurant, less booze-heavy.

53. Ted Stevens Anchorage
Anchorage, AK
I wanted to put Anchorage as number one, based strictly on the fact that they have a store called Moosellaneous, but, sadly, they don't even sell food. So just go to Grizzly Pizza and Wings, and get me something nice from the moose store.

52. Orlando International
Orlando, FL
If you took all the fast-food and fast-casual restaurants located on the main street near the mall in a random mid-size town in America and then put them all in one building, you'd have the Orlando airport.

51. Norman Y. Mineta San Jose International
San Jose, CA
Out of the three big airports in NorCal, someone has to be last. Enjoy Red Mango.

50. McCarran International
Las Vegas, NV
Before you leave your hotel, sneak as much Tupperware into the all-you-can-eat buffet and load up. Because, well, there's nothing bad at the airport, but there's also nothing... great. Except for the awesomely-named regional mini-chain Jody Maroni's Sausage Kingdom. So just eat there a bunch and see if they have t-shirts.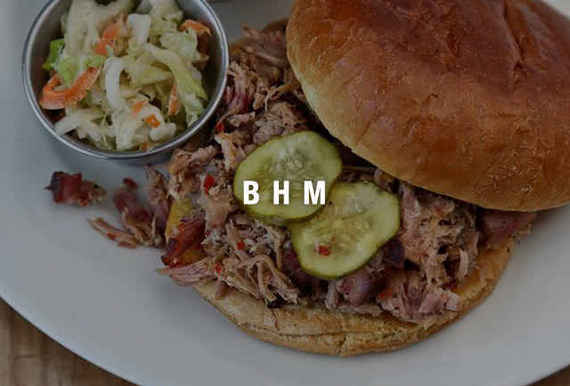 Credit: Jim 'n Nicks
49. Birmingham-Shuttlesworth International Airport
Birmingham, AL
Stuff your pockets with as many Jim 'N Nick's cheddar biscuits before you board, and, if your flight gets delayed, entertain yourself by saying Shuttlesworth three times fast after sitting at Good People Brewing's outpost.

48. Will Rogers World Airport
Oklahoma City, OK
There's a Salt Lick, and it's not often you get to eat some of the best 'cue in the country while you're flying. Unless it's at one of the other, larger, better airports that also has a Salt Lick.

47. Burlington International
Burlington, VT
They only have two places, but their names are the Skinny Pancake and the Chubby Muffin, and they serve local beers and all local food and, oh man, those names! If they end up opening a Moosellaneous too, the world will instantaneously implode.

46. Boise Airport
Boise, ID
Yet another spot that's undergoing a huge revamp, but right now... enjoy that Smashburger.
Find out which airports top our list of airports with the best food & drink, only on Thrillist.com!
More from Thrillist:
14 Airport Hacks To Make Your Next Flight Better
How Your Airplane Food Is Made: Everything You Never Wanted To Know
Follow Thrillist on Twitter: www.twitter.com/Thrillist