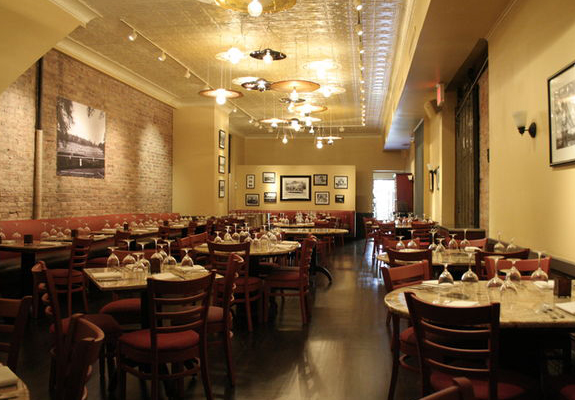 Succeeding in Williamsburg has whet many a restaurateur's appetite to try their luck down the road in what many consider the most frenzied and competitive culinary proving ground in America -- Park Slope! Following that well worn path to gustatory glory, Fornino Park Slope.
Opening a second outpost of their wildy popular 'burg pie joint, the Fornino crew's dishing a totally revamped seasonal Italian menu in a 1930s-Brooklyn-themed 165-seat space that boasts large-filament bulb fixtures hand-blown by the chef, tabletops decoupaged with vintage newspapers, B&W borough photos on the wall, and a 40ft bar hand-cut from marble pulled out of a "defunct Wall St building", which could only have been owned by Lehman...or Bear...or Merrill...we're gonna live forever!!! Sticking to their stringent ingredient policy (certified flours, D.O.P. tomatoes, etc) but jettisoning the Neopolitan oven for an open-flame grill, the 15+ strong list includes hits like the buffalo mozz/manila clams/parmesan/garlic Vongole, the white truffle oil & taleggio Funghi Misti, and the tomato/buffalo/eggplant/zucchini/pepperoni/broc rabe Ortolana, best when drowned in Armagnac and inhaled in one bite. Other brand new goodness includes over 20 antipasti (tuscan chicken liver crostini, whole artichoke in sauce vert), pastas like spaghetti with pork jowel/chicken broth/poached egg and papardelle with duck/anise/goat cheese, and hot plates of lamb sausage w/ onion & roast peppers and pesto-covered Prince Edward mussels, which unlike Prince Albert mussels aren't just desperate screams for attention. Or gross.
They'll also be offering fully cooked heat-and-eat meals like roasted chicken w/seasonal sides for grabbing on the go, meaning Fornino can also inhabit the least frenzied and competitive culinary proving ground in America -- your kitchen.