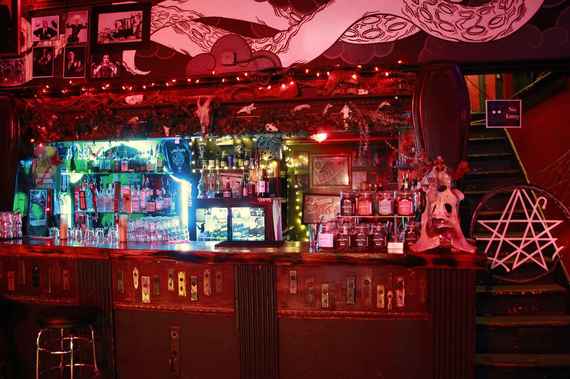 When most people think of theme bars, their minds either go straight for the tiki temples, pirate bars, or, even better, Hooters. But there are some out there that take their niche bar ideas to fantastic new heights -- places where geeks can be geeks, history buffs can be comfortably smug, and all are united under the banner of booze. And maybe vampire strippers, or whatever. Anyway, these are 21 of our favorite watering holes serving up beer with a side of weirdness.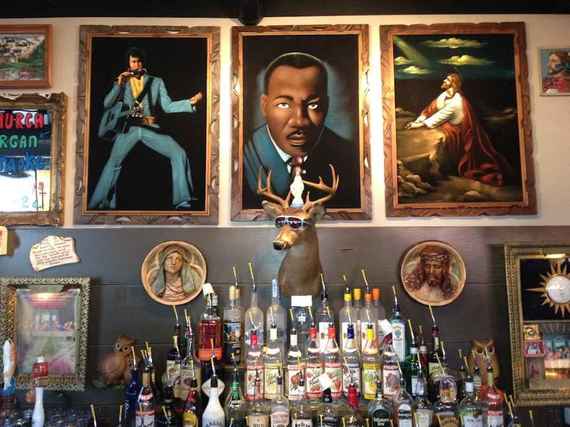 CREDIT: Sister Louisa's Church of the Living Room and Ping Pong Emporium
Sister Louisa's Church of the Living Room & Ping Pong Emporium
(Atlanta, GA)
The theme: Religion. Or blasphemy. Or both.
First off, Sister Louisa is really an artist named Grant Henry. And Grant, well, he's a bit weird... and his crazy-ass "Church" is a testament to his bizarro vision. The two-story emporium is loaded with strange religious folk art, velvet paintings, and other oddities that you can stare at while slugging stiff drinks, sitting in a pew, and waiting your turn at the altar of the ping pong table. There's also a working organ for karaoke sessions, though we're thinking "Michael, Row Your Boat Ashore" isn't on the song list.
(Portland, OR)
The theme: Sci-fi and horror
A place where you can take shots in honor of the mighty Cthulhu, The Lovecraft pays tribute to horror author H.P. by basically hosting a year-long goth Halloween party, complete with a giant pentagram hanging over a dance floor populated by ghoulish revelers getting down to DJ sets and metal bands amid a sea of horror memorabilia. They also show weird old movies, host the dark art of burlesque, and basically get down with everything you'd expect that kinda-hot goth chick from art class to enjoy.
More: 9 insane theme parks filled with dwarves, sex statues, and Stalin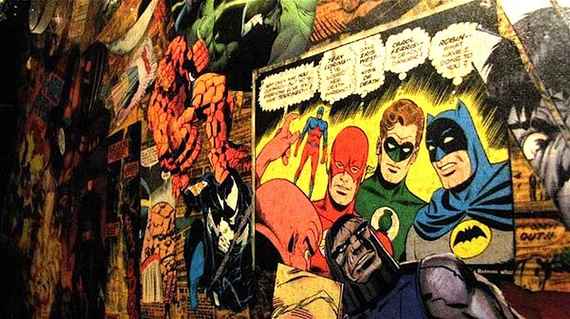 CREDIT: Yelp/Jeff W.
(Brooklyn, NY)
The theme: Comic books
The bar might be smaller than Ant Man's vacation home, but this den of geek is the real deal for comic nerds, with its walls emblazoned with comic panels and enough nerdy bric-a-brac hanging around to make it look like an 8-year-old's dream bedroom. With a $3 shot-and-tallboy special, this is the place to get into increasingly impassioned arguments about which Spider-Man movie is the best before realizing there are zero Mary Janes in the joint to validate your opinion.
(Austin, TX)
The theme: Christmas
The elf on the shelf doesn't give a crap whether you're behaving at Lala's, mainly because he's just a doll, his shelf is stacked with booze, and he's rigged up to dance whenever the door's opened. It's Christmas 24/7 in this Austin dive, which is lit by string lights and covered in holiday cheer that gets more and more hilarious with each stiff drink. It's a magical place where Santas are more Billy Bob Thornton than Tim Allen... well, they might be Tim Allen in pre-Home Improvement days.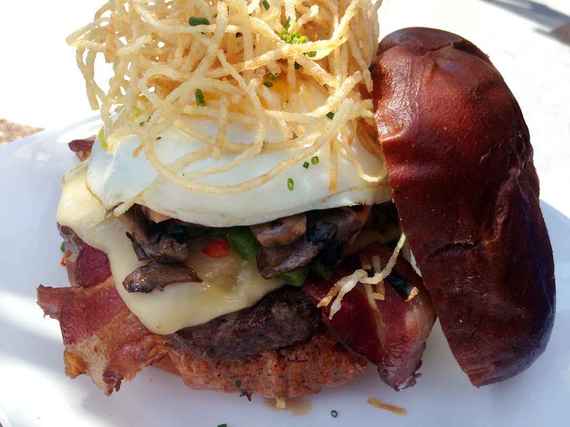 (Chicago, IL)
The theme: Heavy metal
Kuma's is world famous for serving its metal-themed burgers -- Black Sabbath, Iron Maiden, Pat Boone and Mastadon provide inspiration -- to an ear-shattering soundtrack, but its beer selection is as formidable as John Bonham on a Friday night, and includes enough regional and national selections to fuel half a trip from Chicago to Detroit on Motörhead's tour bus.
The Alley (Oakland, CA)
The theme: An alleyway
The Alley's become a legend for many reasons: the steaks are cheap. The walls are covered with thousands of business cards (they were apparently sprayed with fire retardant to keep up to code). Oh, and it's not just a clever name: the entire place is set up to look like a seedy alley, complete with fake roofs and power lines. It's all presided over by pianist Rod Dibble, who performs nightly and invites patrons to take the mic and bust out lead vocals. For once, you won't be arrested for drinking and singing in an alley.
We've still got 15 more amazing theme bars on the list, including ones with themes like spies, semi-nude circuses, film noir, and "bedtime" -- check 'em out on Thrillist.com!
More from Thrillist:
The 22 Best Whiskey Bars in America
What Your Cocktail Says About You
Follow Thrillist on Twitter: www.twitter.com/Thrillist