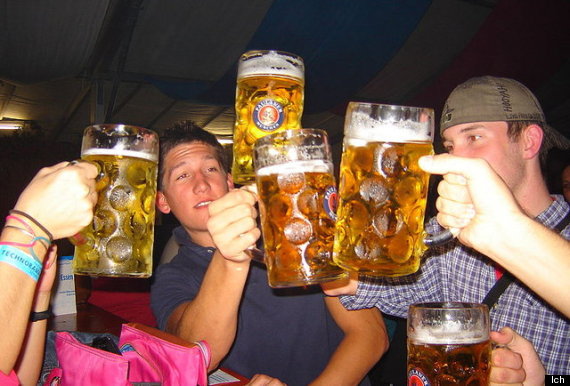 German Beer Style: Berliner Weisse
What The Hell Does It Taste Like? Berlin's right there in the name of this wheat, and Eye says this is one style you actually have to be in Berlin to truly experience. CANCEL THE FLIGHT TO MUNICH!! While you're there, you might as well tour their best microbreweries, too. That said, he describes a Berliner Weisse as having a "soft, lactic sourness" -- they can be quite tart. Good thing you can order it mixed with raspberry or woodruff syrup (it's a sweet herb... no relation to Bob).
Must-Drink Examples: Eye can't recommend any American brews that really nail the flavor (he says Crabtree Brewery in Colorado comes close), but in Berlin, he likes the ones coming out of Schultheiss.
German Beer Style: Dunkel
What The Hell Does It Taste Like? Since it really just means "dark" there're multiple dunkel styles out there, each with their own flavor profile. Two notable ones are Franconian dunkels, which are "drier and hoppier", and Munich dunkels, which are "rich, chocolatey, and a little sweeter".
Must-Drink Examples: Eye is partial to his own Franconian dunkel, and we promise you he recommended his own beer without coming off as conceited. He's great at brewing AND modesty. His dunkel is quite authentic -- on a trip to Germany to buy brewing equipment, he found a former brewery's recipe for it on the wall, and then used it as the basis for his version. If you're in Germany, try the Weltenburger dunkel.
German Beer Style: Altbier
What The Hell Does It Taste Like? Top-fermented Alts are nice and dark, and Eye says ideally he prefers an Alt to be "crispy, dry, and crackery with a swift hop kick at the end", though there are "caramel-y and sweeter" versions as well.
Must-Drink Examples: Metropolitan Brewery in Chicago makes a fine one. Eye likes Colorado's Grimm Brothers Brewery Little Red Cap, and Alaskan Amber offers a sweet take on the style. On the German side of things, he says Uerige Altbier is his "favorite one on the planet".