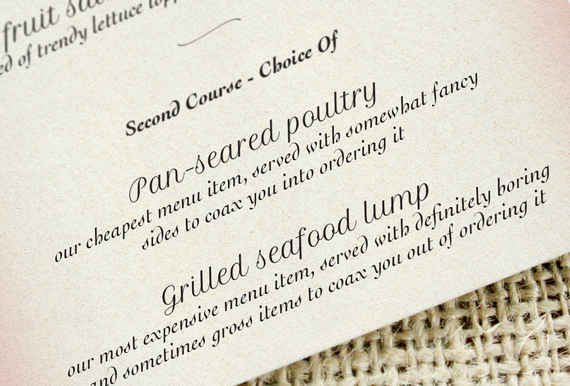 Amongst all the costs associated with Valentine's Day -- flowers, jewelry, dry-cleaning your best "Life Is Good" T-shirt -- perhaps the greatest scourge of all is getting locked into an outrageously priced prix fixe menu that doesn't even offer what you actually want. Little do most diners know, but said menu is the same at every single restaurant that's open on Valentine's Day, except Long John Silver's, which only makes you eat Dippin' Fish Strips if you want to (you do).
Here's what you'll be eating on this and every V-Day:

Get a closer look at the menu on Thrillist!
More deliciousness from Thrillist:
The 19 Worst Couples You'll See Out On Valentine's Day
Follow Thrillist on Twitter: www.twitter.com/Thrillist