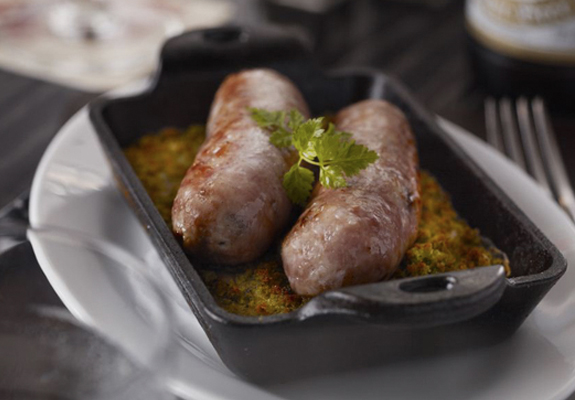 Drop in to DBGB, the ultimate intersection of casual and gourmet, and get 40% off the food of the gods: any two of the 13 wildly exotic housemade sausages Daniel Boulud's personally created from his veritable world tour of sausages, plus two of DBGB's astonishing 75 craft brews, picked by the beer sommelier or bartender specifically to match the flavors of your sublime meats, but not your Sublime meats, because those may only be paired with 40oz to Freedom.
As for the delicious protein, you'll be choosing from the likes of the pork/braised-duck, cassoulet-style Toulouse, the Viennoise (stuffed with cheese, served over beer-steeped sauerkraut), and the Merguez, whose North African spices will run rampant over your tastebuds like Tunisians overthrowing a dictator (thank you, Pat Kiernan's "In the Papers"). Depending on your sausage style, your hearty beers could involve anything from Germany's Kostritzer Black Lager, to Belgium's Westmalle Trapist Dubbel, to Ommegang's Cup O' Kyndness Scotch Ale -- whose tastiness'll inspire such kindness in you, you'll overlook their mild illiteracy.
40% off artisan sausages and craft brews makes for the happiest of happy hours. Grab your Reward and stop by DBGB for the goodness.
*Valid at the 85-seat front dining room and bar Monday through Wednesday only.