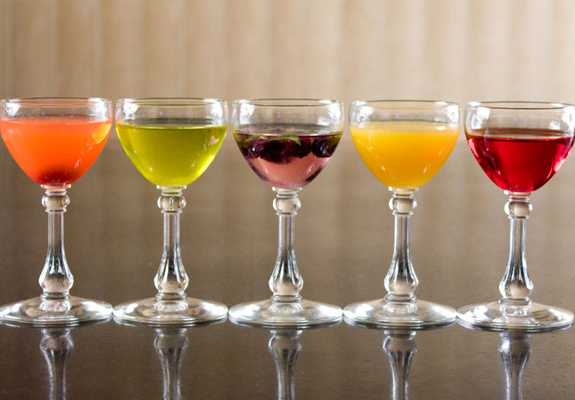 Leaving college behind tends to evolve one's tastes -- packets of ramen are replaced by fresh noodles with poached eggs and pork belly, and 10ft beer bongs turn into...100ft beer bongs! Rivergate 4 Life son!!! Upping another college staple: The Jello Shot Girl.
Started by a RISD grad looking for a creative break from the design industry, JSG'll hook your holiday shindig up with inventive shooters that eschew traditional green & red vodka offerings, using fresh, artisanal ingredients to craft the equivalent of gelatinous cocktails, fitting, as cocktails have long been turning you into Jello, too. Constantly working up crafty combos, choice categories include Fruit (rum-based Blueberry Mojito, Strawberry Basil w/ vodka), Coffee joints like an espresso/creme de cacao/whiskey number, and Seasonal offerings such as the vanilla pudding/vodka Heaven In Your Mouth Pudding Shot, which is usually delivered by a big, throbbing Cosby. She's also pumping out "high octane" slammers for the "goal oriented", from an absinthe number, to a mango nectar/vodka shot w/ a high-proof blackberry top, to an array of fruited-up all-high-proof "Bombs", plus the still-under-construction coup de grace Red Bull Cherry Bomb -- don't get too amped, though, or the girls will totally Jett.
If you'd like to sample before you purchase, just check out her Twitter/Facebook to find out when she's setting up shop at shows, bars, and events around the city, assuming any of those are tastier than sitting around and crushing Natty Ice in your dorm room apartment at the Rivergate.