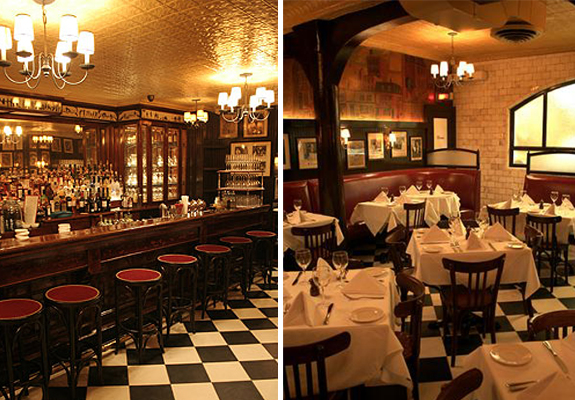 From porkpie hats and Palm Springs, to rent-controlled apartments and entire life savings, the young have a rich tradition of stealing from the old. Now swipe the seat from beneath their diapered bottoms, at the refurbished Minetta Tavern.
Re-swanked by Keith McNally, the 72yr old Minetta now sports fresh tile floors, oak bar, and vampire red banquettes, but retains the yellowing wall murals and b&w photos of people remembered only by the joint's wizened, soon-to-be-muttering-outside-angrily ex-patrons. Tasty stuff's mostly frog-centric w/Iberian influences, from salt-cod-and-piquillo-stuffed calamari, to bone-in New York strip, to the Pat La Frieda Black Label burger, known for its 70/30 meat-to-fat ratio -- pleasingly symmetrical to your own 30% muscle, 70% big boned. Washing it gulletward are suds on tap (Beamish Stout, Old Speckled Hen...) and bottled (Innis & Gunn Scottish Ale, Duvel...), a deep-bench Scotch lineup (Aberfeldy, Old Pulteney), plus house cocktails like the Rhubarb Sophie w/ vodka & agave, and Kill-Devil Punch made with Diplomatico Rum from Venezuela (but isn't George Bush on the wagon?).
Minetta serves weekend brunch, dinner until midnight, and a smaller "supper" menu 'til 2am -- scant hours before old people wake up to push a single head of cabbage around Greenwich Village in their wire-basket carts.