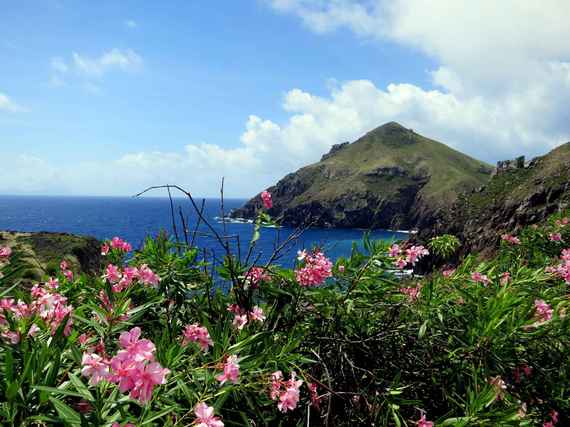 Credit: Flickr/rapidtravelchai
Islands are supposed to be places to get away from it all, but if you limit your vacationing to, say, Hawaii, you'll find yourself surrounded by 8,174,460 tourists you didn't manage to get away from (those are real statistics, btw). We went to the ends of the Earth to bring you 12 stunning islands you never knew existed; these secluded spots range from the film set for the James Bond flick Thunderball to a tiny slip of land where mutineers' descendants drive four-wheelers and produce world-renowned honey. Get yourself to one, quick-like.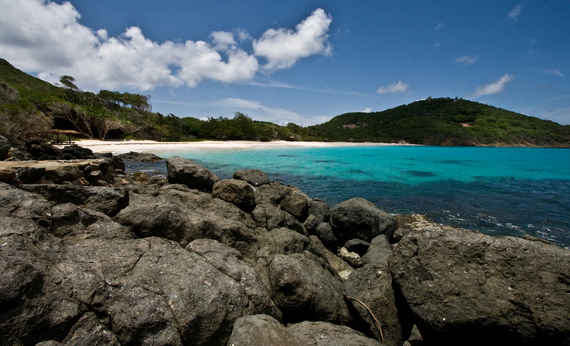 Credit: Flickr/jasonpratt
St. Vincent and the Grenadines
Island appeal: At just over 2sqmi, this sliver of paradise is among the most expensive and exclusive enclaves in the Caribbean. Mick Jagger, Tommy Hilfiger, and Bryan Adams vacation here in what we can only assume leads to awkward karaoke in pastel polos at the local beach bar.
Why it's so secret: Historically, visitors had to be preapproved before entering. If you weren't rich, famous, or royalty, forget it. The island has since loosened the rigorous entry requirements, but the house-payment-worthy accommodation rates still keep us mere mortals out.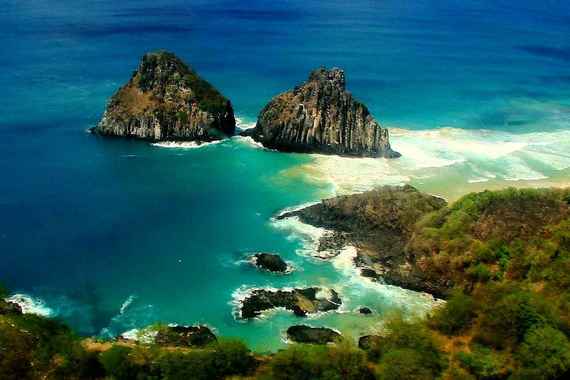 Credit: Flickr/ana_cotta
Brazil
Island appeal: Brazilians swear the archipelago boasts the best beach in a country known for beaches (...and Giselle, and soccer, and Giselle). With only one traffic light between them, the 21 islands also boast spectacular snorkeling and scuba sites, pods of trick-performing dolphins. They're so proud of their well-preserved paradise that swimming with sunscreen is actually verboten in some places.
Why it's so secret: The string of islands is a protected marine reserve, and only 420 tourists are permitted on Fernando De Noronha at a time. Plus, it's expensive.
South Pacific
Island appeal: Travel via supply ship to one of the world's remotest populated islands, where the inhabitants are descended from a band of British mutineers and their Tahitian lovers. Four wheelers are the main mode of transport here, and Seventh-day Adventism is the only religion (though others are welcomed). The 45 (presumably all related) residents even speak their own language, Pitkern. The island is recruiting immigrants due to dwindling numbers, so you can even extend your stay indefinitely. Or just order their honey, which won praise from one of the world's sweetest ladies, the Queen of England.
Why it's so secret: The closest airport is 330mi away on Mangareva island. From there, this weird mini-world is a three-day ocean voyage.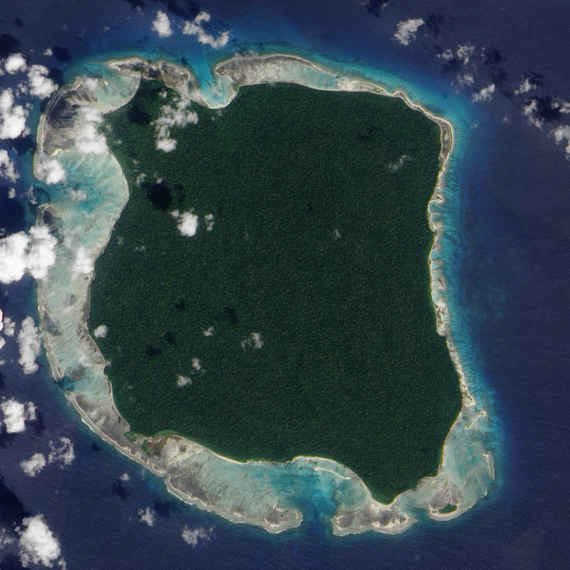 Credit: Wikimedia Commons/NASA
Bay of Bengal
Island appeal: Despite its cerulean shores and stunning coral reefs, this dot of land in the Indian Ocean is the holy grail of inaccessible islands. In fact, the hunter-gatherer inhabitants have resisted contact with the outside world for 60,000 years and continue to drive away governments, researchers, and movie directors with bows, arrows, and spears. Not much is known about the Sentinelese, except that they're hardcore adherents to the Paleo diet. No carbs and we'd be throwing spears too.
Why it's so secret: The Sentinelese have the hospitality of frat boys during rush. They greeted government officials with gestures of defecating and a documentary film director with a 8ft arrow to the thigh. Two fisherman who washed up on island met an early demise and were buried under the sand. Still, it's really beautiful and you should visit.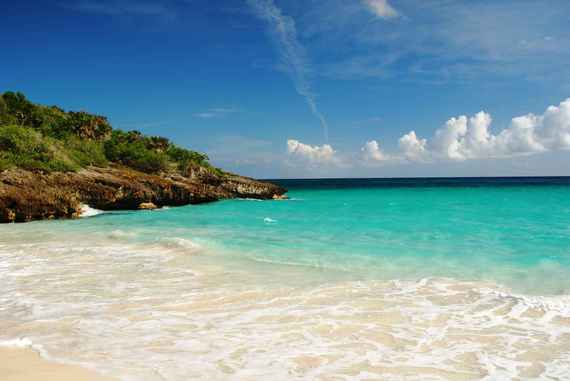 Credit: Flickr/xavierito
Puerto Rico
Island appeal: For more than 50 years the US Navy used some two-thirds of the island for target practice, but this 21mi stretch of travel-magazine-worthy beaches is paradise sans the artillery shells. Nowadays visitors can enjoy killer reefs, bands of semi-wild horses, and a trippy boat ride among glow-stick-wielding plankton in Mosquito Bay.
Why it's so secret: Tourists tend to avoid areas of aerial bombardment, and Vieques was no exception. Post the Navy pullout in 2003, the island had a lot catching up to do to keep up with the Cancuns, so it's still off the main vacation beat.
Dubai
Island appeal: Leave it to the sheikhs to style their own 12sqmi archipelago from sand and rocks -- in the shape of a palm tree, no less. A regular member of the highly selective "eighth wonder of the world" club, this stretch of luxury villas, high-end hotels, and luxury shops is like Beverly Hills with exorbitant air conditioning bills. The builders even flew in bottlenose dolphins to add to the ambiance.
Why it's so secret: Palm Jumeirah is among the world's newest islands, and many of its hotels and attractions are still under construction.