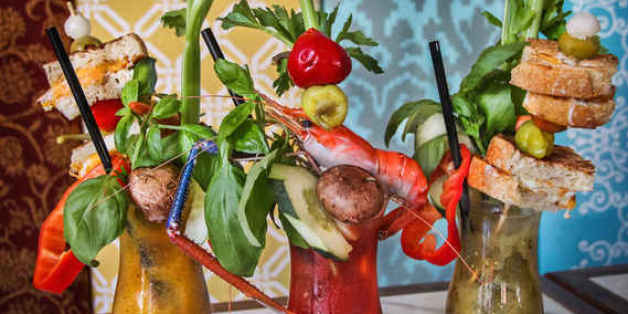 By: Adam Lapetina
If you're into brunching (some of us are, and others write huge diatribes against it), you know that one drink is heralded above all others in the cocktail arena: the Bloody Mary. It's perfect to enjoy with your eggs and toast, or, in more special and laudable cases, can be both the drink and the meal. As a tribute to those instances, we've compiled a list of the best, most insane Bloody Marys from across our great nation. There are no simple feats of mixology here. Just the ballsiest breakfast drinks around. Because sometimes you need vodka with your bacon skewers.
More: The 21 Best Breakfast Spots in America
Dallas, TX
What you're getting: F**k Brunch
If you agree with the sentiment that the name of this Bloody Mary expresses, it's pretty much the only way to go -- you can eschew a standard brunch for a cocktail topped with a bacon cheeseburger slider, shrimp, cheese, a hot dog, pickled asparagus & okra, an onion ring, and plenty of other stuff that'll publicize your discontent. Plus, it comes with a PBR, for when you're feeling extra brooding.
San Diego, CA
What you're getting: Bloody Mary Superior
Ranked the number one Bloody Mary in a city that has one with a grilled baguette topped with manchego and chorizo, the Bloody Mary Superior at Small Bar has clearly distinguished itself from the pack. It's made with house-made Bloody mix, Guinness, steak sauce, and chili-garlic vodka, plus garnishes like beer-candied bacon, mushrooms, and spicy green beans. Oh yeah, and it comes with a free bag of pork rinds. Hail Mary!
Milwaukee, WI
What you're getting: The Beast
You'd think that, just by serving their Bloody Marys in gigantic gallon-sized jars, Sobelman's would have done enough to warrant inclusion on this list. But they didn't stop there -- OH NO THEY DIDN'T. Their Beast Bloody Mary is a tribute to meat, and features bacon-wrapped jalapeño cheese balls, sliders, fried chicken (they even did a version with an entire chicken on top), and a slew of other garnishes. There's also celery. For health.
Watauga, TX
What you're getting: Bloody Best
When a Bloody Mary includes "Better Than Sex Fried Chicken," you know it's quite possibly the "best." As advertised, this behemoth Bloody contains a double order of their spicy mix, comes with your choice of beer, and is garnished with chicken, shrimp, waffle fries, bacon, jalapeños, a Nolan Ryan beef slider, and more.
Denver, CO
What you're getting: The Ultimate Bloody
Can a Bloody Mary bite back? Or can it only sip? Either way, this one does just that by being supremely spicy, owing to its recipe of chile-poached shrimp, spicy asparagus, house-made pickles, bacon, and cheese. Kosher? No. Delicious? Yes.
Washington, DC
What you're getting: Pantera
There's something a little fishy about a Bloody Mary that contains seafood stock and is called "Pantera" -- until you realize that it's completely black due to the additional inclusion of squid ink. This briny, deep drink is capped off with red onions, celery, smoked tomato juice, horseradish, Worcestershire, salt, grilled peppers, and, yes, a tentacle. Yarrr.
Head to Thrillist.com for 6 more of the craziest Bloody Marys in the country!
More from Thrillist:
The 33 Best Cocktail Bars in America
Bacon-Infused Bloody Mary Popsicles with Bacon Sticks, 'Cause Screw It
Follow Thrillist on Twitter: www.twitter.com/Thrillist