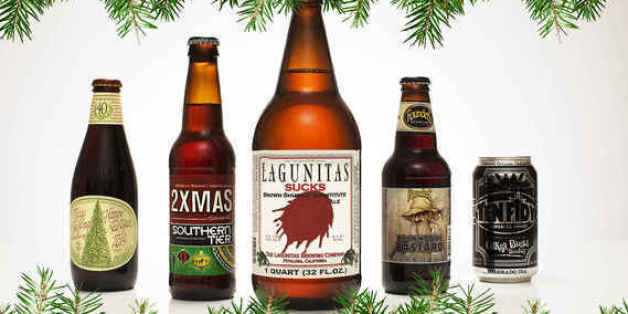 By: Zach Mack
It's hardly been 10 minutes since you finished your last pumpkin beer of the season and already people are busting out the tinsel and lawn decorations. As you slide from the dark, spicy beers of fall into the... even darker, spicier beers of winter, I have a few recommendations you should consider grabbing on the way back from buying your inflatable Rudolph.
More: What Your Beer Says About You
Oskar Blues Ten FIDY
Imperial Stout, 10.5%
Longmont, CO
When the temperature drops and the sun starts setting at 4pm, sometimes the best thing you can do is reach for a full-bodied, high-ABV comfort beer like Ten FIDY. It's packed with roasted coffee and dark chocolate flavors while still boasting an uncharacteristically hoppy backbone (98 IBUs), which is everything a winter-weary soul needs. The only thing that's better than the can is finding it on nitro draft.

21st Amendment Fireside Chat
Winter Warmer, 7.9%
San Francisco, CA
This is the short-sleeved sweater of winter beers: full-bodied enough to warm you up, but not so over the top that you'll be sweating after one. It has hints of cinnamon, coffee, and chocolate with an ample malt backbone and a lingering aftertaste that will have you swearing you just took a bite of fruitcake and Christmas cookies.

Sierra Nevada Celebration
American IPA, 6.8%
Chico, CA
Leave it to the consummate pros at Sierra Nevada to create what's arguably the most crowd-pleasing winter seasonal on the market. They've traded out cinnamon and cloves for good old-fashioned American hops. The resinous aromas of the hop-forward recipe will have you convinced there's a freshly chopped Christmas tree in the room with a nicely wrapped Sega CD console underneath.
Southern Tier 2XMAS
"Double Spiced Ale", 8%
Lakewood, NY
Ever the innovators when it comes to seasonal offerings, the team at Southern Tier based 2XMAS off of a traditional glögg recipe, which is a warm, boozy Swedish holiday beverage (think mulled wine mixed with a bunch of booze). They've brewed this one up with cardamom, figs, orange peels, cloves, and ginger root, all refreshingly balanced with a subtle spice that carries through nicely on the dry finish. It's cozier than a cashmere Snuggie!

Bell's Winter White Ale
Witbier, 5%
Kalamazoo, MI
If you need a break from the glut of dark seasonal beers, Bell's has a solid answer with their Winter White Ale. The subtle clove, orange peel, and banana notes from the Belgian yeast and its dry finish make it familiar but refreshing in a dark sea of winter warmers. The seasonally low 5% ABV makes it a more sessionable option for holiday parties.

Pretty Things Babayaga
Stout, 7%
Somerville, MA
At first blush, it may seem like Massachusetts' best gypsy brewers are just putting out a par-for-the-course winter stout, but they really aren't messing around here: they smoked the malt with rosemary to highlight the dark espresso flavors and used a blend of Belgian and English yeast strains. The velvety mouthfeel and smoky finish make it a knockout comfort beer that pairs equally well with burgers as it does chocolate desserts.
Looking for the perfect brew for the colder months? Head to Thrillist.com for the full list!
More from Thrillist:
23 American Beers To Drink Before You Die
America's Best Craft Breweries: The State-By-State Breakdown
Follow Thrillist on Twitter: www.twitter.com/Thrillist