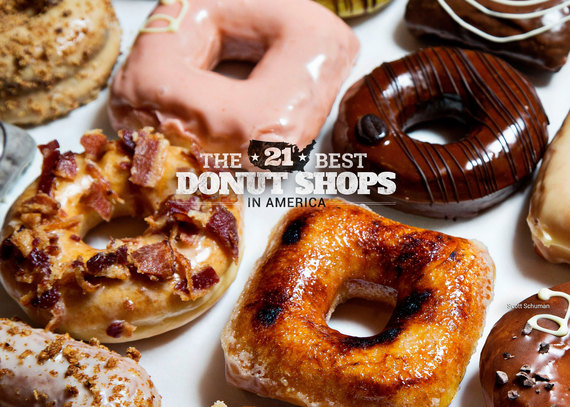 Ahhh, donuts. Before Wheaties and "doctors", they truly were the breakfast of champions. And now, thanks to a resurgence of independent shops opening across the country, the fried yeasty sugar bomb is back en vogue. So, in order to celebrate the rise of said donut/your cholesterol, we scoured the country for the best shops, encompassing everything from old-school slingers in Hawaii that have been around since before your parents to artisanal culinary geniuses in South Carolina -- and everything in between. We also took incredible photos, so you will inevitably try and eat your computer. Enjoy, and -- as always -- let us know what we missed in the comments: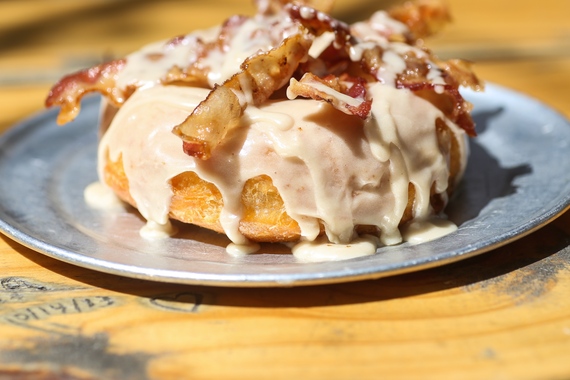 GOURDOUGH'S -- Austin, TX
WHAT YOU'RE GETTING: Mother Clucker
Big fat donut purveyor Gourdough's started dishing out fried-to-order gluttony in an Airstream and quickly expanded their empire to a second trailer, plus a pub with a full bar and a sinful selection of donut-bunned burgers. The move is either the Mother Clucker, a plain donut piled with fried chicken strips and drizzled with honey butter, or the maple-iced, bacon-topped Flying Pig.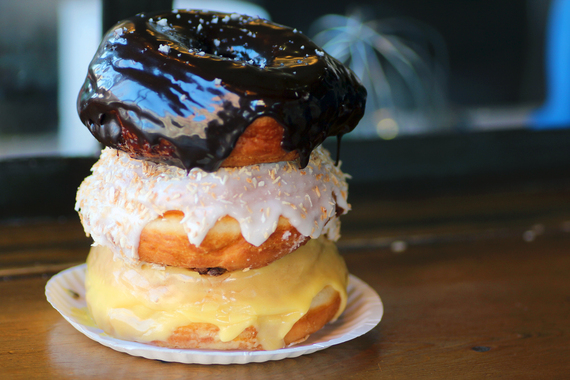 DOUGH -- Brooklyn, NY
WHAT YOU'RE GETTING: Blood Orange, if they have it
This rustic Bedford-Stuyvesant hole-in-the-wall may look like a small-batch joint, but since word of its incredible, innovative flavors started spreading all over New York, its footprint has grown a thousandfold, and its donuts can now be found in cafes and bodegas (... and markets and parties and stomachs) throughout the city. The shop's adept at distilling natural flavors (like passion fruit, hibiscus, blood orange, and cardamom) down to produce some of the best icing on the planet, and their dough is somewhere between airy and cake-y, meaning pretty much anything they offer is a good call. Plus, they've got a "Dough of the Day", which is usually something crazy -- also what you'd have to be to pass this place and not be lured inside.
More: Experts rank the 15 best Dunkin' Donuts flavors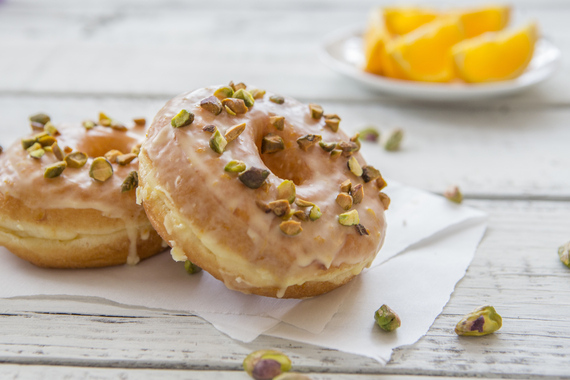 CREDIT: Glazed Gourmet Doughnuts
GLAZED GOURMET DOUGHNUTS -- Charleston, SC
WHAT YOU'RE GETTING: Baked Banana
Started by a Culinary Institute of Charleston grad and her boyfriend, Glazed is a perfect example of the rise of the nouveau donut shop -- a place where a true culinary talent uses in-house ingredients made from scratch to elevate the former cop-joke-only foodstuff to quite a lofty place, thanks to moves like the Blue Cheese Cabernet (homemade pear jam, Cabernet glaze, blue cheese honey drizzle), Baked Banana (banana bread donut, walnuts, banana glaze), and the Purple Goat (berry goat cheese filling, lavender glaze). Just promise you won't leave without trying the Chinese 5 Spice donut holes.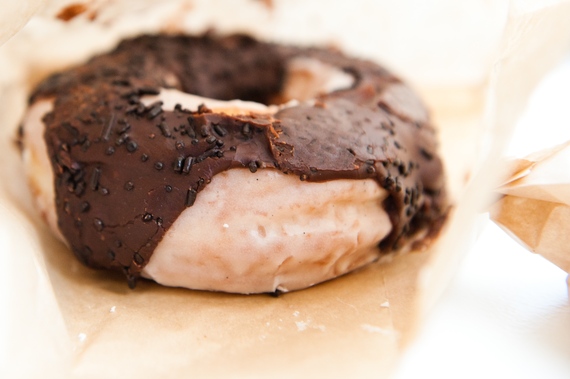 CREDIT: Flickr/Star5112
DOUGHNUT VAULT -- Chicago, IL
WHAT YOU'RE GETTING: Old Fashioned and Chestnut Glazed
Chicagoans will reliably line up early in all manner of apocalyptic weather to get their calorie-loving hands on some Doughnut Vault, brought to you by the same folks responsible for one of the country's best burgers, Au Cheval. A bad call is damn near impossible (the rotating jelly donut is reliably spectacular), but this place built its following on the perfectly crusty, soft simplicity of their Old Fashioned and the sweet addictiveness of their Chestnut Glazed (both on the small, but mighty standard menu). Of course, if you want to grab a Salted Caramel Old Fashioned or Pistachio Glazed number, which you might be lucky enough to find on special, no one will judge you.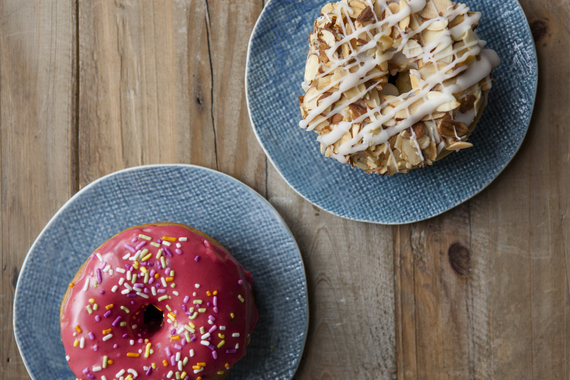 CREDIT: Revolution Donuts
REVOLUTION DONUTS -- Decatur, GA
WHAT YOU'RE GETTING: Salted Caramel or True Blueberry
Opened on National Donut Day in 2012 in Decatur, RD comes from Maria Moore Riggs, who is hoping to further foment a revolution that doesn't involve shooting at British people from behind stone fences, but, rather, crafting foods by hand. The family-owned spot's adherence to this principle (they make all glazes, fillings, and doughs from scratch) has helped make Revolution a sensation in Georgia, where people from all around ATL flock to get a taste of classics, like their Vanilla Bean, as well as innovative moves, like their heavenly cake-style Salted Caramel.
We've still got 16 more of the best donut shops in the country for you to drool over, but you can only see them on Thrillist.com!
More from Thrillist:
The world's best breakfast: which country's morning meal is tops?
The 33 best BBQ joints in America
Follow Thrillist on Twitter: www.twitter.com/Thrillist