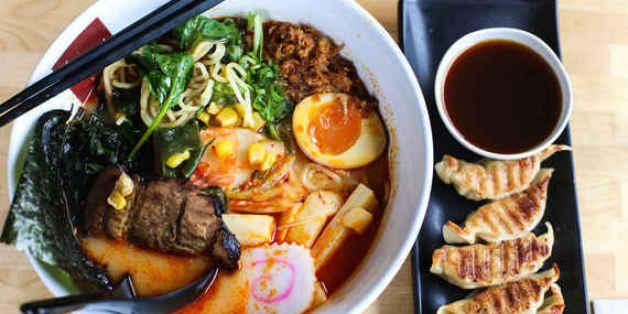 By: Dan Gentile
Ramen used to cost 10 cents. Now it costs a trained crew of culinary professionals several days of their lives watching broth boil.
Like a pot of pork bones, ramen's popularity has been simmering for a long time. In the years since we released our initial list of the 21 best shops in the country, the noodle trend has reached a full boil, so much so that we felt the need to expand our list to a whopping 33 ramen-yas. Since making great ramen is a time-honored art, our new list pays respect to some of the more iconic trailblazers, as well as celebrates a few promising newcomers. Happy slurping!
More: The Best Pizzeria in Every State in America
Cheu Noodle Bar
Philadelphia, PA
What you're getting: Brisket ramen
The dudes at Cheu prioritize "keeping it real" over authenticity to the point that their shop was originally going to be called Roundeye. After opting for a less offensive moniker, Cheu has noodled its way into the hearts of Philadelphians with a tiny 28-seat restaurant whose walls are decked with ramen blocks, and bowls are filled with some of the most inventive takes on the noodle in the country. The coconut curry has drawn rave reviews, but the don't-miss bowl is the brisket ramen with matzo balls and kimchi.
Ivan Ramen
New York, NY
What you're getting: Chicken and dashi broth shio ramen
Ivan is an unlikely ramen master. After a post-college stint in Japan, he went to the CIA and returned to the Land of the Rising Sun to open his own ramen shop. He gained unprecedented notoriety for a foreigner, then brought his skills back stateside to start a stand at the Gotham West Market and an LES brick-and-mortar. The broth leans more Japanese than most, using a double-broth technique with two separate stocks to create a flavor as complex as tonkotsu, but far lighter. Rye noodles further distinguish him from the pack. If you want to go experimental, try the four-cheese mazemen.
Kome
Austin, TX
What you're geting: Spicy tonkotsu
Kome offers affordable sushi, an unpretentious environment, and most importantly, a killer lunch-only bowl of spicy tonkotsu. It spins the creamy flavor of the traditional broth into a chile-infused bomb of savory that's perfectly complemented by subtle fish cakes, generous sticks of ginger, and the all-important soy-soaked egg.
Momi Ramen
Miami, FL
What you're getting: Oxtail tonkotsu
At $20+ per bowl, Momi's tonkotsu comes with a hefty price, but the sticker-shock disappears once you're nose-down in the intoxicatingly rich, five-times-filtered pork broth. They make their noodles in-house using Japanese flour, scour out rare authentic ingredients like nameko mushrooms, and soup-up the soup with creative meats like shredded oxtail. Adventurous ramenites might also opt for a seldom-seen jellyfish salad.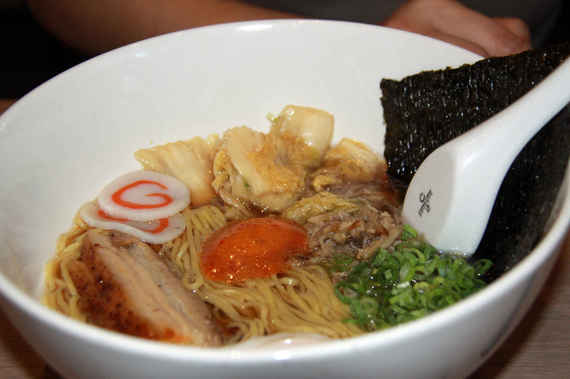 Credit: Flickr/lam_chihang
Momofuku
New York, NY
What you're getting: Momofuku ramen
By now, most people are familiar with David Chang's culinary empire. The chef's Midas touch has blessed diners with a slew of Momofuku-associated choices: cocktails, pastries, fine dining, but above all, dude knows his ramen. He worked in Japanese shops way back in the early aughts before jump-starting the NYC ramen craze in 2004 with a double-threat pork belly and shoulder tonkotsu. And to further show he's not just a ramen shop/cocktail bar/dessert shop/fine-dining restaurant owner, his culinary tentacles now spread to the rest of the world via the gospel of his publication Lucky Peach.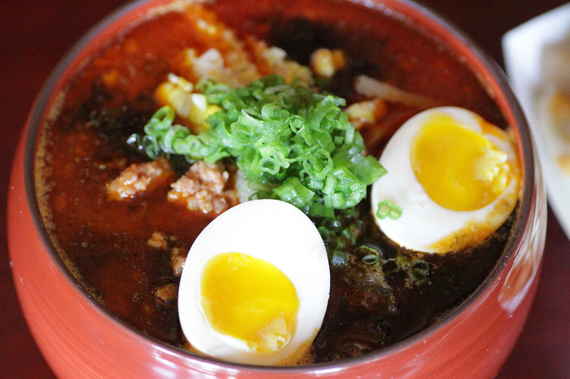 Credit: Andrew Zimmer/Thrillist
Mu Ramen
Long Island City, NY
What you're getting: Mu ramen
Once the last bagel of the day has been served, Bricktown Bagels makes the unlikely transition to world-class ramen shop. The 10-seat counter offers a killer tonkotsu with broth brewed over the course of a week from a cauldron of 100lbs of bones, but the move is to get weird with their signature Mu ramen: it's built on an oxtail and bone marrow broth with unconventional toppings like brisket, half-sour pickle, cabbage, and dried bamboo shoots.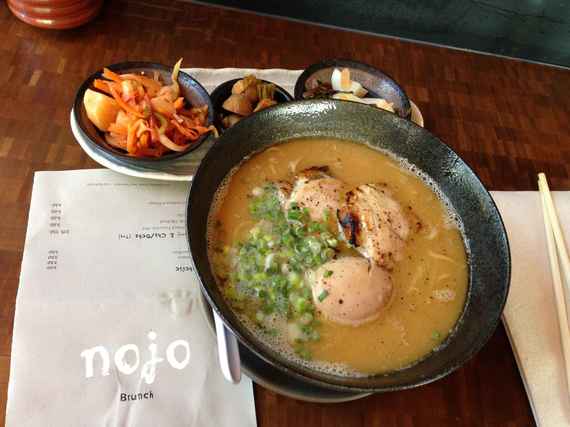 Credit: Trevor Felch/Thrillist
Nojo
San Francisco, CA
What you're getting: Shoyu ramen
A Japanese izakaya/yakitori-ya hybrid by both day and night, Nojo really comes alive at... brunch? Their ramen's only available on weekends at midday, but the scarcity can't subtract from the flavor. The shoyu broth is a stunner, and it's only intensified by a hunk of grilled chicken confit.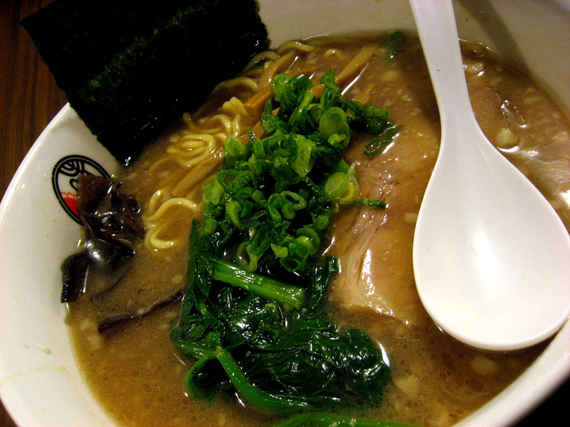 Credit: Flickr/_e.t.
Ramen Halu
San Jose, CA
What you're getting: Halu ramen
Don't be weirded out by the aquarium atmosphere (are those fish on the ceiling?), this is the place you're looking for. The move here is the signature Halu ramen, which -- unlike most -- comes from "two kinds of rich and clear soup broth blended." That broth combination is not like most other ramens we've ever had, and some people find it a little bracing or even sour, but once you mix it in with the chashu pork, and those thick noodles, it all mixes together into some sort of alchemist magic potion of love.
Ramen Shop
Oakland, CA
What you're getting: Whatever miso ramen they've got
Here's a recipe for success: take three chefs from uber-lauded Chez Panisse, and have them break away to start a casual noodle shop in downtown Oakland offering up a limited menu of three types of ramen, plus a few apps and ice cream sandwiches. Since it opened, Ramen Shop has been an absolute success, not only because of the reps of its owners/chefs, but because of the quality of the salty, spicy broth. The last time we were there, they had a kogashi miso ramen with ground pork belly, and some sort of shoyu-marinated egg that was mind-melting. And then, of course, we ate black sesame ice cream sandwiches. Life was good.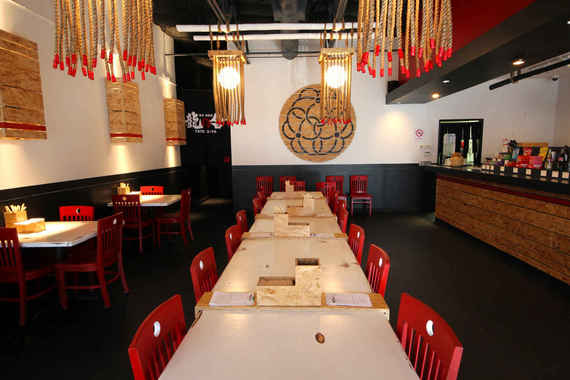 Credit: Dan Gentile/Thrillist
Ramen Tatsu-Ya
Austin, TX
What you're getting: Tonkotsu ramen
Started by a DJ who's also staged at a Michelin-starred LA sushi joint, Tatsu-Ya steams their pork broth for 60 hours, resulting in a soup you can't help but slurp. Topped with perfectly charred chashu, a bowl of tonkotsu is definitely worth the hour-plus wait. Wash it down with either a Sapporo or a canned brew from Austin Beerworks.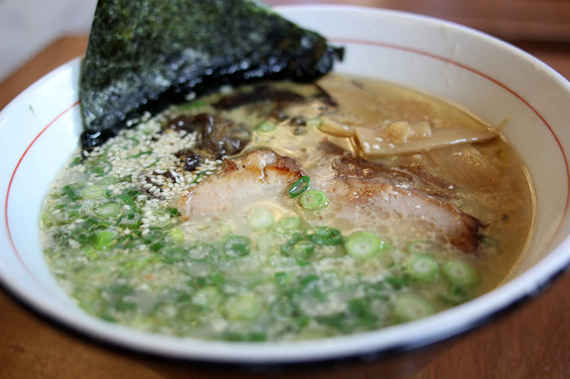 Credit: Mike Gebert/Thrillist
Strings Ramen
Chicago, IL
What you're getting: Tonkotsu with duck breast and Berkshire pork
Strings reps the Second City with an arsenal of secret weapons up their broth-stained sleeves: an imported Japanese noodle machine, 48-hour Berkshire broth so thick they call it pork milk, and seldom-seen proteins like duck breast.
Toki Underground
Washington, DC
What you're getting: Taipei curry chicken
Likely the only ramen shop on this list decked out with skateboards as hand rails, they're also known to throw pop-up parties for guitar-effect pedal companies. In addition to sake and nine Japanese beers, they're pouring off-the-wall cocktails like the pork belly-topped Toki Monster (Bulleit, Barenjager, Peat Monster Scotch). The vegetarian broth comes highly recommended, but the signature bowl is the Taipei curry chicken with a curry-infused tonkotsu broth.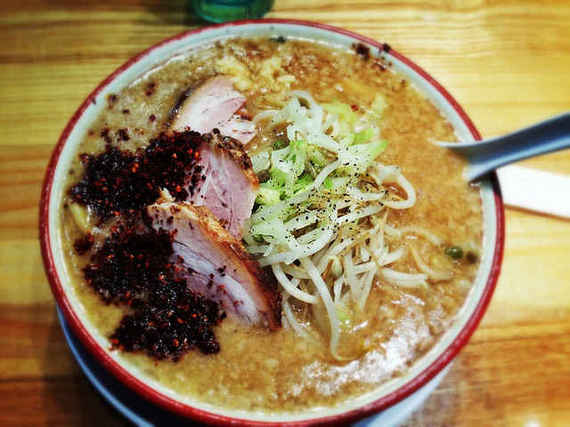 Credit: Flickr/T.Tseng
Tsujita Annex
Los Angeles, CA
What you're getting: Tsukemen
This LA institution consistently takes top honors in local polls for its house-made curly noodles and an exciting atmosphere that splits the difference between welcoming and exclusive. It's open until midnight, but expect a wait, made much more pleasant by a BYOB patio and neighboring Asian outposts hawking snacks like chicken lollipops. The move is the tsukemen, a bowl of fresh noodles accompanied by a concentrated dose of broth that will make your eyes roll back in your head.
Tsukushinbo
Seattle, WA
What you're getting: Old-school shoyu ramen
Six days a week, Tsukushinbo serves up some of the best sushi in Seattle, and on the seventh day they do the opposite of rest -- they ladle out perhaps the hardest-to-get ramen on this list. The broth of their old-school shoyu ramen takes four days to make, so they can only cook enough to feed a few dozen hungry fanatics on Friday afternoons. Wash it down with a side of crispy gyoza dumplings.
Uncle
Denver, CO
What you're getting: Kimchi ramen with shredded pork
If you've visited Momofuku in New York, walking into Uncle might feel like deja vu -- the plentiful bar seating, wall-to-wall wood paneling, and pulsing soundtrack all feel reminiscent. But owner Tommy Lee has never shied away from saying he was inspired by the hugely successful NYC ramen shop when he opened his own two years ago. Since the opening, he's been packing in crowds with a menu that's branched off into un-Momofuku-like directions -- bibimbap and sashimi, along with an array of seasonal ramen that pleases Mile High crowds on the daily: kimchi with shredded pork, prawns in a miso broth, and standbys like the spicy chicken or chashu.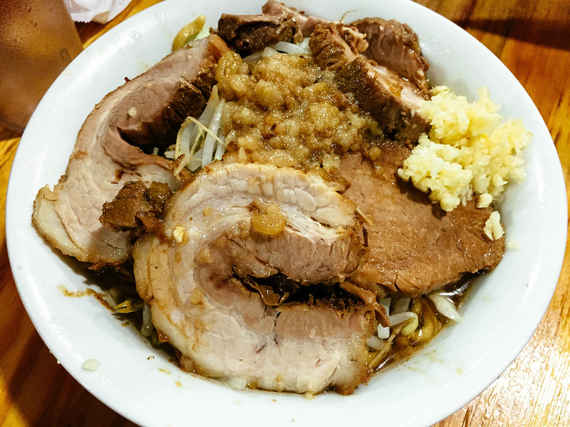 Credit: Flickr/Brian Del Vecchio
Yume Wo Katare
Cambridge, MA
What you're getting: Buta Ra-men
If there's one thing Boston has, it's freezing temperatures. And if there's one thing that combats cold, it's ramen. So naturally, the ramen playing field is crowded, but most agree that Yume is the top slurping dog. They don't consider themselves a traditional ramen shop, but rather "a place where dreams are achieved." Basically, if you can finish their massive bowl, you can do anything! It's an unconventional concept, but their ramen is so dreamy that it's not unheard of to see a two-hour line for the 24-hour pork broth, whose richness is soaked up by a thick in-house noodle. Pro-tip: go with five slices of pork instead of the standard two.
To see if your favorite ramen shop cracked the other 17 joints on this list, head over to Thrillist.com!
More from Thrillist:
Which Instant Ramen Is the Best?
Every State in the USA, Ranked by Its Food/Drink
Like Thrillist on Facebook: www.facebook.com/Thrillist