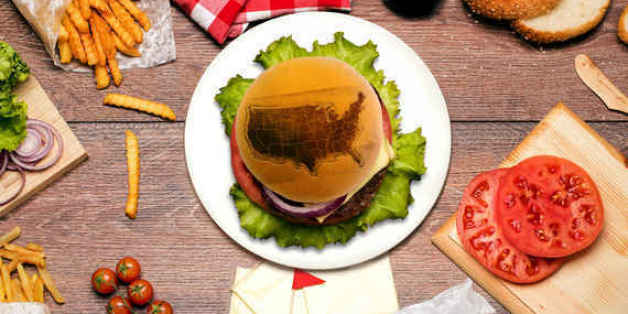 By: Kevin Alexander and Liz Childers
After we tried to figure out the best pizza in every state, it was inevitable that burgers would be next. After all, we spend much of our year consuming them for our 33 best/personal satisfaction. So, over the course of the last three months, we've set about researching, eating, and fighting about everything from pork belly pastrami-covered burgers in Pennsylvania, to griddled patties in Indiana, to quite possibly the best damn bar burger in Minnesota.
Note: this was not just a list compiled from other lists which were compiled from other lists until you've reached the end of the Internet. If we didn't eat it personally, one of our other National Food/Drink editors or City editors or contributing writers did. We tried to show our work whenever possible, and give credit to others in the running. But at the end of the day, we think we've got a case for a burger you're going to love in every single state in the Union. And if you disagree, let us know in the comments. We'll happily come eat more burgers.
Alabama
Chez Fonfon (address and info)
Birmingham
The burger: Hamburger Fonfon
Alabama all-star chef Frank Stitt ditches any fancy pretenses in favor of a simple, half-pound burger that's consistently our favorite to come out of Dixie. A buttery bun nestles the holy trinity of burger toppings -- red onion, lettuce, and tomato -- into oozing Comte, a cheese whose nutty sweetness is the perfect choice to stand up to and balance out a patty that hefty.
Alaska
Tommy's Burger Stop (address and info)
Anchorage
The burger: Burger Stop cheeseburger
It's small. There are maybe two tables. During the busy eating hours you will wait in line. But that line is there for a reason. The weekly specials are famous and eclectically named -- ranging from the recent Big Poppa burger (essentially, as they put it, "a deconstructed jalapeño popper"), to the likely most famous of all Battered Husband (Swiss, Cajun-battered fried jalapeños, garlic jalapeño aioli). But stunts aside, Tommy's regular cheeseburger could likely compete for best in a lot of other, bigger states as well.
More: Who Makes the Best Fast-Food Cheeseburger?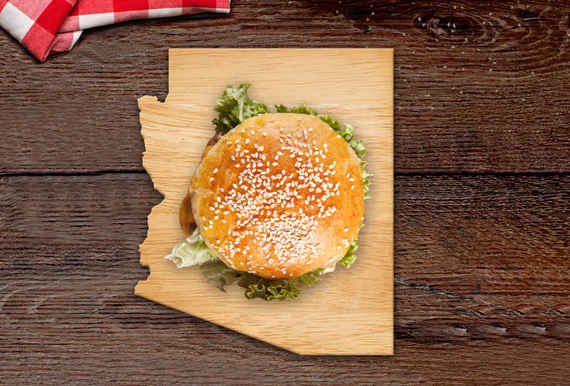 Credit: Jennifer Bui/Thrillist
Arizona
St. Francis (address and info)
Phoenix
The burger: Chile burger
Though we're also big fans of Monkey Burger in Tucson and The Stand, our pick had to go to the uptown Phoenix eatery's chile burger. Yes, yes, New Mexico (and even Colorado) like to lay more claim to the ubiquity of green chile-topped burgers, but this one, with pickled fresno chile, sweet-and-sour onions, chipotle aioli, and Jack cheese creates a beautiful symphony of hot meat and cheese with cold crunchy veggies. Worth visiting, even from New Mexico.

Arkansas
Pig Trail Bypass Country Cafe (address and info)
Crosses
The burger: The Hooshburger
Let's start with a little geography lesson: the Ozark National Forest sits in the Northwestern corner of Arkansas, basically blocking University of Arkansas students in Fayetteville from the most direct route Southeast to Little Rock. There's a winding backroad that cuts straight through that wilderness running North to South, known as the Pig Trail Bypass. Confused? It's okay. You probably only have a relative idea of what we're talking about if you're a motorcycle enthusiast or are well versed in the downfall of former UA coach/motorcycle enthusiast Bobby Petrino's wreck.

California
4505 Burgers & BBQ (address and info)
San Francisco
The burger: The Best Damn Grass Fed Cheeseburger
How do you select the best burger in a land mass the same size as Japan or Sweden? With five major cities and countless towns waving their best in your face? This choice alone kept me up for nights. There are some serious contenders here, everyone from the beyond famous burger at LA's Father's Office, to the classic at Rocky's in SD, to the underrated Sunset Burger in Leggett, and the Squeeze Burger in Sacramento. Oh, and I haven't even mentioned the Larchmont Burger, or Trick Dog. BUT ANYWAY, after much soul searching, I went with 4505. It's been on my best burgers in the country list twice, and everything seems handmade to complement everything else, from the sesame-scallion bun, to that dry-aged beef, Gruyere, red onion, and special sauce.
Colorado
Crave (address and info)
Castle Rock
The burger: Love Stinks
Crave now boasts three locations (Castle Rock's the original), but here's what you really need to know: they recently swept the Denver Burger Battle (people's choice and judge's choice) with their Love Stinks, a garlic-bomb topped with with roasted garlic cream cheese, fried onion strings, roasted red pepper, candied bacon, and red pepper aioli. Oh, and more roasted garlic. It's one thing to conceive some crazy burgers (and they do). It's another to make them truly work (and they do).

Connecticut
K. LaMay's (address and info)
Meriden
The burger: Steamed cheeseburger
As someone from New England who went to college in Connecticut, I had to ask myself a lot of questions: how do you not choose Louis' Lunch in the state that essentially invented the cheeseburger? Or the legendary Ted's, if you're going to pick in Meriden? Or hell, the cheeseburger at Shady Glen in Manchester? Or go with your favorite burger from college, at the Wood-n-Tap in Hartford? Well, first doesn't always equal best, and in this case, Kevin LaMay (who essentially apprenticed at Ted's as a teenager) has figured out the perfect ratios with his slightly bigger steamed cheeseburgers on fresh Kaiser rolls with molten hot cheddar. It also gets the vote of Meriden native/noted cheeseburger connoisseur Devin McGoldrick, so you know it's high praise.
Delaware
Redfire Grill (address and info)
Hockessin
The burger: REDfire Burger
For two years in a row, the Delaware Burger Battle recognized the REDfire Burger as one of the top in the state, probably because the Hockessin steakhouse is serious about their ingredients -- a local butcher grinds their proprietary blend of brisket, ribeye, and ground chuck daily. That patty is grilled and topped with aged cheddar, maple-pepper bacon, and a house-made, "souped up" 1000 Island dressing with a mild kick from Thai chilies.

Florida
M.E.A.T. Eatery and Tap Room (address and info)
Islamorada
The burger: Inside-Out Juicy Lucy Burger
You might expect this burger to be, uh, inside out, but it's a regular Juicy Lucy, with spicy, gooey pimento cheese inside the patty. However, geniusly, bacon gets all cozy with the pimento and -- the real kicker here -- American cheese is added on top, along with the tomato and lettuce. It's classic burger meets classic Juicy Lucy and it's a marriage we're so happy to be a part of.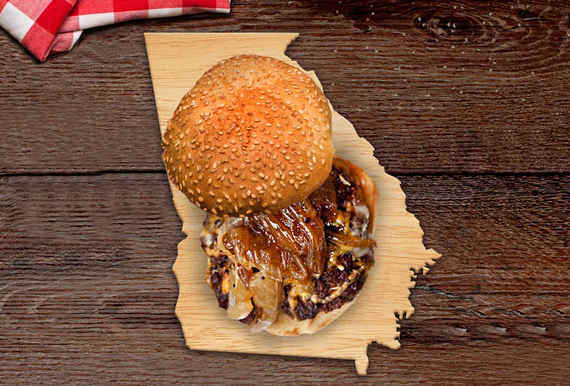 Credit: Jennifer Bui/Thrillist
Georgia
Holeman & Finch (address and info)
Atlanta
The burger: The Burger
2014 was the year of the restaurant burger: they littered secret menus, drew diners for lunch-only specials, and forced diners to dinner before 6pm to grab one in nightly limited-runs. But H&F was the trendsetter, with its gold standard of a simple burger: double cheeseburger with American, red onions, pickles, ketchup, mustard, and a house-made bun only available after 10pm (limited to 24!) and at brunch. And, thankfully, the burger finally graduated to the real menu at the end of last year, so we can have it any damn time we please. That is, if you get a reservation (also now available!) or can handle the wait-time.

Hawaii
Kua 'Aina (address and info)
Oahu
The burger: The avocado burger
One of our picks for the 33 best burgers in the country, this one wasn't really close. Though then again, neither is Hawaii. If you see Obama there (and you definitely will, he reportedly loves it), tell him to get the avocado burger with grilled onions. Then hilariously quote the movie Blue Crush.

Idaho
Boise Fry Co. (address and info)
Boise
The burger: Original bison burger
It sounds slightly cliché to pick a place best known for its fries to represent the Land of Potatoes, but just because Boise Fry Co. is named for beef's favorite side doesn't mean the burgers are an afterthought. In fact, the fry joint makes an immaculate burger, made of fresh-ground meat that's hand-patted and grilled up right before your eyes. And while the beef is a thing of beauty, we'd recommend springing for the Original bison burger, which occupies the perfect zone between thick and thin, and comes hit with garlic aioli and red onion gastrique. Big Jud's might be the most famous Boise burger spot (and a damn fine one), but for a perfect patty without all the fuss, BFC is your BFF.
Illinois
Au Cheval (address and info)
Chicago
The burger: Single cheeseburger with an egg
This was not difficult. Au Cheval has the kind of burger than makes you question every other burger you've had previously in your life. Also, Aziz Ansari really likes it.

Indiana
Workingman's Friend (address and info)
Indianapolis
The burger: Cheeseburger
If you know how much I like smashed, griddled burgers from legendary, classic places (see the White Hut; anything I ever write about burgers), then Workingman's Friend was an easy pick for me. Apologies to the mini-chain of Scotty's Brewhouse, and Bub's in Carmel, but the Stamatkin's legendary spot (opened in 1918) does the perfectly cooked diner burger with American and a mound of griddled onions. Most people opt for the double cheeseburger, but I prefer to order two and take them down one at a time.

Iowa
Short's Burger & Shine (address and info)
Iowa City
The burger: 1006 Melrose
The Rusty Duck and Coon Bowl have won awards for their burgers. Django in Des Moines goes French with theirs, and it's damn good. Christy Creme and Hamburg Inn have nostalgia and tradition on their side. But the best burger we've had in Iowa was the 1006 Melrose at Short's Burger & Shine. The black Angus beef from local Iowa farmer Ed Smith speaks for itself, and though they've got all sorts of fancified options, we always order the simple cheeseburger and sub out the cheddar for American on our yearly pilgrimage to Iowa. Then we go to the Vine.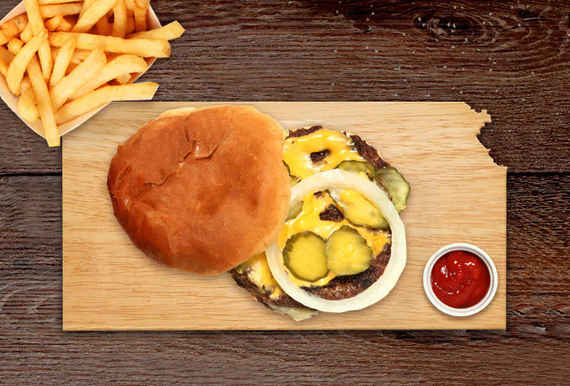 Credit: Jennifer Bui/Thrillist
Kansas
The Cozy Inn (address and info)
Salina
The burger: Sliders
We like Harry's in Manhattan, and we love The Burger Stand at the Casbah in Lawrence, but we had to go with the legend. Once you just accept the fact that you're going to smell like griddled onions for the rest of the day, and start to own it, you can truly embrace these delicious sliders. Just don't ask for fries.

Kentucky
Dovie's Cafe (address and info)
Tompkinsville
The burger: Cheeseburger, unsquozed
The slightly faded, RC Cola-emblazoned plastic sign hanging on the facade is Dovie's first calling card that it's all old-school; the second is that its burgers are deep-fried. The biggest decision you'll face here is whether you want your burger squozed or unsquozed -- that is, whether you want the soybean frying oil pressed out before your burger hits wax paper that'll serve as your plate. Did we mention it's old-school?

Louisiana
The Company Burger (address and info)
New Orleans
The burger: The Single
I love this burger so much that, when I still lived in New Orleans, I looked at apartments based on their proximity to Company Burger, and, every time I've gone back to visit, it's the first place I ask friends to meet me. It's that good: a perfectly balanced and flavored, tender patty with American, red onions, and bread & butter pickles. How many mayos you want from the mayonnaise bar is TOTALLY up to you. But you should probably definitely get both onion rings and fries to try them all.
Maine
Harmon's Lunch (address and info)
Falmouth
The burger: Cheeseburger, loaded
In the Pine Tree State, it came down to a question of old versus new. I like the cheeseburger seared on the flat top at Nosh in Portland a whole lot. But my heart and nostalgia of summers spent traveling up through Maine with my grandparents just to eat those delicious loaded burgers at Harmon's made it the pick for the state. Though they now serve fries and shakes, they still abstain from nonsense like lettuce and tomato, and you should always get two cheeseburgers, loaded with mustard, red relish, and fried onions. Plus, how can you not love a place with a sign that reads "This is not Burger King. You don't get it your way. You take it my way, or you don't get the damn thing"?

Maryland
Hamilton Tavern (address and info)
Baltimore
The burger: The Crosstown
The Baltimore spot lives up to the tavern name: dark, cozy, neighborhood vibe, solid beers, and the exact perfect burger that we like to eat in a place that basically demands you settle in for a long night of drinking. The Crosstown's patty has local beef covered with hot horseradish-cheddar, onion, and shredded iceberg to cool things off. There's also sticky-spicy bacon as an optional add-on, and you should always, always add that on.

Massachusetts
White Hut (address and info)
West Springfield
The burger: Cheeseburger with grilled onions
First of all, I love me the burgers at JM Curley, The Gallows, Eastern Standard, Craigie on Main, and several others in my hometown. I have written about almost all of them before, and said very nice things. But the White Hut is not just my favorite burger place of all time, it might just be my FAVORITE SINGLE PLACE IN THE WORLD. Two cheeseburgers with fried onions at the counter, at the original in West Springfield. I've been eating that meal since before I had teeth. And so, I'm sorry to all the others, but it was always going to be the Hut here.
Michigan
Krazy Jim's Blimpy Burger (address and info)
Ann Arbor
The burger: Triple with lots of things
Michigan does not lack for quality burgers, but "Blimpy's," as it's commonly abbreviated, is an icon, serving stacks of hand-ground patties since 1953. Tragedy nearly struck when University of Michigan acquired its building for graduate housing, but a fundraising campaign kept it alive and well in a new location, along with its 2,147,483,648 ordering combinations. Get a triple (at least), know that onion rings are a must, and mind the ordering etiquette.
Head to Thrillist.com for the full list of best burger in every state in America!
More from Thrillist:
The Next Five Guys: 12 Small Burger Chains That Might Take Over the World
The Best Cities in America for Burgers, Pizza, BBQ, and More
Like Thrillist on Facebook: www.facebook.com/Thrillist