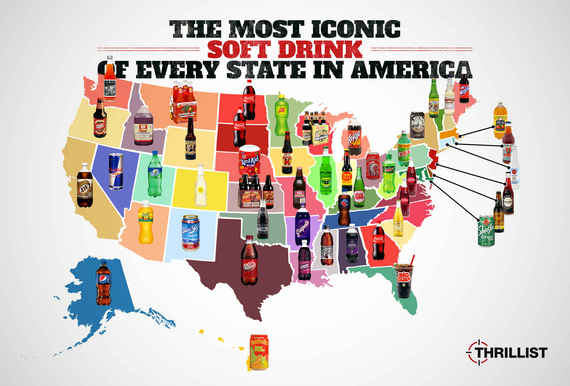 Soda is as integral a part of American history as the hamburger or Nicolas Cage's repeated attempts to thwart it, and while most soft drinks under the sun are now owned and bottled by one of three major companies, there's still a rich tapestry of "hand-crafted", mom-and-pop soda companies out there doing what they've been doing for the last hundred years or so -- and doing it damn well.
Each state might call these products something different (soda, pop, tonic, fizzy yum-yum juice), but there's no disputing that Americans love their soft drinks. And with so many folks brewing them across so many states, there're bound to be some that rise above the rest. This map is an homage to sodas with intimate ties (not that kind of intimate) to different places; some are made exclusively in that state, some are loved the hardest in that state, and some are just the Dakotas, and make us confused. So here are the iconic soft drinks of every state in America.
ALABAMA - GRAPICO
Grapico was founded in Louisiana in 1914, but moved to Alabama in 1917 -- and there it has stayed, both physically and in the hearts of Alabamians.
ALASKA - PEPSI
Alaska doesn't have as big of a soda culture as other states, but there is a Pepsi bottling plant there. So it's got that going for it, which is nice.
ARIZONA - CACTUS COOLER
This orange-pineapple drink has a big presence in the Southwest, where it's moderately preferable to actual cacti.
ARKANSAS - GRAPETTE
Grapette, once a grape soda titan of Arkansas, is now a Sam's Club soda, but that doesn't diminish its years of dominance in the Southern market.
CALIFORNIA - A&W
A&W was founded in California back in 1919, and their root beer remains a huge hit there to this day.
COLORADO - IZZE
These carbonated fruit drinks exploded onto the market back in 2002, and even though they were bought by PepsiCo in 2006, they remain a Colorado invention.
CONNECTICUT - FOXON PARK
It's impossible to find a pizzeria in New Haven that doesn't stock Foxon Park, a Connecticut-bred soda company that's been around since 1922.
DELAWARE - OLD DOMINION ROOT BEER
Dominion, also a brewery, makes a heck of a root beer -- it's sweetened with honey & sugar, and it's made right in Dover.
FLORIDA - ANY FOUNTAIN SODA OUT OF A 7-ELEVEN BIG GULP
Self-explanatory.
GEORGIA - COCA-COLA
The headquarters of the world's favorite soda is located here. They've got a museum. RC Cola may have a strong foothold here, but this is Coke country.
HAWAII - HAWAIIAN SUN
OK, so it's not technically a real soft-drink since it's not carbonated. But ask any Hawaiian what their favorite beverage is, and they'll tell you it's Pass-O-Guava (or POG) nectar. And Hawaiian Sun makes the best.
IDAHO - IRON PORT
This one's not a brand, but rather a style of drink sold at soda fountains throughout Idaho -- Iron Port is kinda like root beer with a spicier kick.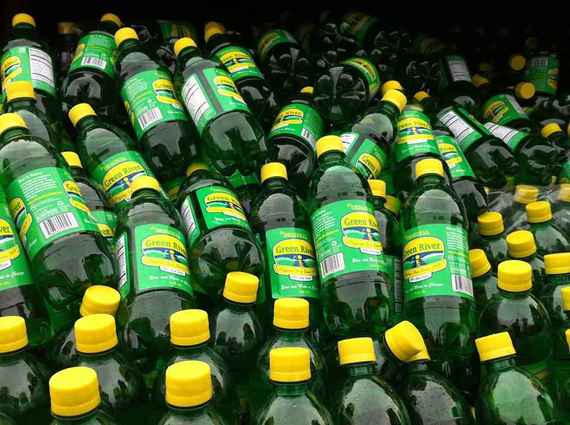 CREDIT: Wit Beverage Company
ILLINOIS - GREEN RIVER
Originally the product of a brewery facing restrictive Prohibition policies, Green River grew to be Illinois' favorite soft drink, and has been produced by a multitude of bottlers over the years.
INDIANA - TRIPLE XXX
Although it was founded in Texas, Triple XXX is now an Indiana institution that's famous for its root beer, and for the fact that only one of two remaining eponymous restaurants is located there.
IOWA - SIOUX CITY SARSAPARILLA
Named after the Iowa city, Sioux City Sarsaparilla is widely regarded as one of the best sarsaparillas out there and was even mentioned in The Big Lebowski. Damn, dude.
KANSAS - LOST TRAIL ROOT BEER
A tried-and-true Kansan brew, Lost Trail's root beer has been made in-state since the frontier days.
KENTUCKY - ALE-8-ONE
Around its production center in Winchester, Kentucky, Ale-8-One is a supremely popular ginger-and-citrus soda. It's also the only soda invented in Kentucky to still be in existence. So there's that, too.
LOUISIANA - DELAWARE PUNCH
Despite its name, this drink isn't affiliated with Delaware (it's actually named after a grape variety), rather it's a Southern fruit soda with a grape kick that's found in select stores in the Louisiana area.