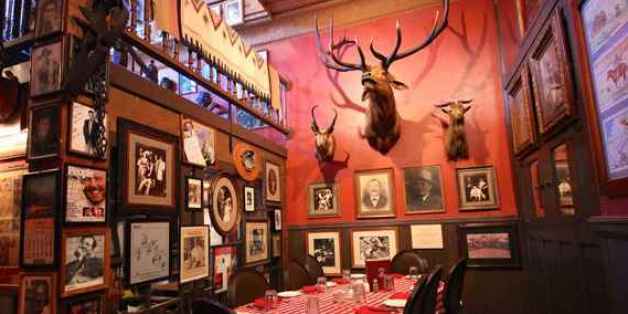 By: Lee Breslouer
If you want to find the oldest restaurant in a state, that's easy -- we already did the research. If you want to determine the most iconic restaurant in a state, that's more difficult, mostly because it requires looking up what the hell iconic means in the dictionary.
Luckily, after tons of research, awkward cold calls, and several cross country trips, we can name the most iconic restaurant in each state. To qualify for this list, a place had to have been around for 30+ years (all have been in business since at least 1980) and still be a crowd favorite. And while some of these restaurants may not have the best food or be tourist-free, they're all famous. So, without further ado, here is our list. Hopefully, they've all got T-shirts.
More: Every State in the USA, Ranked By Its Food/Drink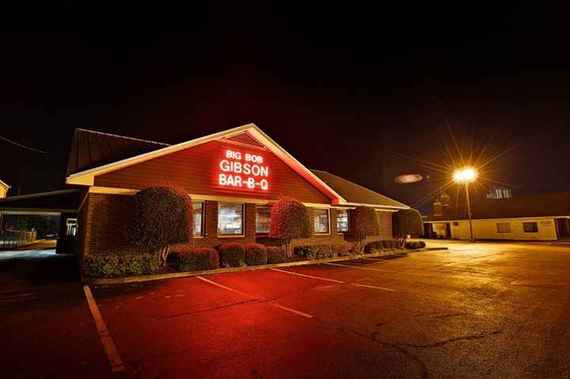 Credit: Big Bob Gibson Bar-B-Que
Alabama
Big Bob Gibson Bar-B-Que
Decatur (Est. 1925)
Alabama's place in the great lexicon of barbecue rests squarely on the shoulders of one man: Big Bob Gibson. While other BBQ regions were dancing with brisket and ribs and pork, in 1925, Gibson started smoking chicken in a hand-dug pit in his backyard and serving folks on a picnic table. (He also served pork, but that's such a side note to the chicken here.) In addition to making chicken the star -- rather than the weird, dry BBQ'd poultry coated in a congealed sauce that's served at every company picnic ever -- Gibson rolled out his now-famous, peppery mayo-cider vinegar-lemon white sauce that's synonymous with "Alabama barbecue". North Alabama fervor means the family has relocated its physical space a number of times over the years -- the current OG was opened in the '80s with a second location in the '90s -- but the chicken is still smoky and juicy with crispy skin. And the white sauce is still damn amazing.
Alaska
Club Paris
Anchorage (Est. 1957)
In a former funeral parlor built in downtown Anchorage in the 1920s sits the oldest steakhouse in Alaska ("home of the 4" thick Filet Mignon!"). At this point, it seems somewhat hilarious that the style was originally intended to "look like a Parisian sidewalk cafe", but no one is laughing at their very legit steaks (the signature is that 14oz Filet, though we like the rib eye), and, of course, Alaskan king crab legs. The Alaskans we talked to tell us the place has been a birthday dinner tradition for AGES, though the best (read: most affordable) move is to go during lunch for their "chorasco" tenderloin tips for $14.
Arizona
El Charro Cafe
Tucson (Est. 1922)
Sure, there's more than one El Charro now, but the original downtown location is the most iconic in the state. And their enduring popularity is no fluke -- people can't seem to get enough of their legendary carne seca, marinated Angus beef you can stuff inside tacos and enchiladas. They dry it themselves, of course. Sit on their patio on those cool desert nights with a house margarita, and you're made in the shade. You can also sit out there during the day, if you want to literally be in the shade.
Arkansas
McClard's BBQ
Hot Springs (Est. 1928)
Five generations of the McClard family have been working the smoker since they opened in the '20s, which is a type of nepotism no one who's ever eaten their ribs or chicken is complaining about. One of the most popular dishes is the tamale spread, a vast pile of food that includes tamales covered in Fritos, beans, chopped meat, onions, and cheese -- it was initially thrown together in the early '70s to help one of their dishwashers sober up, but eventually caught on with the customers. It's uniquely McClard's and uniquely Arkansas.
California
The Old Clam House
San Francisco (Est. 1861)
With respect to the Tadich Grill in SF and Musso & Frank's in Hollywood, our choice is this legendary spot in Bayview. Anyone who has spent time playing soccer on Silver Ave or driving down Bayshore Boulevard or just living around SF knows the Old Clam House's iconic sign and that giant clam sitting on the side of the roof and the fact that it's the oldest restaurant in the same location in SF (again, apologies to Tadich). But more people should know about their incredible clam bake cioppino and the amazing kettle bread they bring out with hot clam juice and their own "Milwaukee steam beer", which our SF-based editor swears by.
Colorado
Buckhorn Exchange
Denver (Est. 1893)
The Colorado dining scene has come a long way since the Buckhorn Exchange opened. There's practically a brewery and a buzzed-about restaurant on every street corner in Denver these days. But the Buckhorn Exchange is a glimpse into what Colorado restaurants used to be famous for -- giant portions of steak that will feed you, your friends, and your friends' friends. Beyond the steak, there's also the opportunity to eat practically every animal that was on Noah's ark. And eating here puts you in good company, as Teddy Roosevelt and Eisenhower both dined here.
Connecticut
Louis' Lunch
New Haven (Est. 1895)
There's a lot of debate as to who invented the hamburger as we know it today, but that debate kind of ends at Louis' Lunch, mainly because they're tired of arguing about it, but also because the Library of Congress declared it so. The tiny joint still uses its original cast-iron grills, which cook the hand-ground patties vertically by blasting them with fire. Want ketchup and mustard? Head to one of the other places that claim to have invented the burger: at Louis', your options are cheese, tomato, and onion on toast. That's the way its been since they "invented" the burger back in the day, and that's how it'll always be.
Delaware
Deer Park Tavern
Newark (Est. 1851)
While that one scene in Wayne's World helped define Delaware for an entire generation, every generation of Delawareans knows Deer Park as a historic spot where Edgar Allen Poe once hung out in the 1800s, right before he founded the Baltimore Ravens football team. It continues to operate as a Newark staple -- a place where townies and college students alike enjoy burgers, nachos, and a pint of local-ish Dogfish Head.
Washington, DC
Occidental Grill & Seafood
(Est. 1906)
DC is the country's seat of power -- I know this because I've seen one and a half seasons of House of Cards -- and Occidental is where the power goes out for a rib eye or scallops. And it's been this way since the beginning, with everyone from Amelia Earhart to multiple presidents dining here. While the original was demolished in the '70s, it deserves a spot on this list because it reopened in the '80s super-close to its original location and with its rep intact, as both of the presidents named Bush have since partaken of its steakhouse fare.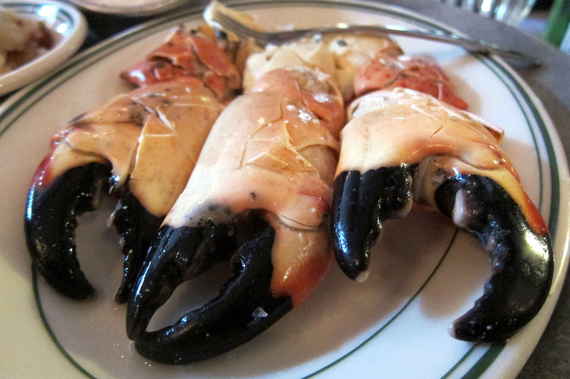 Credit: Flickr/wallyg
Florida
Joe's Stone Crab
Miami (Est. 1913)
Since Florida is home to many, many elderly people, it's fairly surprising we were able to find a restaurant older than most of them. While Joe's has opened up outposts across the country, the original has remained popular in Miami Beach since way back when. The only thing more famous than their iconic stone crabs are the people who've dined there: according to a book written about the restaurant, they include the likes of "Sinatra, Ali, and Jennifer Lopez". It's true, one of the judges from the 11th season of American Idol has eaten here!
Georgia
H&H Soul Food
Macon (Est. 1959)
Georgia has music in its blood. Atlanta is the country's epicenter of hip hop (and also Love & Hip Hop: Atlanta). And Macon, a charming Southern town about an hour and a half outside of ATL, is where the Allman Brothers Band lived, partied, and recorded in the early '70s. As legend has it, they stopped by H&H when they were broke and starving, and one of the co-owners, Mama Louise, fed them. She became the legend after that, and continued to feed legions of Southern musicians who stopped by. Mama Louise shut the place down in 2013, but it recently reopened with new owners and with Mama helping out the kitchen staff, even into her 80's. And perhaps most importantly, Oprah's been there.
Hawaii
Hy's Steak House
Honolulu (Est. 1976)
There are older restaurants, and places with wackier back stories (House Without A Key was in the first Charlie Chan novel!), but -- for nearly 40 years -- everyone knows Hy's. The classic steakhouse is known for cooking their meats over native Kiawe wood, so you can't really go wrong trying their roast rack of lamb seared over the hot charcoal, paired up with a Caesar prepared tableside. It may not have been in a book, but pretty soon they'll be writing their own.
Idaho
Hudson's Hamburgers
Coeur d'Alene (Est. 1907)
Burgers and fries. That's the all-American meal. And you can't get it at Hudson's, because they don't serve fries. But you can get a burger -- top it with hot mustard and spicy ketchup, if you know what's good for you -- with a side of a few different pies, if you want. There's a lunch counter that fits about 20, and it's packed every day at lunch. Squeeze yourself into a seat at the counter and have a double cheeseburger, a slice of chocolate pie, and a fountain drink. You won't miss the fries. Besides, you can get fries anywhere, so their absence will force you to focus on the deliciousness of everything else on your plate.
Illinois
Gene & Jude's
River Grove (Est. 1950)
Deep-dish is often the first food outsiders associate with Illinois, but the hot dog, more than anything, is intertwined with the local DNA. Gene & Jude's stands as a giant among a crowded field of fine tubed-meat purveyors, having relocated to its present River Grove digs in 1950 after four years in Chicago. You know you're getting a perfectly cooked, natural casing, Vienna Beef dog. You know it's coming piled high with a mountain of perfect, fresh-cut fries whether you like it or not. And you know you better not even think about asking for ketchup -- even for those fries.
Indiana
St. Elmo Steak House
Indianapolis (Est. 1902)
For a steakhouse that's been around 100+ years, it's a true feat to remain relevant and fresh. But St. Elmo's has somehow achieved it. They're one of the best steakhouses in the country. And sure, you can still order tried-and-true menu items like the shrimp cocktail (it's filled with horseradish, and may melt your throat), but they've also made key updates to the space, like opening an upstairs, upscale lounge with a bar from the 1800s. Ron Swanson's even eaten here. Sounds like a good enough reason for it to stay popular for another 100+ years.
Head to Thrillist.com for the full list and see your state's most iconic restaurant!
More from Thrillist:
The Unofficial Comfort Foods of Every State in America
Red, White, and Booze: Mapping All 50 States' Most Iconic Beer/Hooch
Follow Thrillist on Twitter: www.twitter.com/Thrillist