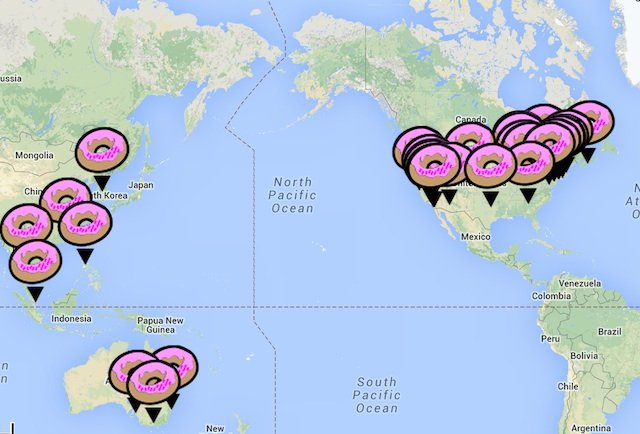 You know the Cronut story: it all started in New York, but almost immediately, knock-offs began appearing in fryers all around the country and beyond. First, San Diego fell. Chicago, Los Angeles, Philadelphia, and London all followed. They've even invaded our dreams, causing us to hallucinate all sorts of other magical pastry hybrid possibilities (dangels, anyone? Anyone?!?).
These international faux-nuts (Singapore, represent!) might go by all sorts of un-trademarked names -- from Doughssants, to Croissnuts, to Cro-Nots -- but the flaky, cream-filled gut-bombs are undeniably Cronuts, which is why we decided to make an interactive Google Map plotting all the places you can get them. Most of these locations can be traveled to in less time than it takes to wait for one at Dominique Ansel on an NYC weekend morning. Mess around with the map here on Thrillist.com!
WHERE ALL THESE SUCKERS ARE
Dominique Ansel Bakery, New York, NY
The one, the only, the trademarked: the original Cronut.
Clafouti Patisserie et Cafe, Toronto, ON, CA
This Toronto bakery tossed the "doughnut" bit and instead paired buttery croissant with something even better -- Oreo cookies. Behold, the Crookie.
Potito's Bakery, Philadelphia, PA
Potito's Bakery is cooking up Do-Cros: enormous cinnamon croissants that are chopped in half, slathered with cream filling, and topped with sweet icing.
Swiss Haus Bakery, Philadelphia, PA
The civilized bakers at Swiss Haus coined their elegant creation -- one of the best faux-nuts we've seen -- the Cro-Creme.
Donut Bar, San Diego, CA
If you thought combining croissants and doughnuts was revolutionary, check out the bakery that's doing just that... in a square shape!
La Boulangerie, Chicago, IL
The crognet is the move at both outposts of this Chi-town bakery: a simple, flakey, Boston cream 'nut with custard filling.
This is just a small fraction of the places you can get a fake cronut. Peep the full list (and the map!) on Thrillist.com.