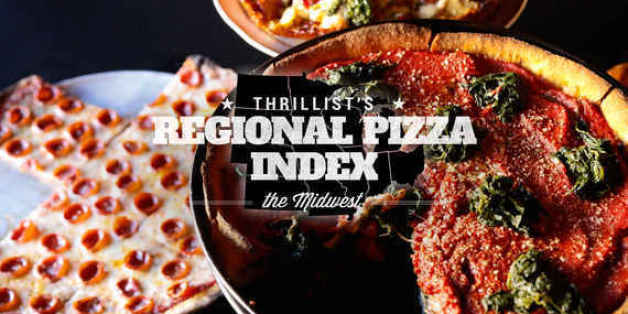 Ask 10 people to tell you which region can lay rightful claim to pizza -- that illustrious, oozing, Italian-American disc over which we all obsess -- and you'll get 10 different answers. But we're not here to argue; we're here to educate! So we teamed up with World Champion Pizza Maker Tony Gemignani* and Roots co-founder Scott Weiner** to create the official Thrillist Regional Pizza Index, a multi-part series exploring the proud provincial pie persuasions that are found across the country (and the world). We started in the Northeast; now, the Midwest!
Chicago. It's what we talk about when we talk about Midwestern pizza, and rightly so: its deep-dish is a national treasure. But that's just one of the three (3!) pie-nnovations that The Chi has given the world, and beyond Windy City limits, there's an even vaster plain of perpetually overshadowed Midwestern 'za. From St. Louis to Detroit, and from The D to the Quad Cities, Chicago's deep-dish is surrounded on all sides by the lesser-known Midwest pizza hotbeds. Strap on your rust belt, kids.
More: Your Regional Guide to America's Greatest Pizzas: Northeast Edition!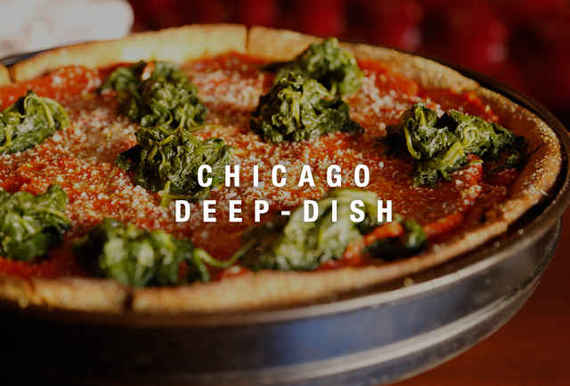 Back-of-the-napkin report
Oven: Gas brick
Cheese(s): Whole or part-skim mozzarella
Key practitioners: Lou Malnati's; Art of Pizza; Pizzeria Uno and Due; Pizano's
Tony's take
If you had any doubts deep-dish was a heavy-hitter, Tony puts those to rest. "You're cooking [deep-dish] like you'd be cooking a cake", he says, with temperatures at the (relatively low) range of 450-520ºF. After oiling/buttering the round, black steel pan, the dough -- "traditionally... butter or lard, along with cornmeal, potato" -- gets tucked in, then loaded up with cheese. After that, it's on to toppings (sausage & spinach are popular) and sauce, usually "a blend of chunky with hand-crushed tomatoes".
Ingredients of greatness: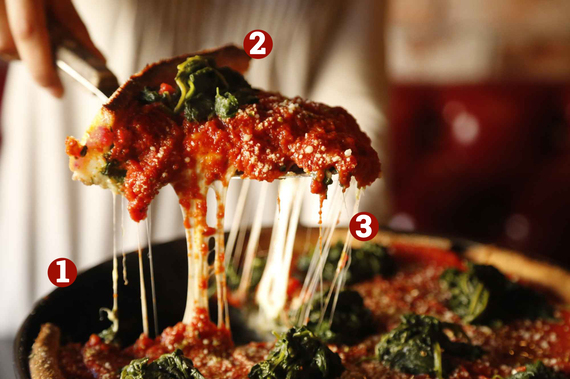 Credit: Grant Condon
1. THE DEEP-DISH
This circular, jet-black steel pan is the proverbial vessel for which the pie is named. (But these days, not everyone uses it -- more on that later.)
2. SPINACH IS HEALTHY, RIGHT?
In the city that brought you Abe Froman -- Sausage King of Chicago -- the de-cased meat is a go-to topping. But spinach is also popular... and delicious.
3. STRAIGHTFORWARD CHEESE
Whole or part-skim mozzarella is the dairy of choice for deep-dish. It's that richness that produces tasty, oozy moments like this one.
Don't you dare cook that sausage!
The deep-dish shown here is topped with spinach and sausage (it's hard to see!), but in Chicago, "'ingredients usually means 'sausage'", says Tony. "More importantly, raw sausage." The meat is either laid in patty form or squeezed from its casing, then baked concurrent with the 'za so it stays juicy and moist.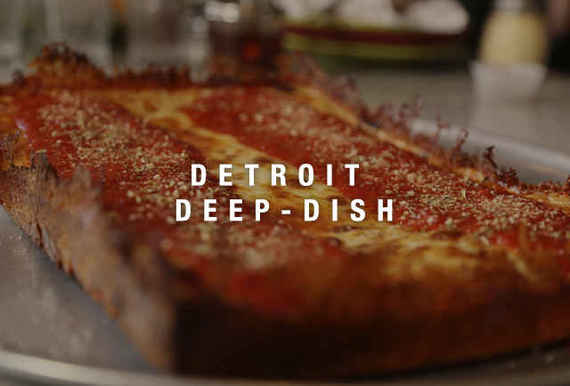 Credit: Grant Condon
Back-of-the-napkin report
Oven: Gas brick
Cheese(s): Wisconsin brick cheese (which is very real), plus white cheddar (sometimes)
Key practitioners: Buddy's; Cloverleaf; Niki's; Jet's; All these places
Tony's take
"The flavor profile" of the Detroit pie, Tony explains, "is sorta like mac & cheese -- that slightly burnt mac & cheese taste". That's because the edges of this rectangular Sicilian/cast-iron hybrid are crispy brown flanges of cheese that've been flash-caramelized by the searing heat from the pan's walls (more on that in a minute). "It's all about those burnt edges & corners. Everyone wants the corners. That's just life," he muses. "That's why I cut my Detroit [pies] into fourths -- so everyone gets a corner."
Ingredients of greatness: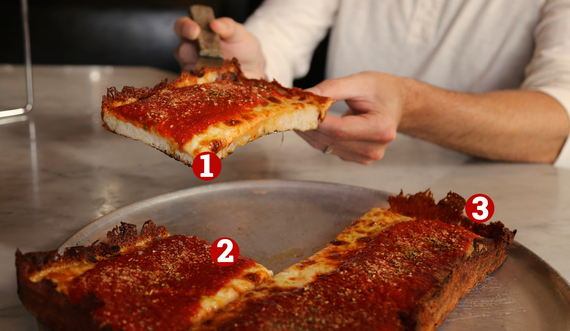 Credit: Grant Condon
1. LOOKS HEAVY, EATS LIGHT
Detroit is deep-dish, sure. But it's a much spongier, air-filled crust than its Chicago counterpart, so you'll feel surprisingly not-awful eating multiple pieces.
2. MARINARA "RACING STRIPES"
"The red-top is just cheese with two racing stripes over the top," explains Tony. "You'll see some people finish those pies with Parm or Pecorino, and all toppings are normally placed under the cheese."
3. EDGE(S) OF GLORY
Pushed right out to the edges of the blue steel pan, the mozz & cheddar have no choice but to transform into tasty golden-brown stalagmites. These are the crowning glory of the Detroit deep-dish.
Blue steel pans are paramount
You can't cook one of these right-angled monstrosities in just any pan, by the way. The official vessel is a blue steel pan sourced from a small manufacturing company in West Virginia. "The blue steel... gets to a high, high heat, so it really burns the corners," says Tony. Wes Pikula, the general manager of Buddy's, told Detroit Free Press in 2011 that the pans "have a way of capturing the flavors in the metal", similar to a black skillet.
Skillets are intended for the kitchen, but apparently, blue steel pans were never supposed to be "pans" in the first place. In an odd twist of Motor City history, the manufacturer -- who inadvertently caused a pan shortage when it moved its operations to Mexico three years ago -- claimed in the same article that its blue steel pans were meant as small-parts trays for factory work, not for baking. No one's quite sure how they came to be a Detroit pizza essential, but they remain one to this day.
There's plenty more Midwest pizza styles, like Chicago Thin-Crust, St. Louis-Style, Quad Cities-Style, and much more -- all on Thrillist!
More from Thrillist:
The 33 best BBQ joints in America
33 of the Best, Most Iconic American Foods
Follow Thrillist on Twitter: www.twitter.com/Thrillist