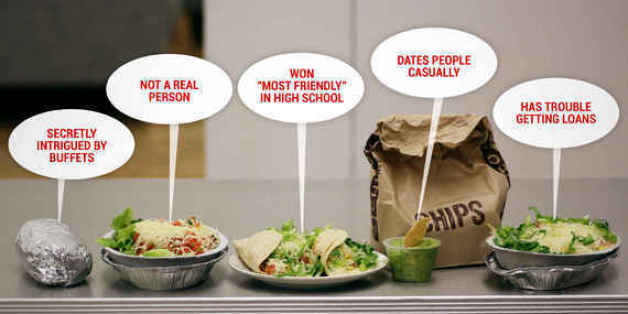 Though there is clearly a lot that people don't know about Chipotle, what we do know is that it is a regular stop for tons of folks, be they college students, office workers, or Presidents who refuse to respect the sneeze guard. But did you know that I am basically a trained social scientist who can tell EVERYTHING ABOUT YOU just by your order? Don't believe me? Well, check this out:
A chicken burrito with just black beans and salsa
You own several hand mirrors. Sometimes, when you are running alongside a car that has just been washed, you lose yourself in your own reflection and crash into old people holding shopping bags filled with empty cans. You get mildly annoyed when the ref makes you take off your FitBit during co-ed soccer games, because your steps won't be reflected on your chart. You occasionally do the American Psycho pose during sex.
A regular burrito "however you usually make it"
You are one of those people who fills in "Neither Agree nor Disagree" for all the answers on your cable customer feedback surveys.
A grilled steak burrito with no beans, extra rice, double guac, double cheese, double sour cream, no salsa
You own three Jake Plummer Denver Broncos football jerseys, all in the "third" color way. Your family has been the only family in your town buying Cadillac Escalades for years now.
More: I rolled burritos at Chipotle, and it changed me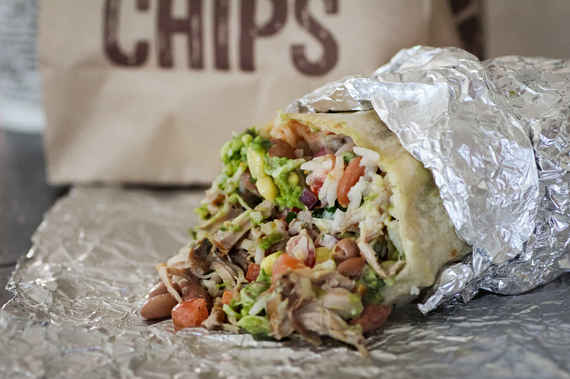 A half barbacoa/carnitas burrito with both types of beans, all the salsas, plus guac, cheese, and sour cream, plus all the hot sauces
You are secretly intrigued by buffets, but feel like your socioeconomic standing doesn't permit you to admit that openly. You are one of the only people who actually uses the screen-within-a-screen function on your TV. You're like the NAFTA of food consumption: you don't believe in borders.
An adobo-marinated chicken burrito with roasted chili-corn salsa
So you're the one person who gets the adobo-marinated chicken AND the roasted-chili corn salsa, huh?!?! WHAT IS YOUR LIFE LIKE?!?! YOU ARE A MYSTERY TO US ALL.
Quesarito
You are hip, though you like to use the word "hep" because less people are doing that nowadays. You live in a neighborhood that makes you slightly uneasy, just so you can watch people's faces when you nonchalantly tell them your cross-streets. You read Lucky Peach before they, like, got a little bit corporate and mainstream. You own vinyl records because "the sound quality is so much better". You are not going to be happy when you discover Taco Bell is also making these things now.
A chicken burrito, add in fresh cilantro
You live a colorful life. You go to farmer's markets, and not just for the free samples of olive oil. You once dated one of those people whose taste buds make them think cilantro tastes like soap, and you fought so much. The sex was weirdly good, though.
A burrito with no meat, just cilantro-lime rice and extra guacamole
You're my weird cousin who is super weird.
Find out what it says about you if you order crispy tacos, steak soft tacos, a carnitas bowl, a double-wrapped burrito, a burritodilla, a chicken quesadilla, and much, much more!
More from Thrillist:
What Your Starbucks Order Says About You
Follow Thrillist on Twitter: www.twitter.com/Thrillist