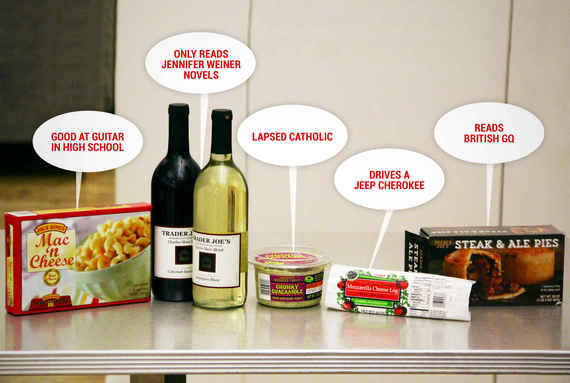 your Trader Joe's grocery items actually tell so much about you and your hopes and dreams and T-shirts? Well, luckily for you, I did:
Chili Lime Chicken Burgers
You like to go to costume shops and buy kooky, alarmingly expensive costumes and call out "impromptu dress-up party!" as you walk into random bars just to change things up. You're known as a "one-man party" at work and are always down for "beer o'clock" or "beer-thirty" or "drinking during lunch." You don't have a lot of people's personal cell phone numbers.
Speculoos Cookie Butter
There was a time during the mid-aughts when you jogged every day. You sometimes look back at that time and think that you wouldn't even recognize that person, before settling back onto your beanbag to watch another Love It or List It with the Canadian Bachelorette girl while spreading crushed cookie spread on your cookies.
More: 14 Things You Didn't Know About Trader Joe's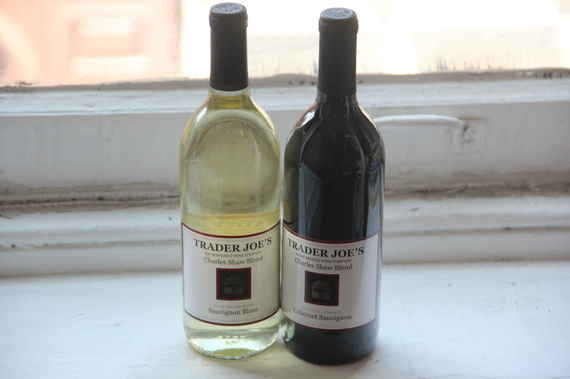 Charles Shaw Wine
You belong to a book club that only reads novels by Jennifer Weiner. You liked In Her Shoes the best, but thought Then Came You and Little Earthquakes were both underrated, though you will always have a soft spot for Good In Bed because you love Candace's sarcastic voice since it reminds you of how you talk with your girlfriends. You told people you read Certain Girls, but you totally didn't. It still kind of haunts you.
Sauerkraut with Pickled Persian Cucumbers
You live alone and have for some time.
Triple Ginger Snaps
You are hard to distinguish, mostly because EVERY SINGLE PERSON who shops at Trader Joe's also purchases these things.
Pumpkin Butter/Pumpkin Coffee/Pumpkin Bread & Muffin Mix/Pumpkin Pecan Instant Oatmeal
You love the fall! Who doesn't love the fall? The sight of leaves changing color, the briskness in the air, the sound of the crowd cheering on your favorite high school football team, even though you actually hated the football players in high school because they used to make fun of your weird walk, and call you "Jangly Leg Jimmy" and once put a mystifyingly accurate drawing of your anatomy on the windshield of every car in the parking lot, and spread rumors about you and a mail-order blow-up doll from Asia. But, um, yeah, the fall is pretty good. Pumpkins and sh*t.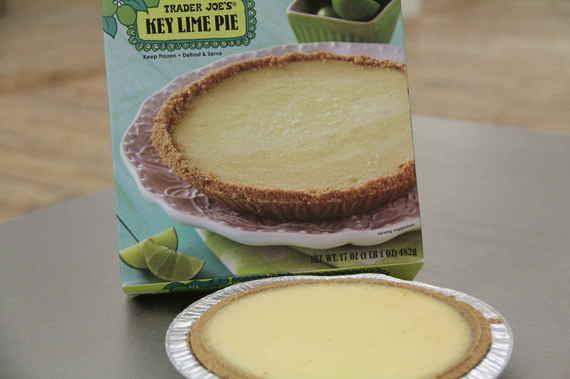 Trader Joe's Frozen Key Lime Pie
Your uncle went to jail for a crime he didn't commit, and, while there, read every single Hemingway book available. Once he was released, he moved down to the Keys and worked for a time as a bartender, mixing up daiquiris Hemingway-style, until a man provoked him by saying Hemingway's prose was "a bit too sparse." Now he's in jail for a crime he did commit.
Cold Pressed Yellow/Green/Red Juice
You're thinking of investing in a CrossFit gym with one of your buddies from college, but you need to see "the specs" before you put any capital down. You've never actually done CrossFit.
Fresh Mozzarella Log
You went to a small liberal arts school in Vermont and own one Patagonia, one Marmot, and one Arc'teryx fleece. You have two dogs, and both of them are chocolate labs. You drive a Jeep Cherokee. Weirdly, you went through a pretty intense emo stage in high school.
Light Vanilla Ice Cream
You're the type of person that, when people ask what your dream job would be if you could do anything, thinks for a really, really long time, and then says, "I dunno."
Joe's Diner Mac & Cheese
You were a good guitar player in high school. Like, really good. Like, you could've maybe done something with it if you pursued it. You're not even bragging, this is just the truth. Ask anyone from Danvers High class of '97, and they'll say the same. "Oh, old Andy Kryza? He could've been in Pearl Jam," they'll say. You would even prove it right now, but you can't find your guitar. You think you left it in your buddy's car. Eleven years ago.
If you've ever bought items like the Frozen Organic Pizza Crusts, the Tarragon Chicken Salad Wrap, French Vanilla Coffee, or Reduced Guilt Chunky Guacamole with Greek Yogurt -- find out what it says about you!
More from Thrillist:
What Your Starbucks Order Says About You
Follow Thrillist on Twitter: www.twitter.com/Thrillist