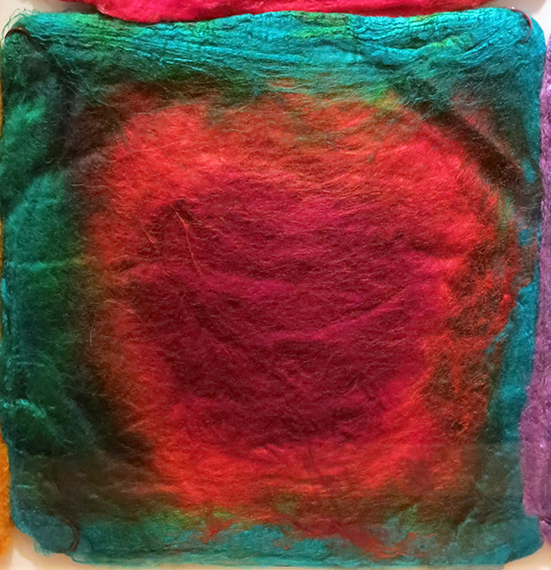 Jen Foti's spun silk embodies Cornelius Projects' investigation of the blurred boundaries that define art.
There's a photographer working the Los Angeles art scene so determined to mark his territory that he's been known to watch the position of an established Venice photographer at an event and replicate where the other photographer stands so that he can own that angle. His work can result in, not portraits, but images -- stilted moments that reveal little about the inner life of their subjects.
That's not really what they're intended for, anyway. They're just notations that he, the photographer, was there. Life in the selfie-generation. He would do well to drop by the San Pedro art gallery Cornelius Projects, to see a series of portraits, installed in rows of 4" X 6" standard prints, that mosaic a wall of the Pacific Avenue space.
Photographed by Eileen Lopez, with none of the extensive, expensive, equipment-inventory of the person shooting the LA gallery slash studio scene right now, they are simple snapshots of customers at Point Fermin Market which are often taken at the convenience store's cash register.
Two men with genuine warmth look into the camera so openly that the viewer feels like a voyeur; a customer goofs for the photographer with utter delight; a father standing with wife and daughter holds back what's inside, just a little. The vignettes recorded by Lopez, a shy store manager, are attempts to connect with the place she lives in. In doing so, she finds a place deep down and authentic in her subjects.
Far removed from staged, stylized post-Annie Lebovitiz photographs which are more design than art, more photographer than subject, Lopez's revealing visuals are exhibited in seemingly lackadaisical rows like in an old-school liquor store. They reflect moments stripped of tricks and illusion, a single second of truth -- as good a definition of art as one might come by these days.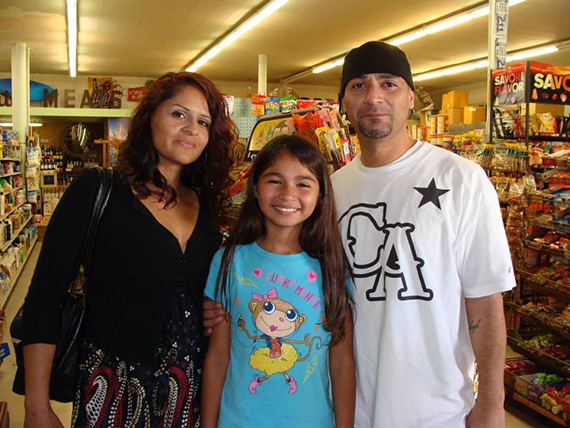 Not about the photographer. Eileen Lopez gets close.
What drove Lopez to study her fellow man mirrors one of the reasons Cornelius's director, artist and curator Laurie Steelink, founded the space. An émigré to the working class port from Los Angeles, a few miles north but worlds away, she launched the gallery as a way to connect-up, dig deeper into her new hood.
This is the fourth show to alight the space, and with each, Steelink grows her roster of local artists, and, more deeply, her exploration of the definition of art. Second Thoughts San Pedro, which preceded this exhibit, juxtaposed photojournalist Tim Maxeiner's images of San Pedro today with historic counterparts, turning Cornelius into part historical society, part exhibit of journalistic photography.
Habit Forming: Makers of Matter, the group show occupying the gallery currently, fills the location with pieces that were not intended to be "art" but, as they reached both inwardly and outwards for connection, entered that territory.
At the far end of the gallery, Jen Foti's rows of spun silk and yarn skeins are installed on one side of a corner, while framed, colored, irregular puffy squares, known as "hankies", are placed on another. They illustrate a functional process, centuries-old, that extracts shiny smooth thread from thick softness. It is their colors, however, that drew Steelink to re-context them from the functional to the displayed. Each mesmerizing block is differentiated by hand-mixed organic dyes so deep that, on the walls, the squares of rich mysterious hues turn Rothko.

Steelink exhibits the jagged video trailers pieced together by Freda Rente' to promote bands playing local shows.
At the opposite end of the space, in a narrow room that extends across the front of the space, video loops by Freda Rente' -- compilations of jagged trailers that she uses to promote bands playing local shows -- shift the texture and sensorial experience of the show. They counterpoint a series of tidy, feminine, embroidery hoops that jump the gallery walls. In each, commercial photographer Cheryl Groff stretches a photograph she took of a client across a hoop, then emphasizes a single element of the image with her own hand-stitching: The telephone wires leading from the edge of a barn that stands in a deserted landscape. The outline of a young girl's white shoes in a high angle shot that frames: red skirt/white shoes/cat, only.
The profile of a young girl who holds a kite, on a secondary hoop above -- in which Groff stiches the kite string connecting them, then leaves excess thread to fall out of the girl's hand and the picture frame/embroidery hoop. Originally, inspired by her mother's habit of embroidery after long days at work, they were intended as post-commission gifts to clients, and a way to acknowledge her mother. Like Lopez's photographs, a means to move beyond the transactional.
At the center of Cornelius, on a low table, rhythmic waves of hand-size ceramic Inuit animals, creatures and objects, which look as though they are carved from wood, swirl across the table's wide expanse. Artist Phoebe Barnum began them when she grew so mesmerized by a dictionary of the northern peoples' symbols, she was driven to recreate each entry -- an extended undertaking still not complete. Offered up to gallery guests without the preciousness of a display case, their installation remains true to the Inuit's own ideas for them. Entwine the spiritual in the functional. The Greater in the every-dayness.
It's no surprise that the curator side of Steelink favors these themes. Though she doesn't show them here, her own lush twirling psychedelic-colored paintings explore the shamanistic journeys of indigenous peoples of American, tribes from which she comes. Cultures that understand that the natural, the spiritual, and the human worlds, are, in actuality, not separate but One.
In Habit Forming, she hangs an ancillary practice to her paintings, yarn God's Eyes, on a multi-prong tree limb that interjects into the gallery like irregular stag-antlers, contrasting the soft of the God's Eyes with the hard. As in the ceramic creatures, the God's Eyes are not entirely decorative. They are gifts Steelink shares with friends to protect them. Across the gallery from the God's Eyes, near the banks of Lopez's snaps, are the the pencil and inked cartoon strips of Ann Cleaves.
More typically featured in a local newspaper, Cleaves is a working cartoonist, a viewer of the societally sick, whose drawings are are an attempt to make things right. Though they jump a number of centuries and several cultures from Steelink's work, they mirror a similar desire. As Steelink notes, in her position of curator, the show isn't only about "matter," its multiplicity of mediums -- fiber, mixed media, photographing, drawing (pen and ink) video, digital prints, ceramic -- but matter that matters.
A few years ago, I asked a powerful art consultant operating on the Westside what the difference was between art and design. His response? Art is done by people who went to art school. That's the defining line? Not an inner compulsion but an institution? Wow. So went a series of paintings I saw around that time that were so flat they make the viewer want to scream: "You're an artist, say something." I'm not advocating that art must mine the external, be about Politics or Society or Culture, but is it expecting too much that its makers have some overwhelming bond to, at least, the paint, or any other media they choose, rather than it just being Kim Kardashian, reality show, fame vessel -- like the photographer I wrote about in the lede, empty notations of their maker rather than a meditation on media or subject or spirit. The makers of matter in Cornelius' show, driven compulsively, quietly, and by habit, have urges within that relay something more.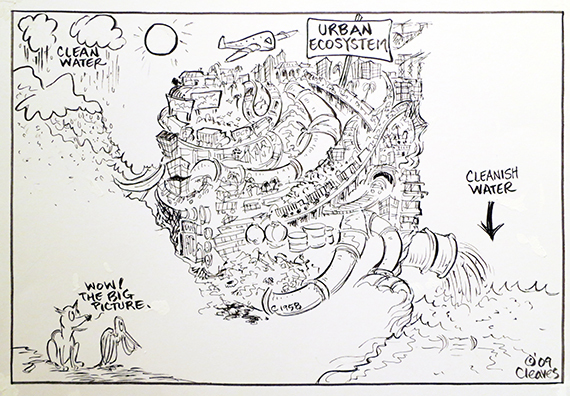 Curator Laurie Steelink asked Ann Cleaves to show drawings and cartoons that evolved from Cleaves desire to make the world right.
Individually, not every artist represented in Habit Forming makes Steelink's argument. The most powerful here -- Foti's Color Field paintings and Lopez's convenience store snaps are the most effective because they involve the greatest re-contextualization. But taken together Habit Forming: Makers of Matter reminds us that artists do matter only when their work does.
HABIT FORMING: MAKERS OF MATTER continues through December 13 when the entire day will be a closing reception.
Saturdays, 1P - 6PM Only.
CORNELIUS PROJECTS
1417 SOUTH PACIFIC AVENUE
SAN PEDRO, CALIFORNIA 90731
310.266.9216
All photos courtesy of Cornelius Projects.