Mobile Applications - almost everyone you know has talked about building one, right? Mobile commerce and sales are growing exponentially and that's all the more reason to get in on the action. However, building a successful application comes down to the type of service or product you offer, your audience, which platforms to consider, and your marketing strategy.
This article is going to take a look at a few things you need to know before switching the green light on towards your mobile app development efforts.
This question is one of the most commonly asked questions regarding app development, and is the same as asking "what does a house cost?" Ultimately, there are different variables, features, and development processes to consider, and then it furtner varies from project to project.
If you are planning to build the app yourself or you have access to an in-house development team, the cost would depend on the amount of time you put into the project. If you can do this in your spare time, it will only cost you your time and skills. However, keep in mind that most professionally developed applications require a team-effort, usually consisting of a product manager, designer, developers, testers, and marketing experts.
The leading mobile app developer review company Clutch recently surveyed representatives from 12 leading mobile app development firms to determine cost ranges for building an iPhone app "and found that the median cost range is between $37,913 and $171,450, but could climb up to $500,000 or higher. The best way to find out where your app will fall in that range is to obtain price quotes from several development companies;" One of the 12 firms surveyed by Clutch was Digital Brand Group, and the CEO Jeremiah Jacks is a friend of mine. Something to keep in mind that Jeremiah mentioned is that "what you get from a lot of development companies is that they treat their customers from a kind of manufacturing standpoint, where they're getting in a contract, they're looking at a scope, and they're just delivering on the scope. They're not going any further beyond that."
Finally, innovative mobile application ideas can also be promoted on crowdfunding platforms like Kickstarter. In this way you may be able to raise funds externally before you have to spend money out of your own pocket. Make sure you have a killer pitch if you want to increase your chances of raising money through crowdfunding, and keep in mind that once your idea is out there, you have limited time before someone else takes off with your idea.
2. Understand the Process
Even though your mobile app idea might have revealed itself in a matter of minutes, your application won't be developed overnight. Discuss the project scope with your developer and make sure that you understand the process. Below are the areas you should cover in your process:
Project / Product Management
Design (Wireframing & Visual Design)
Architecture
Programming
Testing
Infrastructure
Validation
Once you have an application developed, you should go through a rigorous testing and quality assurance phase to identify bugs, and areas you can improve on user experience. For this reason, it's also a good idea to initially build a Beta-version of your idea (some call this a minimum viable product or MVP) and make this available to a select few in order to extract valuable feedback, and direct the development process.
3. The Mobile App Platforms: Native, Hybrid, or mobile Web
Before building your killer app, you will want to decide which platforms to target. Ultimately, this will come down to your budget and project requirements. When opting for a native application you will need to build the same application over and over again for each platform ecosystem (iOS, Android, Windows, etc.), so costs will be significantly higher going native. However, one of the benefits of creating a native app is that you will be able to work with the platform device's unique operating system features.
4. The App Ecosystems: iOS, Android, etc.
Selecting which mobile application ecosystem to build for comes down to knowing your user types. It would be ideal to deploy your application on all possible platforms. However, when you are starting out it is often only feasible to start with one ecosystem unless you have a large budget out the gate. The obvious choices are usually between iOS, Android, and Windows. Consider your application features, monetization strategy, brand and audience - where are they most likely to "hang out" and which would be the best fit for your particular idea. Localytics explains the different ecosystems in detail: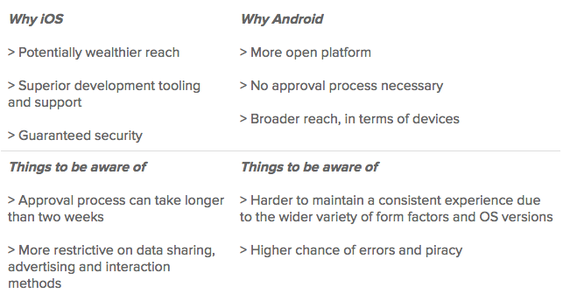 (Image retrieved from http://info.localytics.com/blog/9-things-to-consider-before-during-and-after-launching-your-app - credit)
When creating any product, you have to keep your audience in mind. Will the application be accessible to them? Will it be user-friendly? and also, would it have a lot of competition?
5. Will Your App Add Value?
Remember, you are creating a mobile app in order to reach your business objectives. This could be sales driven, or have engagement and entertainment as its top priority. Keep the bigger goal in mind before launching your application and make sure the costs are weighed against your goals.
Your mobile application is just another extension of your brand, and will be a reflection of your company. Don't just create an app for the sake of it, make sure that it serves a purpose and adds value to the user. Think: "What problem am I solving with this application, and how will my application solve the problem?"
Unfortunately, just like any other product or service - your application will need updates. These updates may include improving the overall user-experience, adding extra features, fixing bugs, or just modernizing the app to keep up with changing times. When you are planning your budget and project, keep the before, during and "after" in mind to assure that you will be prepared. Don't fear, these updates shouldn't be too regular since this will cause frustration with the user or put them under the impression that you have a lot of things to "fix." Find a healthy middle-ground in order to keep your application competitive and at the highest quality.
There are additional factors to keep in mind when considering app development. The above-mentioned factors can also be split into sub-sections because creating a mobile application can be rather intrinsic. Basically, you should do enough market research to determine if your product will be of value, choose the right platform, the best mobile development company and try to understand the process.