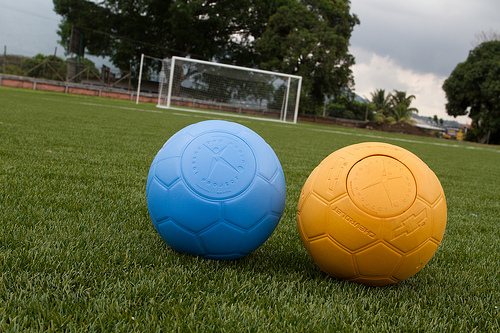 Photo Credit: One World Futbol Project
In late May 2012, Chevrolet became the founding sponsor of One World Futbol Project, pledging to donate 1.5 million One World Futbols to organizations working with communities in need.
The Moment
A turning point in the short, but very busy existence of One World Futbol Project.
The team gathered for the final call. The contract was signed -- it was finally official! After nearly a year of discussions, Chevrolet became the founding sponsor of One World Futbol Project, pledging to donate 1.5 million One World Futbols over three years to our network of organizations working with disadvantaged communities worldwide.
The Journey
Challenged and affected me in a most personal way and tested and inspired the whole team to the core.
But, because One World Futbol Project has such a simple, straightforward mission and purpose, we knew positive momentum was always within our reach.
The Announcement Day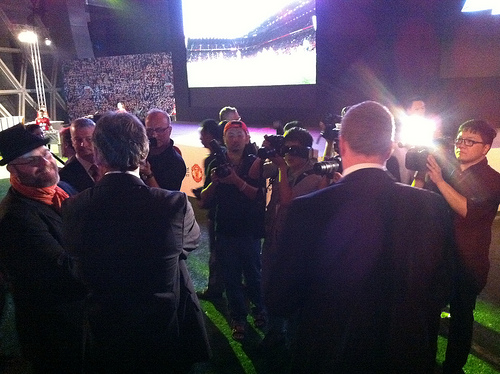 Photo Credit: One World Futbol Project. One World Futbol Project co-founder, Tim Jahnigen, giving interviews during the press event in Shanghai, China.
Filled with great ceremony and pageantry. Connecting from three corners of the world. Bringing us together with our founding sponsor Chevrolet and their partner, Manchester United, the world's most popular futbol (soccer) team.
A lesson in what a budget much greater than what we start-ups are used to can create.
So much skill, energy and talent behind the glitz. Real people doing the jobs we are passionate about and doing what we were hired to do. Each partner with families, dreams of our own and the common and innate desire to do something meaningful and to help others.
While our teams were literally on the opposite sides of the planet, we were and continue to be linked up live and synched up in messaging, timing and purpose. Brilliant logistics!
The Scope
World renowned musician, Sting lends his support to the One World Futbol Project/Chevrolet initiative through this PSA with Tim Jahnigen.
It is humbling to have our entire mission and purpose -- the simple idea to let children be children, no matter where they live -- embraced, then magnified and optimized on such a scale. It's gratifying to our team and our investors, and a bit intimidating for me on a personal level. Now it's time for One World Futbol Project to show our sponsor, Chevrolet, and the rest of the world, that like them, where the rubber meets the road, we're ready for the journey.
To be associated with iconic companies and sports organizations of such mythic proportions as Chevrolet, Manchester United and Liverpool FC (another Chevrolet partner) -- all past their centennials -- is humbling, gratifying, and yes, a bit intimidating.
The last few years have been pre-season training camp for us -- getting feedback from Sport for Peace and Development programs in almost 150 countries, where the One World Futbol is a crucial tool in sustaining hope and play. We're ready to get in the game, keep the ball in play, in our possession and assist in a team effort and collective goal!
A Dream Fulfilled
A line from a lyric I wrote comes to mind:
"Once I'd climbed the highest mountain I could find
I found that higher mountains lay ahead in time."
This is a game changer -- not just for us, but for all the youth we're trying to reach with our mission. One dream fulfilled, but so many more dreams just waiting to happen. I can't possibly guess what the potential impact will be from our collaboration, but for all of us, this is just the beginning. We're just scratching the surface.
Join us in investing in the single greatest natural resource we have -- our children. With the simple power of a durable ball, we can all help sustain play for kids everywhere and positively impact millions of lives. Smarter people than us have not yet figured out world peace and world hunger, but it's possible that a child who we give a ball to will.
One World Futbol Project co-founder Lisa Tarver delivers balls donated by Chevrolet to kids living in disadvantaged communities in El Salvador.