New York City Schools are dead last. Since 2003, breakfast has been free for all students in New York City, yet today, less than a quarter - about 224,000 - of the 1.1 million of the city's public school students, are actually eating breakfast at school every day. Those numbers put New York City last among large U.S. cities in terms of school breakfast participation - 63rd out of 63 districts. A simple shift of moving breakfast to become part of the school day, instead of before the school day, can change that. And because school breakfasts are federally funded, implementing the policy shift of moving school breakfast to after the bell rings, wouldn't cost the city a thing.
I had countless conversations when I worked the No Kid Hungry booth at New York City Wine and Food Festival the other week. They went something like this:
Me: Would you help us end childhood hunger?
Them: Of course. How?
Me: Do you live in the NY area?
Them: Yes, right here in Manhattan.
Me: We are trying to get the mayor to hold to his campaign promise to provide breakfast for every student.
Them: I thought NYC schools were already ensuring this happens.
Me: They do, but they serve it before the bell rings, so they have the worst...
Them (interjecting before I can finish): Who gets to school before the bell rings?!
Me: Exactly. This is why it's so important to make changes that they serve breakfast after the bell rings and every child can have a meal.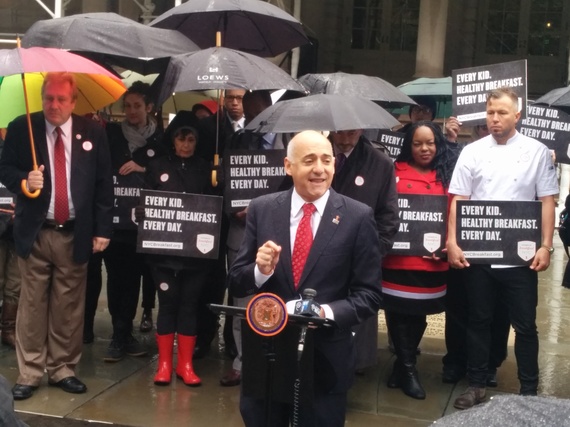 And that brought me to the steps of city hall on a cool, rainy day with other advocates, passionate supporters, administrators and press to ask the mayor to hold true to his campaign promise and have NYC schools go from being the worst in the country for breakfast utilization to being first, resulting in over 825,000 students being fed every morning. What that means is we have healthier kids who can absorb what they are learning and feeling they matter because we are investing in them with proper nutrition.
What needs to happen?
It's quite simple, or it can be complicated. It's a choice. If the mayor or Schools Challenor Carmen Ferina issue an order, it is done.
If we have breakfast being served after the bell rings, NYC will go from worst to first. There are two types of programs that existing schools use for breakfast after the bell. One is where they receive breakfast in the classroom. The other is a grab and go where a kiosk is set up at the entrance and the can take it to their classroom. In either case, they can eat while attendance is being taken or announcements are being made. I spoke with Chef Jason Roberts, who suggested that 15 minutes of time be used to teach students about the food they are eating. He believes this is a great opportunity to educate our kids how important it is to eat breakfast and also know how what they put in their body is fueling their lives.
Our second option is we can choose the complicated way? Let it be talked about in committees and passed around with each group looking at what's in it for them, instead of what's in it for the kids.
It's that simple.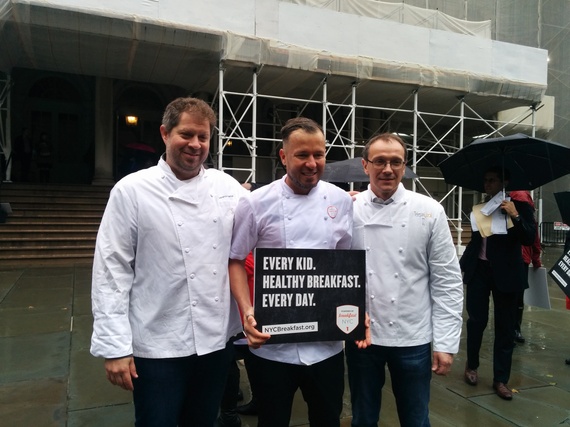 Why is this change so important?
It's also simple. By providing every child an opportunity to eat breakfast, we would change the game for many children who need it most: One in five kids in New York City is at risk of hunger today. Many may be coming to school without a morning meal, and many may avoid eating the breakfast offered in the cafeteria before school because of the stigma associated with not being able to eat a meal at home. As Joel Berg, Executive Director of the NYC Coalition Against Hunger, said,
"Increasing breakfast participation will boost test scores and improve child health and well-being, while bringing significant federal dollars to the city. Nutritious school breakfasts fight both hunger and obesity."
What can you do?
Regardless of where you live, this is a chance to let common sense prevail, even in politics, and hold elected and appointed official accountable to become the leaders they are supposed to be. We can keep it simple and convince the right people to issue the order for breakfast during the school day. Please add your voice and sign to let the mayor know you want to see this happen http://nycbreakfast.org and continue to learn more about No Kid Hungry's efforts to end child hunger in the U.S.