A good friend of mine just had a week-long wedding in Rome. I had the privilege of attending and staying with the wedding party and guests at the Gran Melia Rome. This was my first trip outside the United States since I was 13 and, honestly, I had no idea what to expect. From the pickpocketing locals to unsafe cab rides, people made me think I had to be fully aware at all times.
However, from the moment we checked into The Gran Melia, all my worries drifted away.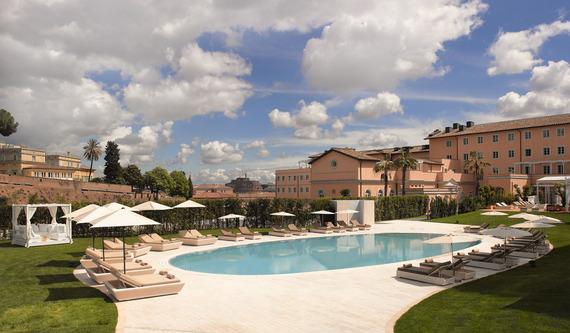 Location, location, location
When traveling to a new city you want to ensure you're hotel is close to local attractions but in a safe area. One hundred and thirty three people traveled from Los Angeles, Toronto, New York, Paris, and Miami to be part of this special wedding. A few handfuls of guests opted for other hotels due to bookings or preference and after attending daily tours, wedding events or looking at a map, they all expressed regret for not being at The Gran Melia. It's a five-minute walk from the Vatican, 15 minutes from the Piazza Novona and right next to the famous Trastevere.
History
In the United States, and Los Angeles especially, we tend to tear down and rebuild -- a "necessity" for luxury and modern technology. The Gran Melia proves that theory wrong and breaks the mold by combining the modern American with the ancient Roman history. Upon walking into the lobby, guests are greeted with a picture-worthy statute of the mother of the Emperor Nero and the grounds showcase the spectacular scenery of the historical Villa Agrippina, the structure the Gran Melia restored.
The Grounds
Traveling to a city like Rome, with so much to see and learn, much of the day is spent on tours, roaming and exploring. After walking the city for six hours, we were ready to relax a little. The staff at the Gran Melia is on-call 24 hours a day to ensure the tiniest need of every guest is met. The resort has a large, refreshing pool, which is the perfect remedy for relaxing after a six-mile walk. In addition, the Gran Melia has a full-service spa to pamper and provide the ideal Roman holiday.