Harry Shum Jr. may not play a professional sport, but he still considers himself an elite athlete. His new project, a four video series called "Parallels" (in collaboration with filmmaker Cole Wisser) explores his double life as a dancer and an athlete, and poses the question, "Is Dance a Sport//Is Sport an Art Form?" Joining Harry in the videos are Red Bull athletes Alexey Kolesnikov (Motorcross), Andreu Lacondeguy, Szymon Godziek and Thomas Genon (MTB freeriders), Johnny Johannes (Skateboard) and dancers Kylie Lewellans (Ballet), Remi Bakker and B-Boy Kid David, all artists and athletes at the top of their games.
When pondering the videos' central question, Harry told me he cared more about starting the conversation than answering the question himself, "I'm not out to change people's perspectives and convince them one way or the other," Harry said, "I just want to open their eyes to the possibilities."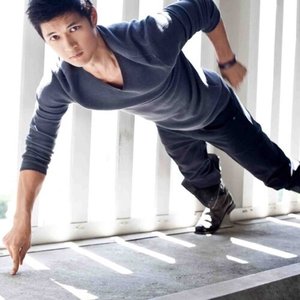 Harry's own path to discovering dance reads like an episode of Glee, the TV show that made him famous. In 1998, he was a high school football star and there was a girl on the dance team he liked, a world apart in the high school universe. Taking a cue from his idol Gene Kelley who started dancing to attract girls' attention, he decided to try out, and to his surprise he was offered a spot. What started out as a joke for Harry became a major defining moment of his life as he went on to become a professional dancer and choreographer, performing regularly with the likes of Beyoncé, Jennifer Lopez and Mariah Carey.
Harry feels there is still a stigma for athletes when it comes to embracing dance although more professional athletes have been embracing dance both as a competitive outlet, thanks to shows like Dancing With The Stars, and as a way to improve their performance. NFL Football player Lynn Swann and other athletes have taken dance lessons to enhance their grace and coordination. "Every athlete needs to be graceful" Shum told me "even in a high-impact sports. Just look at Michael Jordan, his moves have the grace of a tap dancer."
Harry's advice to athletes is, "Take dancing as a creative experiment, the more creative you can be outside of your sport the more it will help you. It will start shifting your perspective and you'll start thinking in a different way."
From first hand experience, I wholeheartedly agree with Harry, after finally giving into my personal trainer's idea and trying ballet as a way to help me train for the Olympics, I was blown away. The same intense degree of body control that I practiced every day at the fencing club was also called upon during ballet, but to a more extreme level. I remember the next day at fencing practice feeling in tune with my movements and muscles like I never had before.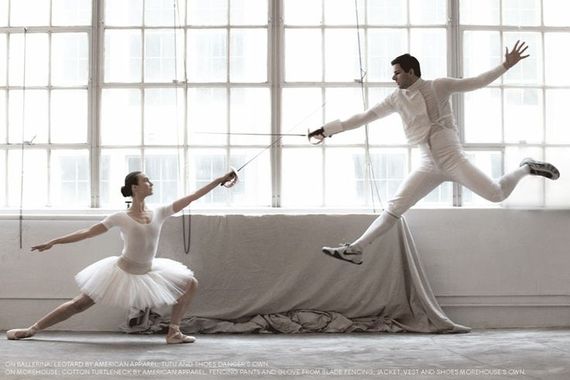 While I may not be ready to make the switch, Harry found a career path and a creative outlet in dance...but did he get the girl? After all that, Harry did not end up dating his high school crush, but dance did bring him to his fiancé, Glee co-star and fellow dancer, Shelby Rabara. While Harry did not want to divulge the details of the first dance at their upcoming wedding he did assure me of one thing: "it will be epic."
"Parallels" is visually stunning and truly eye opening, a must watch for every athlete...but don't take my word for it. Click below to watch for yourself.